What is New Orleans-style coffee (NOLA coffee)?
NOLA coffee is a coffee drink made with French roast coffee beans and roasted chicory root. It tastes slightly sweet and smoky. It is either served plain or with the addition of steamed milk.
Does chicory coffee help bowel movement?
Chicory root may help to improve bowel movements in some people since it has stimulant features.
#Global Coffees
Chicory Coffee Recipe
Here is how to make chicory coffee at home, a drink that tastes similar to coffee but does not have caffeine. Let's learn more about it!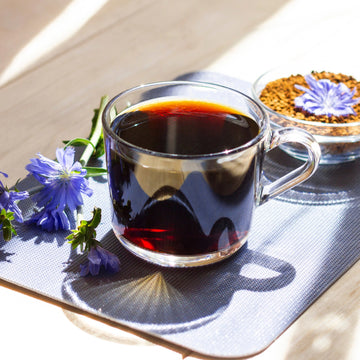 Chicory coffee is made from the roasted and ground root of the chicory plant. Despite being called coffee, chicory coffee is not really a coffee but a coffee substitute made from chicory root. Raw chicory roots are a little bitter, but taste similar to coffee when roasted.
The first use of chicory root as a coffee substitute in the USA was seen among the French in Louisiana, who were already using it in Europe. They brought chicory root with them to add to other drinks. It became popular as a coffee substitute during Civil War when supplies were scarce.
Chicory coffee tastes similar to coffee with some woody and nutty fractions. It is low in fat, a good source of manganese, Vitamin B6, potassium, Vitamin C, folate, and phosphorus, and it provides anti-inflammatory features.
Now let's move on to the chicory coffee recipe below!
Ingredients
2 tablespoon ground chicory coffee

2 cups water, filtered or bottled, if tap water is low quality

Some honey or sugar to taste (optional)
Directions
Boil the water and pour it into a French press if you have one.

Add the chicory coffee to the French press. If you do not have a French press, add the chicory coffee to the pot with boiled water.

Put the lid on while the plunger is in the upper position.

Wait for 5-7 minutes. You will find the exact timing by experience.

Gently slide down the plunger. The chicory coffee grounds will stay under the mesh filter. In contrast, the infusion stays above, similar to regular French press coffee.

Pour the chicory coffee into the mugs.

Serve and enjoy your chicory coffee!
Nutrition Facts
Amount/​Serving
% Daily Value
Extras
RECIPE NOTES FOR CHICORY COFFEE:

You can make chicory coffee using any coffee-brewing method like French press, pour-over, Turkish coffee, siphon, etc.

You can add 1 tablespoon of cinnamon if you prefer a richer taste.

You can substitute 1 cup of water with 1 cup of hot milk to make chicory coffee au-lait.

HOW TO SERVE CHICORY COFFEE:

Chicory coffee is served in a regular coffee mug with an 8-10 oz capacity. A coffee cake goes perfectly well with it.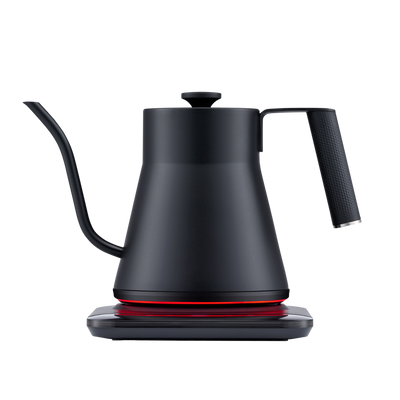 Baristan Gooseneck Kettle