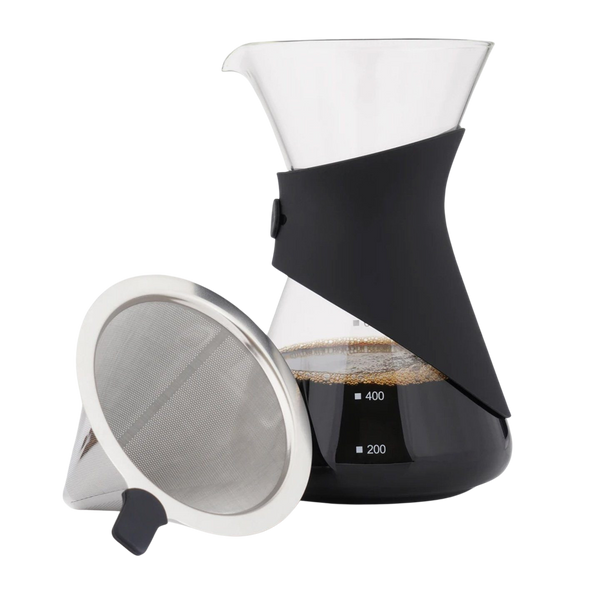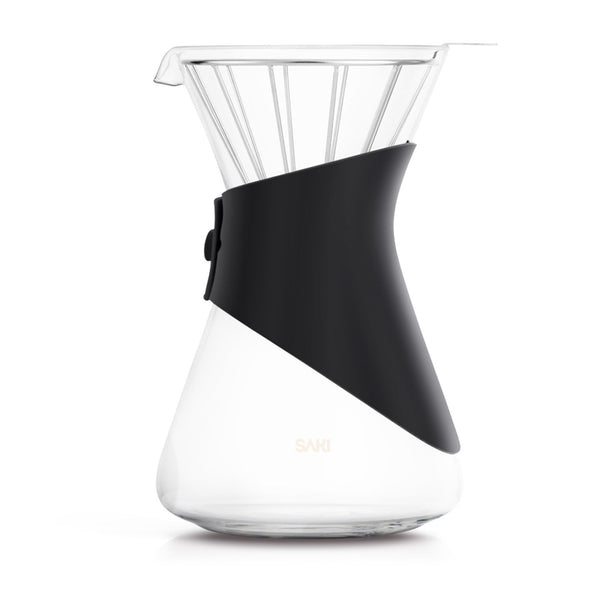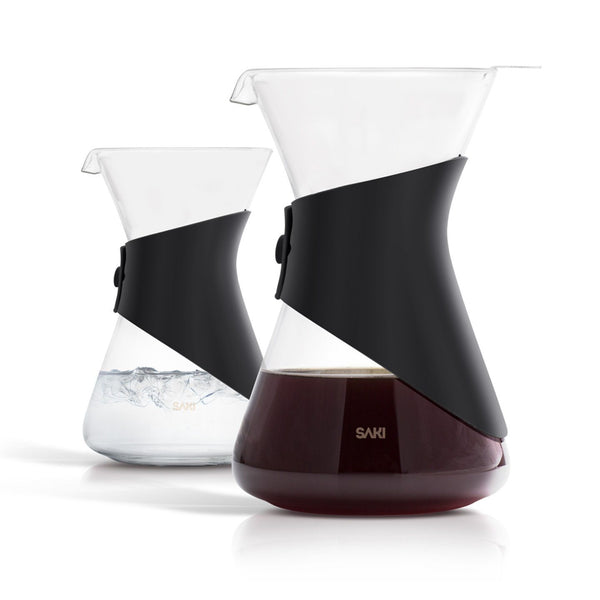 Saki Pour-Over Coffee Maker
28

Reviews
---
A trending phenomenon amongst all specialty coffee lovers, the SAKI Pour Over Carafe enables you to recreate the barista coffee experience and enjoy signature flavors at home.
| | |
| --- | --- |
| Model Name | Saki Pour Over Coffee Maker |
| Size | 8.4 x 5.6 x 5.4 inches |
| Capacity | 24 oz / 700 ml |
| Filter Material | Stainless Steel |
| Decanter Material | Borosilicate Glass |
| Sleeve Material | BPA-Free Silicon |
| Application | Individual, household |
30-day risk-free trial
Free shipping
Industry-leading warranty
Brewing ratio

chart
Water
8 oz/240 g
12 oz/320 g
16 oz/475 g
20 oz/600 g
Coffee
16 grams
24 grams
32 grams
40 grams
How to use SAKI Pour-Over

Coffee Maker?

Add Ground Coffee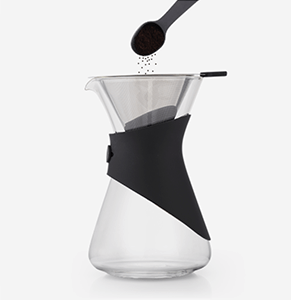 Pour Hot Water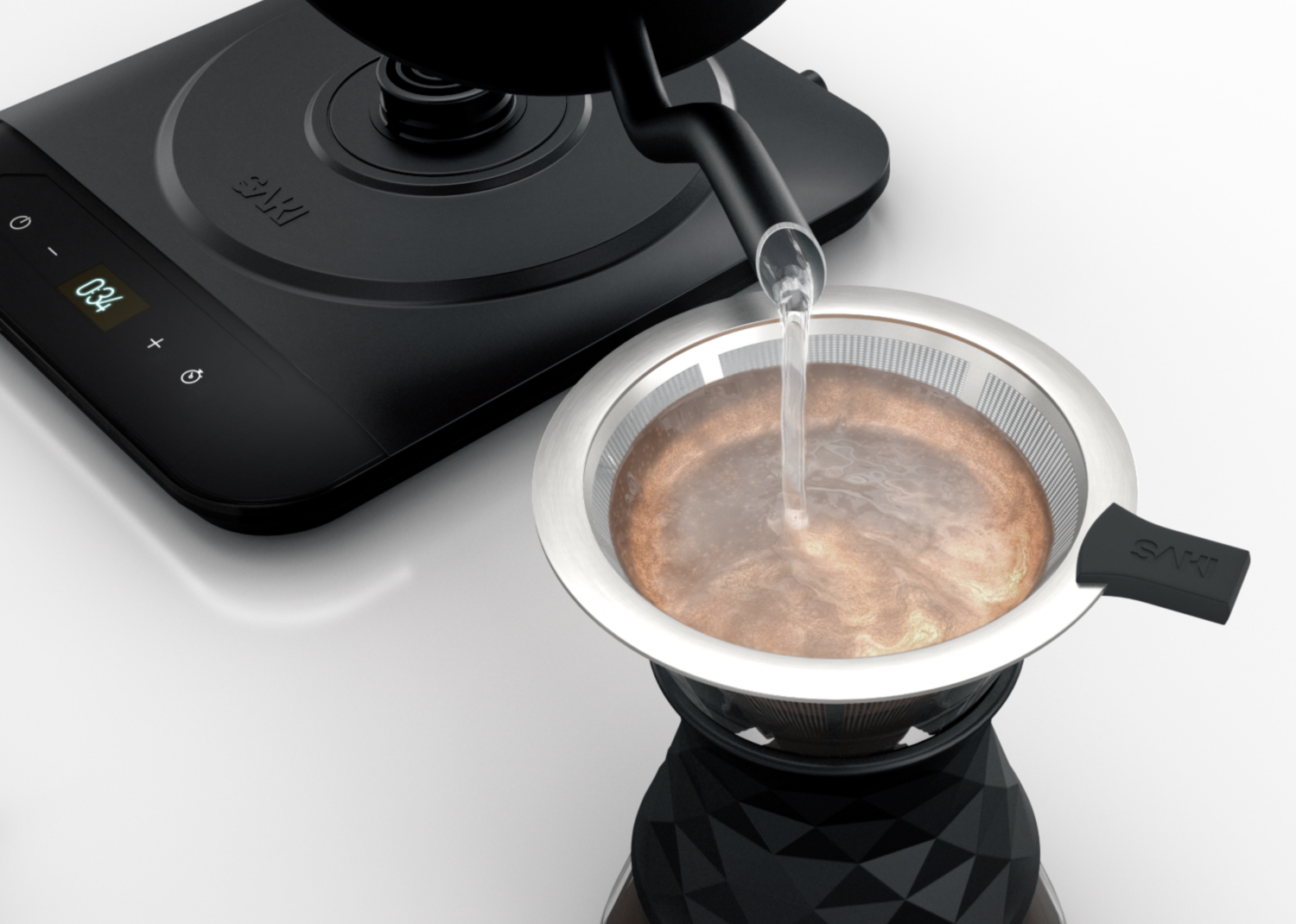 Wait For Drip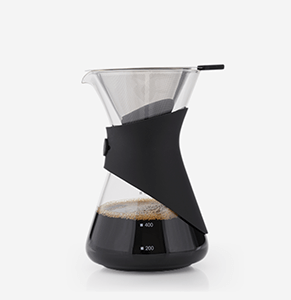 Remove Filter & Enjoy!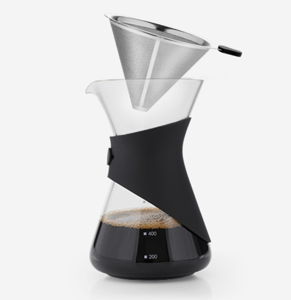 Customer Reviews
Ari B.

This is my first pour over coffee maker. It's not bad, but I feel the design could be improved just a little bit because there is no protection on the bottom of the glass, so for those of us with hard counter tops, you have to be very careful when setting it down. I am very anxious about setting it down too hard because I don't want it to break - if it had some sort of silicone bottom, I would give it 5 stars because I don't like worrying about it. As for the metal mesh filter, by far the best coffee filter I have ever used, excellent design and far superior to any others I have tried !!

Erik T.

It sure is a piece of glass! Metal filter works just fine

CB

It is better than Chemex. Rubber bottom is perfect for a comfortable landing on a hard surface. Rubber sleeve protects your hands from heat. It is a perfect product.

Sharon H.

Love it. Easy to use and cleanup. Coffee is delicious

Ann M.

This was the only one that has silicon pad attached to the bottom to prevent any break from accidental hit. It also had a lid. I have used it 3 times so far. I am very happy with it. It is a little bit expensive compared to others but worth it.

Jane

It is great that it has a silicone at the bottom. The filter works very well, too.

Amy

Very easy to clean and use. Great size for 2 cups of coffee.

Jan K.

I like this coffee maker a lot. Very easy to use, quality material, and sleek design. It makes my kitchen fill with fresh coffee smell.

Jan K.

I like this coffee maker a lot. Very easy to use, quality material, and sleek design. It makes my kitchen fill with fresh coffee smell.

Camilla D.

Very easy to use and clean. Works great!

Giovanni

It was a gift from my friend. I am using it regularly. A great quality product. Very sturdy. The mesh filter works perfectly to make pour over coffee. I highly recommend it!

Erick A.

Great product. It makes perfect cups of java.

Bob

It's awesome. No plastic at all. The coffee tastes just perfect.

Leo C.

Great product with good quality. Very easy to use and clean. But a little too expensive.

Sheena C.

I am very satisfied with it. Better than electric coffee maker. Takes up much less space. Perfect for a singler person.

Kay C.

The only problem with this coffee maker is that the filter drains too quickly. I prefer longer blooming. Other than that I am very happy with this coffee maker, no plastic at all and I don't have to use paper filter.

Lora S.

It's great it doesn't have any plastic. It is very easy to clean. Great price, too.

Daron C.

I like the compact design. Stainless steel filter is also very easy to clean. The glass pitcher is sturdy. Rubber part protects you from heat. Great value for the price.

ML

The silicon holder is still hot. It should be thicker. It's not dangerously hot but still disturbing. But I like the product and the option to use either paper or stainless steel filter.

Rana K.

This is an amazing product. I stopped using my French press after I bought this one. No sediment in my coffee. It's fantastic.

Ginger L.

I changed my old electric drip coffee with this coffee maker and I am very happy with it. It's very easy to use. The rubber handle around was hot so I needed extra layers to hold the carafe. I make the cleaning using a bottle brush and it is really easy.

Sharon H.

The unit as a whole is very good. But the filter does not sit solidly on the carafe. I had a different model that was a better match.

Sara M.

The coffee taste great. I highly recommend it.

Emily S.

I bought it for my husband and he really liked it. He even liked the metal filter which doesn't want. The silicon part is also very comfortable.

Steve M.

It works great and doesn't have any plastic part. The filter is really good.

Craig

I am glad this comes with a stainless steel filter. It is also very simple to use and clean. The coffee tastes great.

Mathew S.

I love this product very much. I am really a coffee drinker and used to have a coffee machine. But now I am making my coffee with this product from freshly ground coffee. It comes with a stainless steel filter but I don't like cleaning it. There is no plastic in the product which can contact your coffee. Silicone sleeves prevent touching hot glass while serving the coffee. I recommend a coarse grind size if you are to make a coffee with this product.

ChristieG.

I have been looking to purchase this kind of coffee maker for some time. I especially wanted to purchase pour-over because I think it makes the coffee taste better and lighter. I purchased this now almost a month ago and I have been using it every day since. It has a very modern and minimal design that looks amazing on my kitchen top. I was worried about the cleaning and the risk of glass breaking however it is so so easy to clean and stronger than other brands in my opinion. It deserves 5 stars!
accessories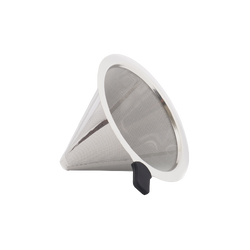 Unlike single-use paper filters that strip flavor from your grounds, 304 stainless steel filter preserves the aroma.