Can I use honey instead of sugar while making applesauce?
Yes. You can use honey instead of sugar in applesauce. You can also completely omit the sugar and make applesauce without sugar as well.
How can I make apple butter?
Once the applesauce you have made using the recipe above is ready, puree it if it is not smooth already, put it back into the bread machine, and start another jam cycle on the machine. Your apple butter will be ready as soon as the jam cycle is finished.
#Bread Machine
Applesauce Bread Machine Recipe
You will easily have a very useful and tasty applesauce only with 4 ingredients using your bread maker. No hassle around!
Tags: Bread machine applesauce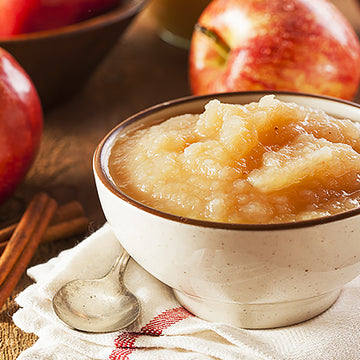 Applesauce is a puree made of peeled or unpeeled apples. It is used sometimes as an ingredient and other times as a topping when preparing dishes or desserts. Since apples are one of the most common fruits of the world, applesauce is very common in the different cuisines.
Making applesauce is very easy but it needs constant stirring in front of the stove to avoid any scorch. But in this recipe, the bread maker will take on the stirring so you will just put the ingredients into the bread pan and start the machine, and then sit back and enjoy the day!
Tips for your bread maker:
Bread Machine Program: Jam (#9)
Delay Start Time Available: No
Color Option: No
Weight Option: No
Ingredients
3 pounds apples, peeled and chopped

½ cup brown sugar

½ teaspoon cinnamon

1 cup water
Directions
Open the top lid of the bread maker and remove the bread pan from the machine by pulling it upward.

Make sure the bread pan is clean and both kneading paddles are in place.

Add all ingredients into a large bowl and toss the apples to coat with sugar, and pour everything into the bread pan.

Put the bread pan back in the bread machine by pressing it down so that it clicks into its place, and close the lid.

Plug the bread machine into an outlet and press the "Power" button to turn the machine on.

Use the "Program" button to select the program #9, and press the "Start" button to start the cycle.

Your machine will let you know by making a beep sound once the applesauce is done. Open the bread machine at this point and remove the bread pan using a pot holder.

Pour the applesauce into a large bowl to let it cool.

If you prefer a smooth texture instead of a chunky one, pour everything into a blender and puree it until smooth. You can also use a hand blender.

Enjoy your applesauce!
Nutrition Facts
Amount/​Serving
% Daily Value
Extras
RECIPE NOTES FOR APPLESAUCE:

You can add different spices to customize your applesauce depending on your preference.

You can use any kind of apple to make applesauce.

HOW TO USE APPLESAUCE:

You can use applesauce in many different ways. You can eat it on its own or add it to yogurt and breakfast cereals.

You can turn it into apple butter as explained in the related question below, or substitute it for apple butter in almost any recipe, as you can make in this apple butter cake recipe.

Applesauce is also a perfect topping for ice cream, cheesecake and tart.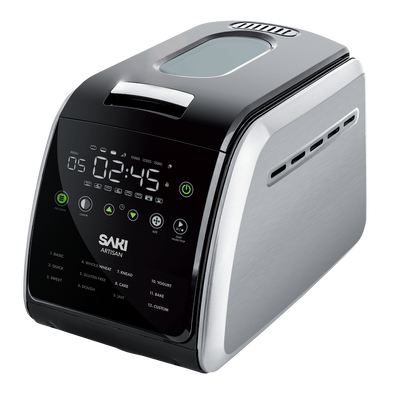 Bread Maker