Is there a non-dairy or vegan version of an eggnog latte?
Yes, there are non-dairy and vegan alternatives for making an eggnog latte. To do so, simply substitute the dairy-based eggnog with your preferred non-dairy eggnog alternative that can be found in many grocery stores and follow the recipe accordingly to create a delicious vegan eggnog latte.
Can I make an eggnog latte without an espresso machine?
Yes, you can still enjoy an eggnog latte even if you do not have an espresso machine or any other tool to make espresso. You can substitute espresso with another strongly brewed coffee, such as pour-over or drip coffee brewed stronger than usual, by adding more ground coffee.
#COFFEE
Eggnog Latte Recipe
Savor the enchanting harmony of espresso, velvety eggnog, and steamed milk in every sip of an eggnog latte. Warm your soul with this heavenly beverage!
An eggnog latte is a very popular North American coffee beverage that combines espresso with eggnog and steamed milk. It typically includes espresso, or another strongly brewed coffee, eggnog, steamed milk, and optional toppings like whipped cream, a sprinkle of ground nutmeg or cinnamon, etc.
Eggnog is a creamy, rich, and sweet beverage made with milk, cream, sugar, and beaten eggs. As the basic ingredient of eggnog latte, it enriches not only the taste but also the nutritional value of the beverage.
Now let's move on to the eggnog latte recipe below and enjoy its unique taste!
Ingredients
1 shot espresso (if you do not have any tool to make espresso at home, use ½ cup of strongly-brewed coffee)

½ cup eggnog

½ cup whole-fat milk (or your preferred alternative milk)

Whipped cream, ground cinnamon or nutmeg for topping (optional)
Directions
Make the espresso using an automatic espresso machine, Moka pot, or AeroPress, or make another strongly brewed coffee, and pour it into a coffee mug.

Heat the eggnog and milk over medium-low heat in a small saucepan by stirring occasionally to prevent scorching and ensure even heating. You should heat the mixture until it is hot but not boiling.

Once the milk and eggnog mixture is hot, carefully pour it into the mug with the espresso or coffee, and stir gently to combine.

If desired, top the eggnog latte with whipped cream and a sprinkle of ground nutmeg or cinnamon for added flavor and decoration.

Your homemade eggnog latte is ready.

Serve hot and enjoy!
Nutrition Facts
Amount/​Serving
% Daily Value
Cholesterol
87 milligrams
29
Extras
RECIPE NOTE FOR EGGNOG LATTE:

Feel free to adjust the ratios of espresso, eggnog, and milk according to your taste preferences. You can also experiment with adding a dash of vanilla extract or other spices to enhance the flavor further.

HOW TO SERVE HAZELNUT LATTE:

You can serve the eggnog latte with a small stirring spoon or a cinnamon stick, allowing the recipient to mix in any toppings or stir the latte to distribute the flavors evenly.

The sweet nature of the eggnog latte pairs beautifully with pastries such as croissants, cinnamon rolls, muffins, or scones. So, you can also serve these pastries along with it.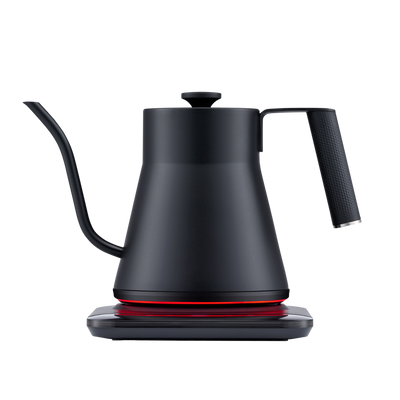 Baristan Gooseneck Kettle