To prepare a healthy meal, you need to choose healthy ingredients. Some of the healthiest foods include whole eggs, leafy greens such as Swiss chard and kale, cruciferous vegetables like Brussel sprouts, salmon, lean beef and chicken breast, tuna fish, boiled potatoes, beans and legumes, cottage cheese, and soup. For a meal to be healthy, its macronutrients (protein, carbohydrate, and fat) must be in the right ratio. The idea of a healthy meal changes according to one's nutrition or fitness goals. For instance, if you would like to lose weight, then you might need to reduce carb intake and eat more protein-rich meals in tandem with a consistent physical activity and meal plan. When it comes to healthy meal prep ideas for kids, it is a completely different realm.
Healthy Meal Prep Ideas for Kids
We want our children to have the best nutrition so that they grow up to be healthy adults. Though many parents are challenged with what to feed their children, it is important that you make a nutrition plan divided into meals and snacks. Healthy meals for kids can vary based on where you live and your kid's age and condition. However, there are many foolproof healthy meals that taste good and provides balanced nutrition as well. So, eliminate good old cereals and milk for a while and start making whole foods for your little ones. It takes time to get used to and plan it, but the practice is the key! 
For starters, whole-wheat yogurt waffles or egg wraps can be great choices for your kid-friendly breakfast, the most important meal of the day. You can top the waffle with peanut butter or honey (no syrup). For egg wraps, feel free to add other healthy ingredients like avocado and tomatoes. Overnight oatmeal is another tasty and great choice. To make your kid's oatmeal more delicious and sweeter, add powdered cinnamon. Cinnamon has several health benefits like improving sensitivity to the hormone insulin. Feel free to add turmeric as well. Turmeric has a neutral taste that your kid won't even realize it's in it. Make sure you don't exceed one teaspoon of turmeric a day!
Quick Dinner Prep with SAKI Pot Stirrer
You know what to cook and you have the right ingredients but what about time? Finding the time to make healthy meals for your family can be toughie unless you have the proper kitchen aid. SAKI Automatic Pot Stirrer turns cooking time into "me" time. The fully adjustable electric kitchen gadget is your ticket to a carefree cooking experience. SAKI Pot Stirrer is fully adjustable for your collection of pots and pans with its dynamic arms designed to easily fit a wide range of saucepans. Unlike single-arm stirrers, SAKI hot pot electric stirrer has 2 arms for perfect balance and mixing precision thanks to its precise pot-bottom sweeping feature. It is incredibly easy to use, clean, and store. Stress-free homemade healthy meal prepping and eating!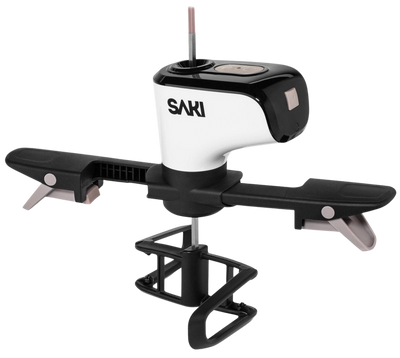 Automatic Pot Stirrer