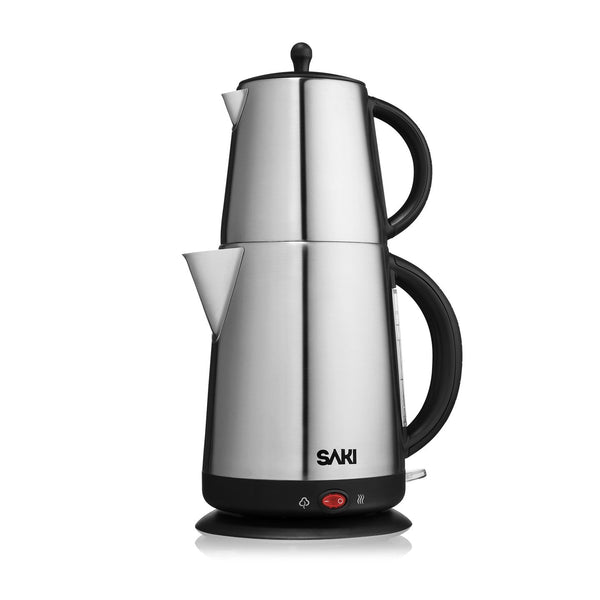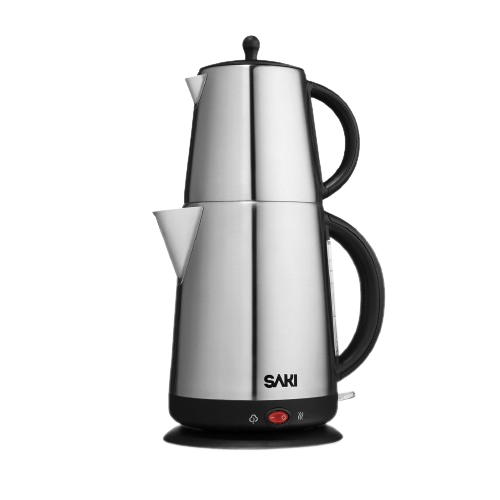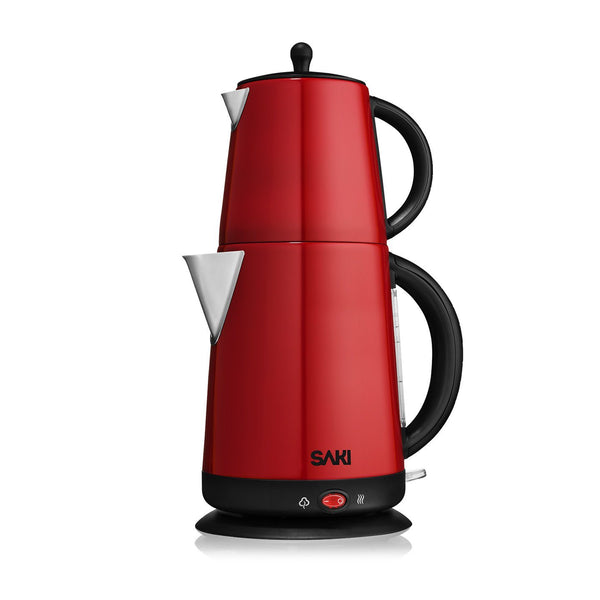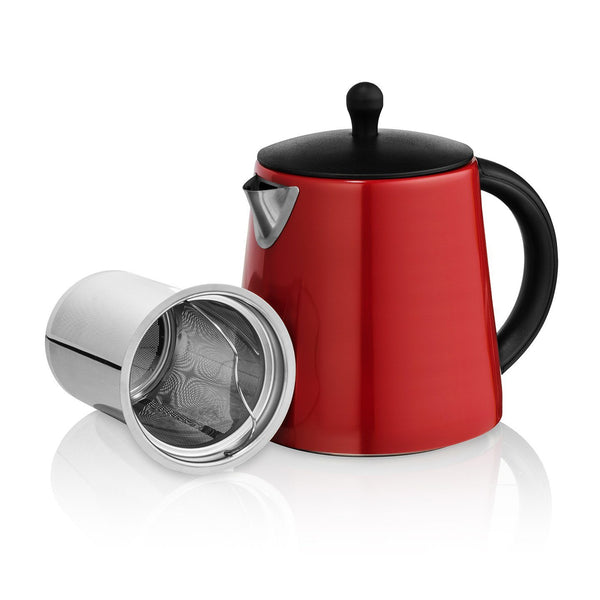 Turkish Tea Maker
92

Reviews
---
Pamper yourself with the perfect cup of tea. With a host of high-performance features and keep warm function no more cold tea!
| | |
| --- | --- |
| Size | 14.2 x 9 x 7 in |
| Power | 1200W |
| Keep Warm | 120-140 W |
| Product Weight | 4.2 lbs |
| Input | AC100-120V 50/60Hz |
30-day risk-free trial
Free shipping
Industry-leading warranty
The Saki

Turkish Tea Maker
Tea for more than two, all day long. With its 1.7-liter capacity and a warming function, you can drink hot, fresh tea any time. At the home or office, there's always enough for everyone, even unexpected visitors.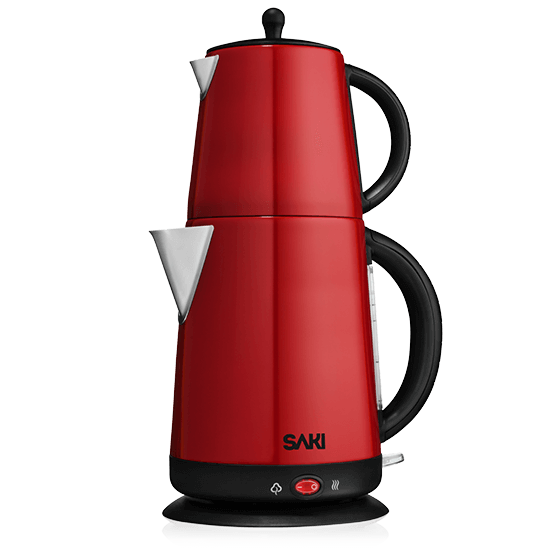 Durable

& Easy to Clean
Tea is an everyday essential. The stainless steel body of our Turkish tea maker is as tough as it is easy to clean and maintain, no matter how heavily you use it.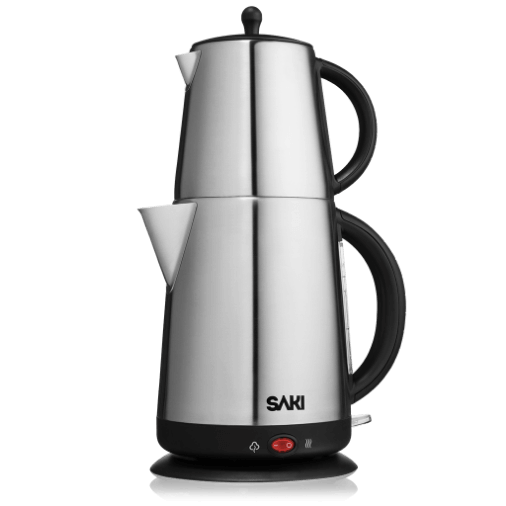 Infuse

& Re-use

We've added a window to the kettle, so you can see when you need to add water. A reusable infuser rotates 360° and can be removed easily for refilling and cleaning.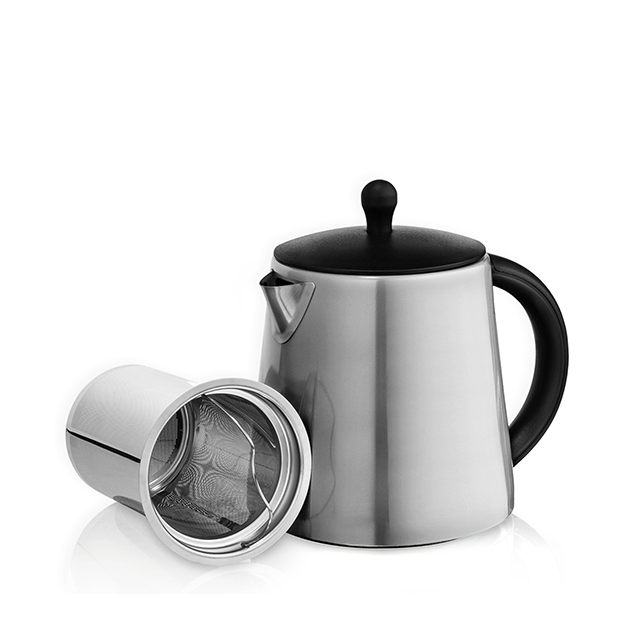 TURKISH

TEA MAKER

A water window for a quick check on your tea, a reusable infuser that is easy to remove and clean…and it rotates 360° too! Really, what more could you want?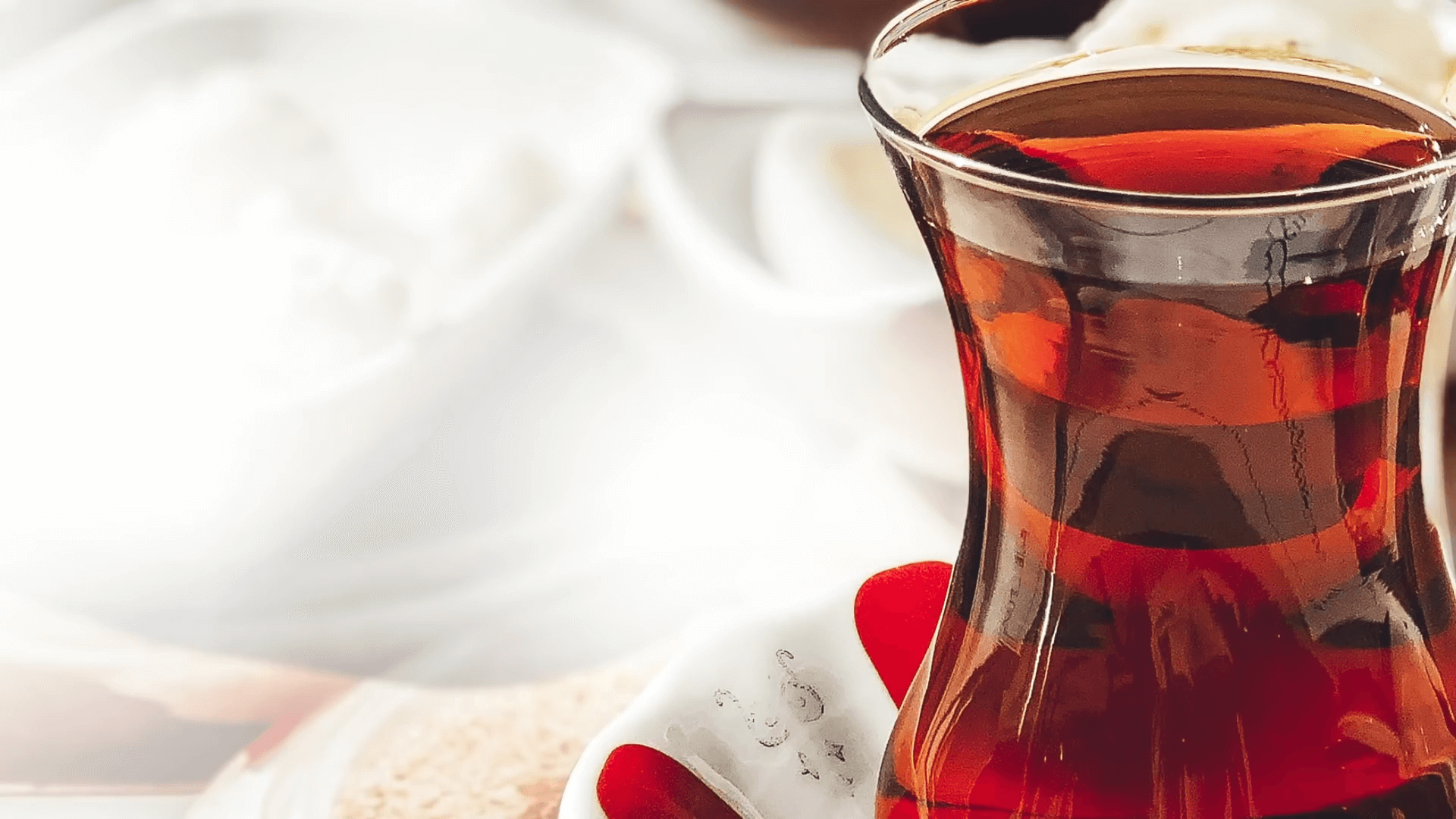 Brewing ratio

chart
Water
12 oz/350 ml
24 oz/710 ml
30 oz/900 ml
how to make

turkish tea?

Referring to the chart above, measure tea leaves into the strainer.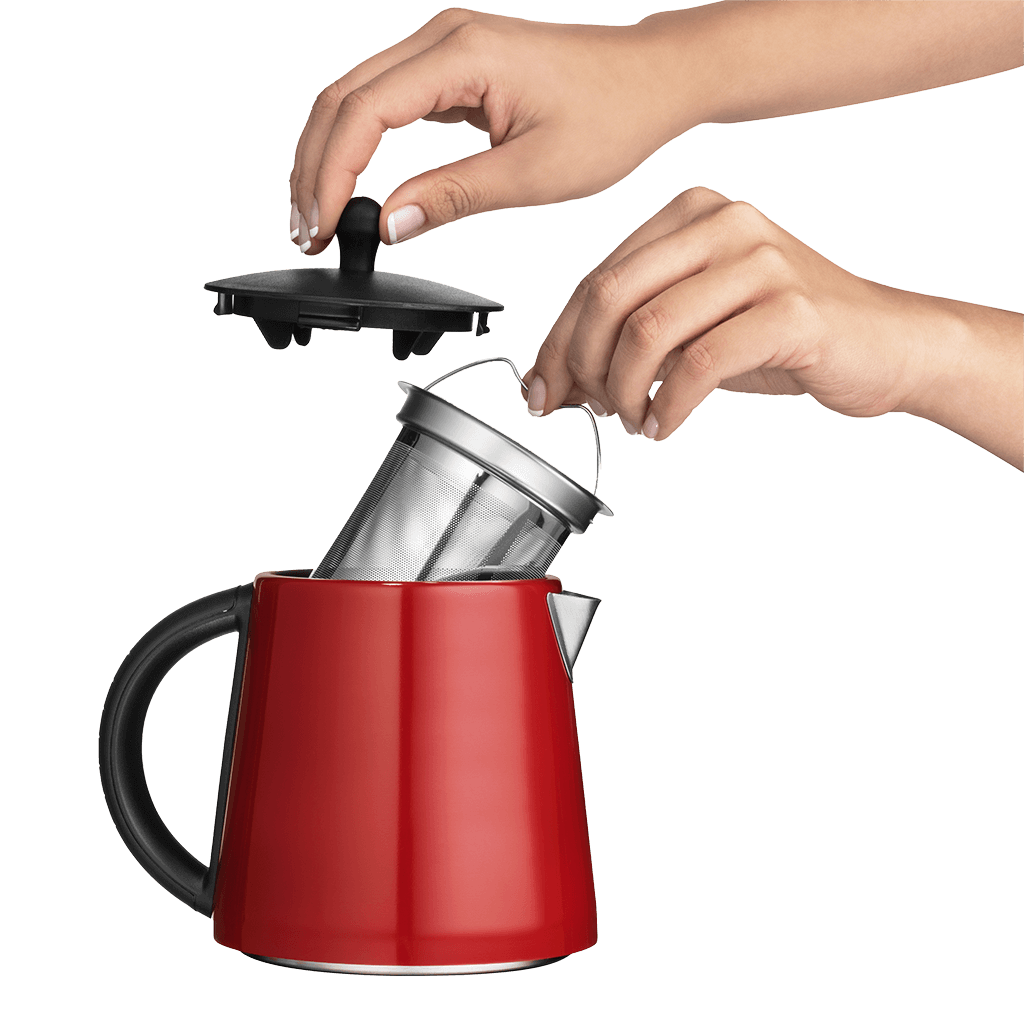 Add enough boiling water to cover the leaves.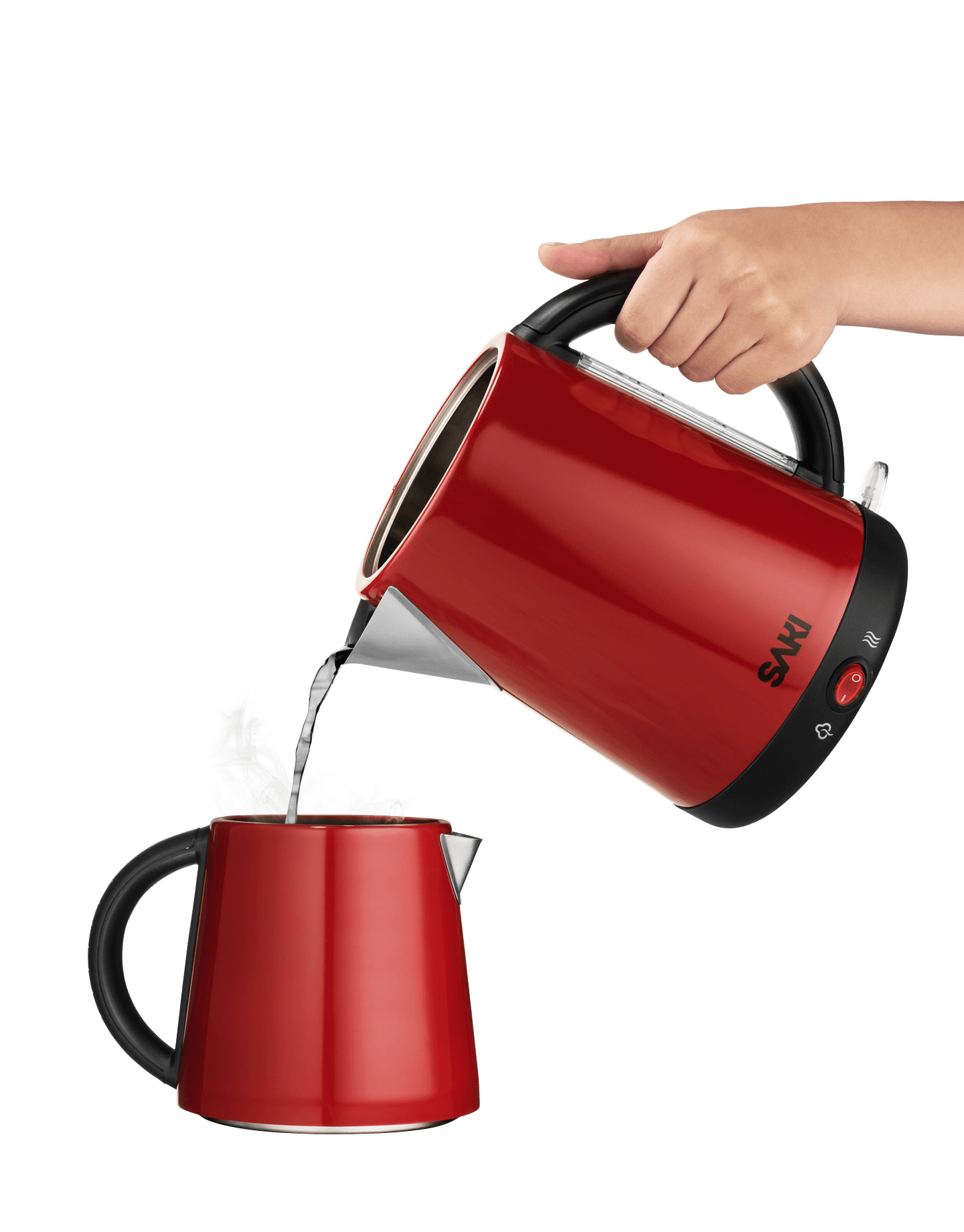 Let the leaves steep in the boiled water to brew to the desired strength.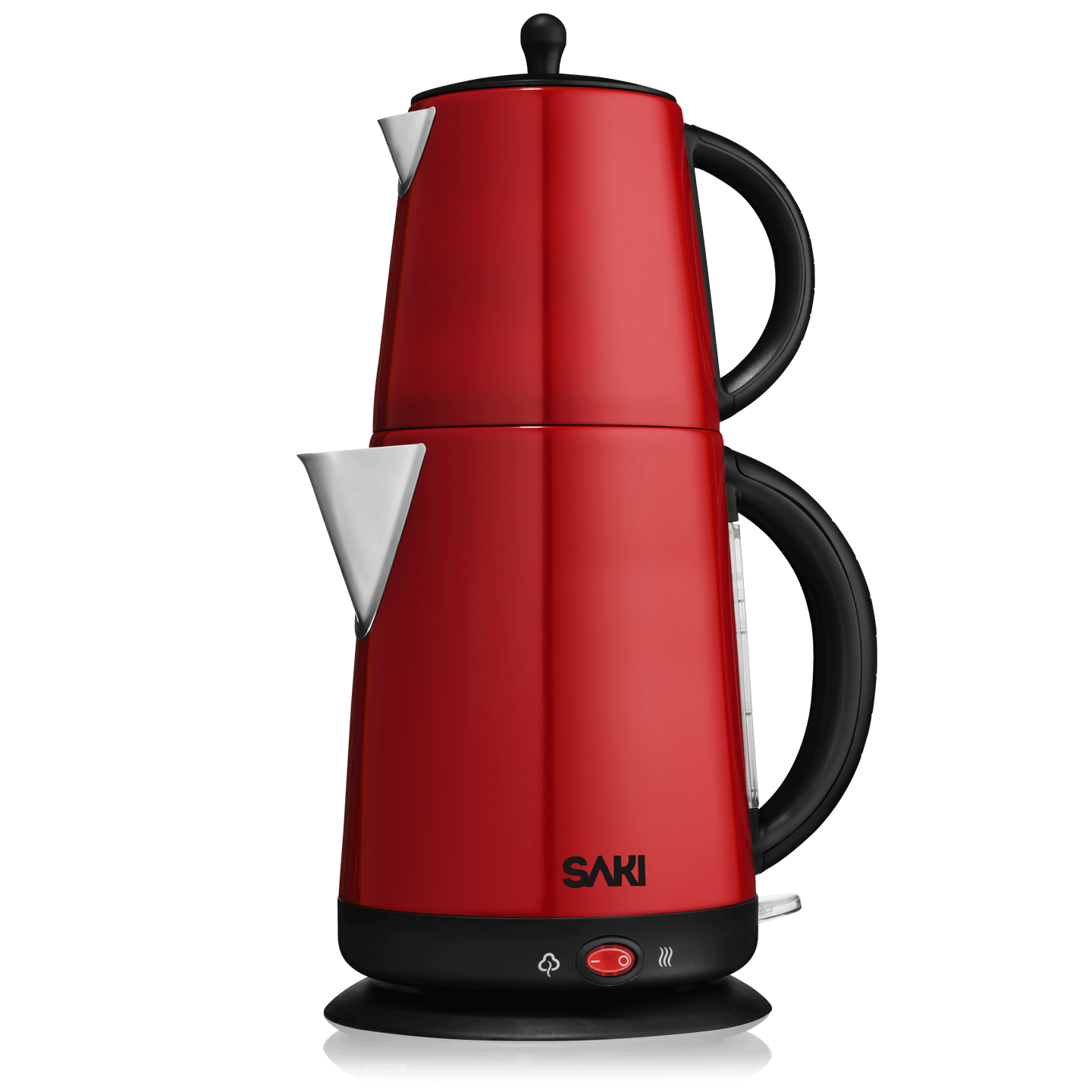 Customer Reviews
Dair S.

Great stuff

Vega S.

It is a welcome way to make tea. It is always ready. Working from home, I drink tea instead of office coffee now The earlier unit started leaking after a while. They send a new one immediately. I have been using this one for a couple of years now and love it. I have the red set, adds color to my white kitchen.

Rafet a.

takes forever to boil the water. we got two of them. we boil water in sperate catle and pour it into these units. it s not a item for fast pace environment.

Albert A.

Even after one use, the filter inside the teapot started to break. Maybe it was like that when I first bought it, but I didn't realize it right away as I waited a few weeks before using the product, I saw it while cleaning it after the first use.

Raziye Y.

I like this Tea makers because it is very easy to use. Keeps tea hot and holds good amount of tea and water. Boils very fast. Taste just like I had in Turkey. Thanks.

HUJIA H.

It is nice but we will see how long it last and how the warranty works.

Sherry B.

I am not pleased. The metal is thin and cheap. It looks dented. the lid is awkward to put on and the tea leaf basket is very weird.

Zeena

I works great. Much better than expected.

Ben

We drink tea very often. This tea maker is great to brew Persian tea and keeps it warm.

Sema S.

I was worried about the some bad reviews before buying it. But now I am very happy with the product. It works great. The shipping was fast. I love it.

Emin H.

We just bought this Tea maker and loved it too much. It is a great help for us to make a tasty tea in a short time.

Seren K.

I've been using this item for 2 weeks and it's been already PEELING OFF. Don't buy it. I want to return and I will get gray one.

erdal g.

Really Nice teamaker

Gevhar S.

I like this color , safety and useful

Banu K.

Very nice and useful.

Lotfullah L.

I love this product! Right when you see the package, you know that you are getting a quality product. This tea maker is well-crafted and holds a perfect amount of hot water and tea. It works perfectly for my family, especially when you have a few guests over. We are all really impressed with this product and recommend if you're looking to make some quality turkish tea!

Hasan

I used it every day. I love it.

Hale Z.

Perfect.

Reza K.

You must have it. It is perfect.

KK

It is lovely. Has a very nice look. Very useful. I like the color "red"

Mustafa K.

Very easy to use. I love it.

Kubra O.

It's perfect. The size, quality, performance all are great. Far better than I used before.

Alien

Great to brew Persian tea.

Tarık S.

This product has a beautiful look. It is very useful, very easy to use. It also works as a kettle to boil water. The strainer also works great.

Jiyoung K.

Love it!

Nima

Worked perfect for one year and died suddenly.

Jazz

Good look. Works perfect.

Parvin K.

Great to brew Persian or Turkish tea. I like it very much.

Kareem J.

It's been 3 years and it still works perfectly. Keeps the tea hot. Very easy to use and clean.

Can

Very easy to use and clean. It's been a couple of weeks since I bought it and I am very happy with it.

Sirin

It is very quick, very useful. Great to use in the office. Keeps the tea hot.

Rıza S.

Great tea maker. Can also be used as kettle to boil water.

angie r.

Was great

Kamil

Perfect product. Very happy with it.

Fatima K.

Lovely look. Perfect size. Great for parties and daily use.

Cevri O.

Exactly what I wanted and expected.

Leyal K.

I love it!

Nuray

It is easy to use but cheaply made. The lids and handles are plastic.

Ahmet A.

I've been using this tea maker for 1.5 years. It has worked great so far. But all of a sudden the keep warm functions stopped working. I contacted the seller and they replaced the product under warranty.

Gloria O.

Yea maker is great and Saki is a great company and enjoyed experience and customer service with them

Francisco A.

I have not received it. Terrible service.

Alborz G.

Great Customer Service! Upon letting them know that my unit failed, they shipped me a new one :) This is how a company should stand behind their product :D

Jack S.

It's very nice. Very easy to use and clean. Design could be more elegant but that's fine.

Hasan P.

Very good product, very easy to use.

Guy

It's a quality product. We loved it. Very easy to use.

Ferrel S.

It's a great product works perfectly. Highly recomment to buy it. Great price and fast shipping.

Derya Y.

It's great, very easy to use and clean. Sturdy and nice.

Jose O.

This product is very good quality and works great!

Mike N.

Great product. I liked it.

Eren E.

Great product and great customer service!

Mary L.

It's a great product. I am very happy with having one. But more importantly, SAKI's attitude to its customers impressed me more. I use this tea maker also as a kettle. But one day my husband accidentally threw the lid away. I contacted SAKI and they sent me a replacement lid with no additional charge. I didn't even pay for the shipment. They also kept me informed about the entire delivery process while I was waiting for my lid. Thanks a lot SAKI! I highly recommend this tea maker and this brand. It's a great gift for tea lovers.

Salih K.

It was ok in the beginning but then we started to get a metallic, plastic smell in the tea. We thought it would pass after using it for some time but it didn't. I don't know if this is a faulty unit or all are the same.

Ray S.

It's a great product. Very easy to use and works perfectly. It's a little expensive.

Hülya B.

It's great. The design, the quality, the color all is good. The tea it makes is really tasty.

Carmen M.

I never had Turkish tea until a friend introduced me to it. It was delicious. I had to purchase my own tea pot. I Love it!

S.C.

This is a great product. I use it every day. Very easy to use. Customer service is great too. I had to replace a part and they shipped it right away. Auto shutdown function would be nice.

Siri

I didn't like it. Somehow the tea smells plastic. So I am returning this one.

Jack D.

I am happy with this tea maker. I used different kinds of teapots and tea makers before and this is the best one I used.

J.P.

It's a perfect Turkish tea maker. I loved it!

Selin C.

It's a useful product. It can keep the water hot.

Mehmet C.

As a tea lover, I highly recommend this tea maker. You can also use it as a kettle.

Sehri M.

Taste of tea is nice. It is very practical. Its capacity is fairly enough for 6 persons.

Mariam A.

I am very pleased with this teapot. Looks pretty & works very good .

Rana P.

It is good the only thing I don't like is about content ,it is not large enough for me

Rana P.

It is smsll for us

Pam

Very great product. I bought the second one.

Sinan

Just like it was expected. Very happy with Saki

Carmen C.

Good good good

Zeynep D.

Cok Kolay ve Cok guzel cay

TUBANUR Y.

I use it as a kettle or tea maker. It works very comfortably and fast. I am very satisfied. Thank you.

Mariam A.

I love my tea pot

Norman D.

Works very well

customer

I ordered the Saki Electric Turkish Tea Maker. It was shipped quickly and received in perfect condition. It works great! Thank you for a good experience and great product!

Gloria O.

Great tea excellent service

Karima U.

This teapot is perfect to provide continuous fresh tea all day while I'm teaching at home. The water heats quickly, stays perfectly hot, and the teapot on top is great as well.

Linda B.

We were very impressed with the quality at the fat service I would recommend this to all my family and friends

Mehrdad M.

I love it but more than that , love the customer service and her lovely way of talking and dealing with customers

Denise H.

I love this thing. I like really strong tea, so I have been looking for exactly this. No more cold, strong tea. I can have hot tea without reheating! The warming function has changed my life, lol.

Birol B.

Love our tea maker

Olcay S.

There is no better way of brewing tea

ChristieG.

I used to brew tea with traditional steel tea kettles however it is harder to control the heat of the water and the timings of boiling. Also, after a few hours, the tea gets colder and taste bitter and not fresh. With the Saki Tea Maker, my routine of tea changed. An electric kettle is better than steel tea kettles because it always brews at the right temperature and keeps. Also keep warm function keeps the tea fresh for hours and my tea never gets bitter and always fresh.

Maryam R.

Fast delivery and good product

Soheil L.

Have it for less than a month so far so good I love the design, very light, easy to wash, no water stain on the outside, doesn't splash when pouring tea

Aydin

Works and looks great.

Steffanie H.

I am very pleased with the tea maker. It brews my tea all day long. It looks great and works really well. I thought I would have to spend hundreds to get the taste of tea that I was looking for. I'm so glad that's not the case. Very pleased with the product. Would highly recommend it.

Marina M.

I bought this tea maker as a gift My daughter likes color design

Mesut S.

We call customers service because are tea put liking from handling please. They didn't handle to case professionally. He didn't say send it back . He wants me to videotape and send them first so they can see if fixed or!!! I don't have time for to back off fords. It's not liking to much but still problems.

Erim A.

Cool kettle very happy with it.

Kadriye P.

I am so glad becouse ı drink everyday very delicous tea and ı make very easy

Steve A.

Very nice makes tea very delicious

Nawaf K.

Great Product

Sengul U.

Thank you so much