Can I freeze coffee cake?
You can freeze coffee cake slices in an airtight container and then consume them thawing. It feels freshly baked after thawing. In fact, to freeze coffee cake slices is very useful to accompany your coffee with a fresh coffee cake every morning.
What is it called coffee cake?
It is called coffee cake because it is meant to be eaten with coffee, not because it is flavored with coffee. Coffee cake is mainly flavored with cinnamon and has streusel topping made with flour, butter, and sugar on top.
What is the difference between coffee cake and regular cake?
Coffee cakes have streusel topping on top and are not frosted. They may have some fruits, nuts or chocolate chips inside.
Does coffee cake have coffee in it?
Coffee cake does not have coffee in it. It is more of a cinnamon flavored cake.
#Bread Machine
Coffee Cake Bread Machine Recipe
Mornings are not complete without coffee and what goes better with coffee than a slice of coffee cake? Have a slice of coffee cake to bring your morning a little joy!
Tags: Bread machine coffee cake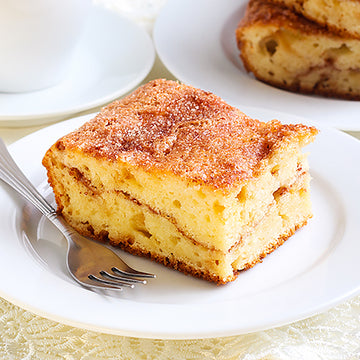 Contrary to what many think, coffee cake is not flavored with coffee. It got this name because it is eaten alongside coffee. Most people like eating some kind of sweet treats with coffee, for example, Turkish delight or a piece of chocolate served with Turkish coffee, or a cookie alongside Greek coffee, or a cheesecake with filter coffee while chatting with friends in a coffee shop.
The coffee cake recipe below is so easy that it will be your favorite to whip up when you invite your friends for an afternoon coffee. They will definitely get surprised and delighted after tasting this recipe flavored with cinnamon, butter and brown sugar mix crumbles on top.
Tips for your bread maker:
Bread Machine Program: Cake (#8)
Delay Start Time Available: No
Color Option: Yes
Weight Option: No
Ingredients
CAKE DOUGH:

1 cup milk

1 tablespoon applesauce

1 teaspoon vinegar

1/3 cup sugar

¼ cup melted butter

1 teaspoon vanilla extract

2 cups all purpose flour

2 teaspoon baking powder

¼ teaspoon baking soda

½ teaspoon salt

STREUSEL TOPPING:

½ cup all purpose flour

1/3 cup brown sugar

½ teaspoon salt

2 teaspoon cinnamon

3 tablespoon melted butter
Directions
Open the lid of the bread machine and remove the bread pan by pulling it upward.

Make sure the bread pan is clean and both kneading paddles are in place.

Add the ingredients of cake dough into the bread pan in the order listed and gently mix them a little bit using a small rubber spatula to help them blend well in the machine. You do not need to mix too much, the bread machine will do the real work!

Put the bread pan back in the bread machine, press it down so that it clicks into its place, and close the lid.

Plug the bread machine into an outlet and press the "Power" button to turn the machine on.

Use the "Program" button to select program #8 for the cake cycle.

Press the "Color" button to choose your desired crust color and then the "Start" button to begin the cake making cycle.

While the cake is baking, mix the ingredients of streusel topping in a small bowl by your hands and make crumbles.

When the bread machine timer reads 30 minutes, open the bread machine and sprinkle the streusel topping on the cake.

Close the machine and let the coffee cake continue to bake.

Your machine will let you know by making a beep sound once the coffee cake is done. Open the bread machine at this point and remove the bread pan using a pot holder. If you do not remove the bread pan immediately, the bread machine will automatically go into a warming cycle, keeping your cake warmed for one hour.

After removing the bread pan, flip the pan over and gently tap it on the counter to remove the coffee cake.

Make sure the kneading paddles are taken out of the cake.

Slice and enjoy!
Nutrition Facts
Amount/​Serving
% Daily Value
Cholesterol
26 milligrams
9
Extras
RECIPE NOTES FOR COFFEE CAKE:

If you do not have a bread maker, you can also bake this cake in your kitchen oven. To do so, you need to preheat the oven to 375 degrees Fahrenheit and bake the cake 30-35 minutes until golden brown.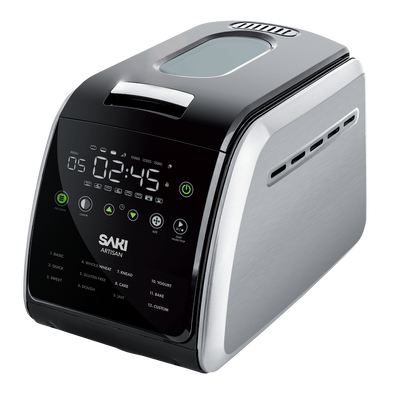 Bread Maker