Can I use brown sugar to make cranberry sauce?
Yes, you can use brown sugar to make cranberry sauce. You can also use honey instead of sugar.
Should I use fresh or frozen cranberries to make cranberry sauce?
You can use any of the two, fresh or frozen cranberries, to make cranberry sauce.
#Bread Machine
Cranberry Sauce Bread Machine Recipe
Category:
Sauce / Jam / Side dish
Making cranberry sauce in the bread machine is super easy. No stirring hassle, only pleasure!
Tags: Bread machine cranberry sauce
Cranberry sauce, also called cranberry jam, is made by cooking cranberries with sugar. It is either used as a topping in desserts, or served as a sauce or side dish to accompany meals. It is customary to serve cranberry sauce as a side dish in Thanksgiving or Christmas dinner.
Homemade cranberry sauce is great because you have the chance to adjust the sweetness and sourness level of the sauce while making it yourself. The only hassle while making cranberry sauce at home is the constant stirring needed to avoid any scorch. But in this recipe, the bread maker will take on the stirring part so you will have made the cranberry sauce without tiring.
Tips for your bread maker:
Bread Machine Program: Jam (#9)
Delay Start Time Available: No
Color Option: No
Weight Option: No
Ingredients
3 cups cranberries, fresh or frozen

1 cup sugar

½ cup cranberry juice

1 ¼ teaspoons vanilla extract

1 teaspoon lemon zest
Directions
Open the top lid of the bread maker and remove the bread pan from the machine by pulling it upward.

Make sure the bread pan is clean and both kneading paddles are in place.

Add cranberries into a large bowl and mash them roughly with a fork. You can also puree the cranberries in a blender if you want a smoother texture.

Add the mashed cranberries and other ingredients into the bread pan.

Put the bread pan in the bread machine by pressing it down so that it clicks into its place, and close the lid.

Plug the bread machine into an outlet and press the "Power" button to turn the machine on.

Use the "Program" button to select the program #9, and press the "Start" button to start the cycle.

Your machine will let you know by making a beep sound once the cranberry sauce is done. Open the bread machine at this point and remove the bread pan using a pot holder.

Pour the cranberry sauce into a large bowl to let it cool if you are to use it soon.

If you are not to use cranberry sauce directly, you can pour it into the jars. In this case you should close the lids directly because this helps prevent mould.

Enjoy your cranberry sauce!
Nutrition Facts
Amount/​Serving
% Daily Value
Extras
RECIPE NOTE FOR CRANBERRY SAUCE:

You can use orange juice instead of cranberry juice and orange zest instead of lemon zest in this recipe.

HOW TO SERVE CRANBERRY SAUCE:

If you are to serve cranberry sauce as a side dish, you can serve it in a small bowl, or you can just place it next to the main dish in the serving platter. It is better to serve it at room temperature as a side dish.

If you are to use it as a topping, it goes perfectly well with ice cream and cheesecake. You can turn this air fryer strawberry cheesecake recipe into a cranberry cheesecake recipe by adding cranberry sauce into the filling instead of strawberry puree and topping the cheesecake with cranberry sauce instead of fresh strawberries.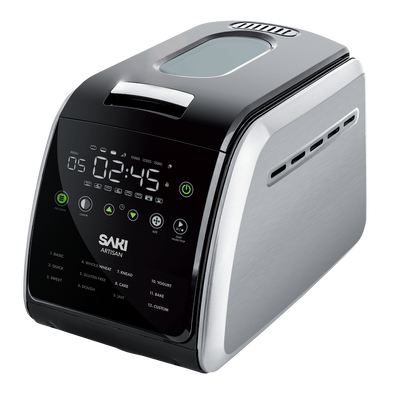 Bread Maker