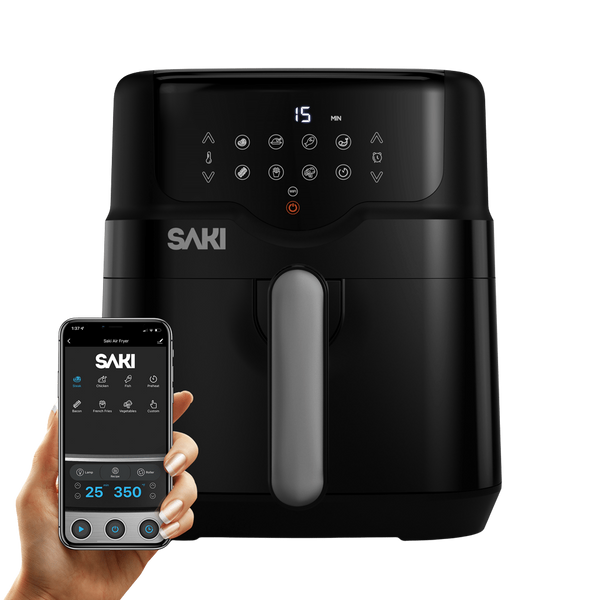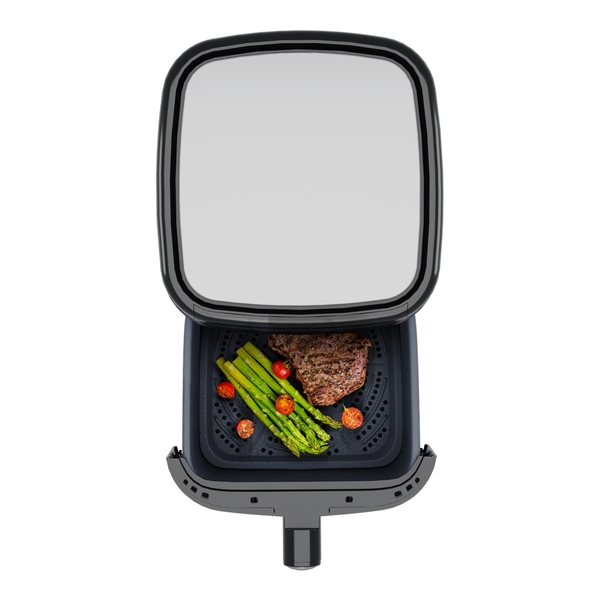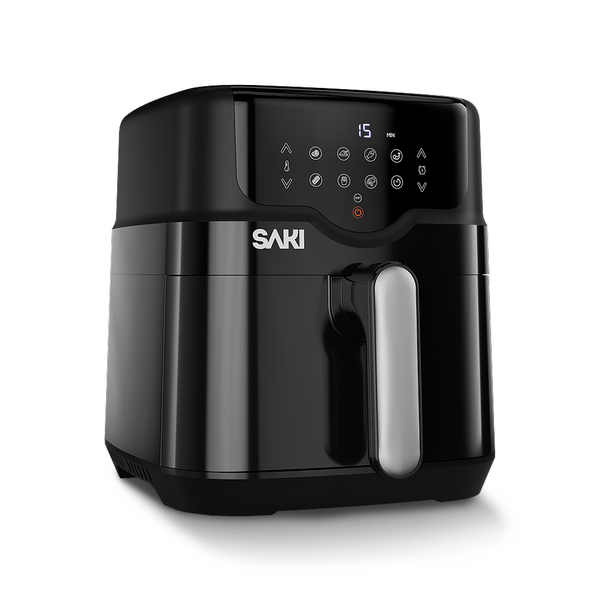 Smart Air Fryer, 5 Quart
19

Reviews
---
Browned and crispy on the outside. Tender inside.

 Craving French fries? Can't get the coconut shrimp quite right? Feeling guilty about the bacon?

 Ditch the unhealthy fats and high calories for great taste and nutritious eating, automated recipes and menu options, easy prep and no-fuss clean-up.
| | |
| --- | --- |
| Power Supply | AC 120V, 60Hz |
| Rated Power | 1500W |
| Capacity | 5 Quarts/4.5 Liters |
| Temperature Range | 175 - 400 °F |
| Time Range | 1 - 60 minutes |
| Weight | 8.5 lb / 3.9 kg |
| BPA Free | Yes |
| Cord Length | 40 inch |
| Dishwasher-Safe Parts | Yes |
| Settings | Steak, Chicken, Seafood, Bacon, French Fries, Vegetables, Preheat |
| Warranty | 1 Year Full Product Warranty |
| Connectivity | WiFi 5 GHz, iOS and Android App available |
30-day risk-free trial
Free shipping
Industry-leading warranty
Flip-Your-Food

Reminders

We can all use reminders. Our air fryer beeps and displays a notification that reminds you to flip your food halfway through cooking. This allows you to achieve an even texture all around.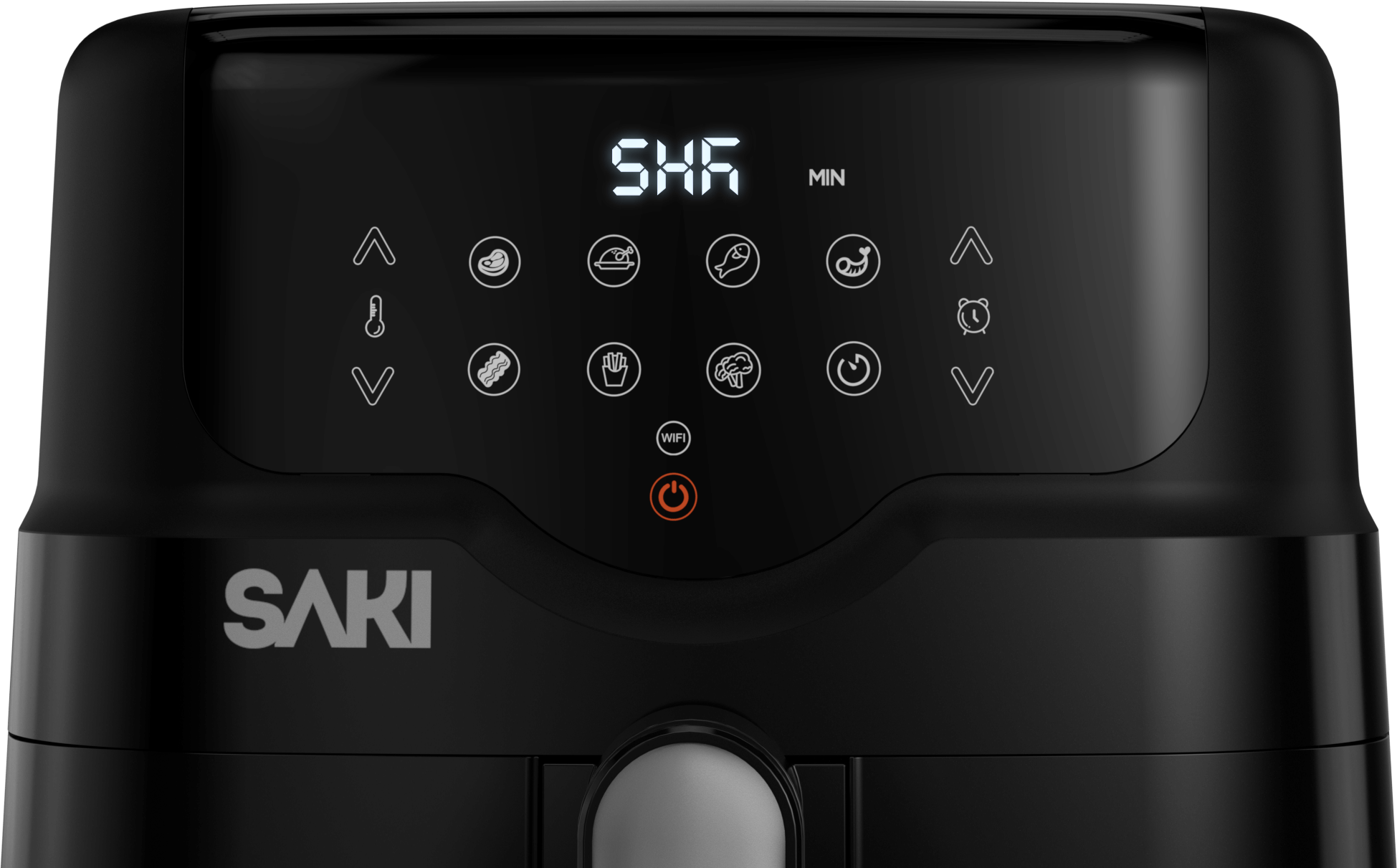 As Healthy as

the Food You'll Cook in Them

All components of the SAKI air fryer are proudly PFOA-free and BPA-free.
Free of BPA
Free of PTFE
Free of PFOA
Free of PFAs
Customer Reviews
Ounon K.

This is my second Air Fryer. I really love it it makes cooking easy for me. I was so happy with the fire one and decided to purchase one more air fryer to keep in case friends come and wanted to fry more meet. It works perfectly with my phone. There is a reminder on the fryer that signal on your phone beautiful 😻. I really recommend it for Everyone who want to save time in kitchen.

Naomi L.

Just the right size for 2. So far I've made and also reheated several things in the fryer and have been very pleased with the results, easy to clean, and looks good on the counter. I would definitely recommend this Saki item. I love all the small kitchen appliances I've bought from them - great products line.

Brian

Great addition to my kitchen. Cooks super fast as a mini oven. Wife and I find it super convenient. It is a bit noisy but it is expected due to built in fan. Highly recommended.

Patrick

To be honest I love this air fryer more then I though I would . Super easy to use and clean . Great choice.

Heidi

This air fryer works great. It was super easy to setup by following instructions. Also the cookbook that come with the product is a perfect guide for us.

Patricia

I wasn't expect to cook juicy rib eye in it but results were astonishing. Loved this air fryer.

Jason

This is my second air fryer. I choose this one because of smart features. And it is worth it every penny I spend. I do not need to stand in kitchen to wait for my food has been cooked. This air fryer sends notification to my phone once my food is ready. Loaded with convenient feature definitely recommend to everyone.

Jugen

If you are starting your air fryer journey then saki air fryer is a perfect start. Square shaped basket is super easy to use and cleaning also no more an issue of cooking. Completely satisfied with my purchase.

Liz

Saki air fryer is an absolute time saver for me. I can quickly prepare food. It does not only fry food, you can bake, fry and defrost your food without dipping in oil.

Deborah

I am in love with this air fryer! It is super easy to use and super easy to clean! I have been trying different foods in it. I cooked a steak and it was so good. Meat remains juicy!

Evan

Probably one of the best investments that I have made this year. I use it almost every day, and it's gotten me into cooking without REALLY getting into cooking!

Lucas

It is my first time trying an air fryer. So far I am completely amazed at how well it cooks all the foods. My family and I had tender juicy chicken breasts cooked at home for the first time in our lives.

Sara

We use this air fryer daily and it performs better than our expectations. I don't have any negative comments or suggestions. Pricing is fair enough, shipping was faster than expected. So far so good. Keep up the good work with your products.

Tara

I am still a beginner at cooking with an air fryer but so far I really liked it. The preheat feature is super handy. Other thing that I liked the most about this air fryer is how easy to adjust cooking time and tem how easy it is to manually set time and temperature without leaving any mess behind.

Alex

My new go to for every dinner. I can absolutely make everything in it. I recently made hot dogs in this and result was wow! I also love how it connects to wifi and settings are pretty simple to use. Highly recommend.

Bobbie

If you are doing a keto diet, this air fryer is exactly what you have been looking for. The chicken comes out perfect, I tried making roasted Brussels sprouts, roasted veggies, and they all came out incredible. Quick and easy to clean

Kyle

I got this air fryer for my parents as a Christmas gift this year. I believe that they must catch on the air fryer trend. From the moment they opened this they fell in love with the product. To be honest it takes little practice find your taste level but as soon as you find out how to use it, you fell in love with it.

Lonnie

I cook lot of food daily and this air fryer is a time saver. Every food I tried come out perfect in a short period of time. Absolutely super happy with the basket size and the product.

Brittany

I love my new saki air fryer! I use it every day. It even works well to reheat things like crispy chicken wings!