Can I make mushroom risotto with frozen vegetables?
Absolutely. You can make mushroom risotto either with frozen or fresh vegetables, whichever is convenient for you.
What meat goes well with mushroom risotto?
Chicken matches perfectly with mushroom risotto, especially roast chicken. You can reach our simple roast chicken recipe following this link.
#Bread Machine
Mushroom Risotto Bread Machine Recipe
Have you ever thought that you can make risotto in a bread maker? You'll be surprised to see how a bread maker eases the burden of making risotto in this recipe.
Tags: Bread machine dishes
Risotto is an Italian rice dish made with meat, fish, or vegetable broth. It is the most common way of cooking rice in Italy. Its main ingredients are rice, onion, broth, and cheese. There are also additional ingredients such as different vegetables, white wine, garlic etc. added to the risotto depending on the variety being made. For example, in the recipe below, we are going to make a mushroom risotto, the most preferred variety.
A good risotto has a creamy structure with the rice grains being tender but slightly resistant to the tooth. In order to have this consistency, risotto needs a continuous stirring during cooking. Stirring hot dishes while adding ingredients as is the case when making risotto poses scalding risk. It is tedious, too. In the recipe below your bread maker will do this risky and tedious part of making risotto on behalf of you. You will just enjoy preparing the ingredients and then sharing the delicious taste of risotto with your loved ones.
Let's start making mushroom risotto!
Tips for your bread maker:
Bread Machine Program: Jam (#9)
Delay Start Time Available: No
Color Option: No
Weight Option: No
Ingredients
3 tablespoons olive oil

3 cups sliced mushrooms

½ cup chopped onion

2 fresh garlic clove, minced

1¾ cup arborio rice

4 cups chicken broth (the same amount of other meat, fish, or vegetable broths can also be used)

¾ cup white wine

½ teaspoon ground black pepper

1 cup shredded parmesan cheese
Directions
Open the top lid of the bread maker and remove the bread pan from the machine by pulling it upward.

Make sure the bread pan is clean and both kneading paddles are in place.

Warm up the olive oil in a large skillet over medium high heat.

Add onion, mushroom and garlic into it, and cook them stirring occasionally for 10 minutes until the vegetables soften.

Transfer the cooked vegetables into the bread pan.

Add rice, chicken broth, wine and ground black pepper over the vegetables and mix them.

Put the bread pan back in the bread machine by pressing it down so that it clicks into its place, and close the lid.

Plug the bread machine into an outlet and press the "Power" button to turn the machine on.

Use the "Program" button to select the program #9.

Press the "Start" button to start the cooking cycle.

Your machine will let you know by making a beep sound once the mushroom risotto is done. Open the bread machine at this point and remove the bread pan using a pot holder.

Transfer the mushroom risotto into a large bowl and mix it with the shredded parmesan cheese.

Serve warm.

Enjoy your risotto!
Nutrition Facts
Amount/​Serving
% Daily Value
Cholesterol
11 milligrams
4
Extras
RECIPE NOTE FOR MUSHROOM RISOTTO:

You can skip white wine in this recipe if you abstain from alcohol. It will not change the taste and the texture a lot.

HOW TO SERVE MUSHROOM RISOTTO:

Mushroom risotto is served in a bowl as a first course of a multi-course meal, or on a plate as a side of a meat dish. If you prefer a lighter menu, you can also serve it as a main dish.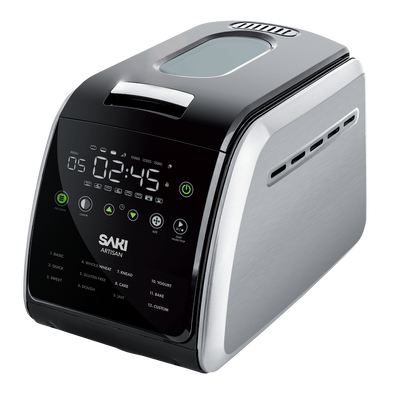 Bread Maker