Which rice should I use to make rice pudding?
Short or medium grain rice will be better to make rice pudding since they have more creamy texture than long grain rice after cooked.
What spices go well with rice pudding?
Vanilla, cinnamon, and saffron are the most used spices while making rice pudding. If they are to be used, it is better to add saffron and vanilla before cooking, and cinnamon while serving.
#Bread Machine
Rice Pudding Bread Machine Recipe
Do you know how useful your bread maker is to make rice pudding? It saves you from standing, constantly stirring, and scalding. Try it!
Tags: Bread machine rice pudding
Rice pudding is a dessert based on rice and milk. It is made almost all over the world and liked by almost everyone. Its dessert version is more commonly known but in fact, there is also a sugarless version of it eaten for lunch or dinner especially in Asian countries. We will make its dessert version in this recipe.
Rice pudding is made with rice, milk and sugar, and flavored with some spices such as vanilla, cinnamon etc. There are different versions of the rice pudding recipe since it is made almost all over the world. Some recipes in which egg is used like the one below are more like a custard whereas some others in which starch is used are thicker. In some recipes, spices are added before cooking the rice pudding, while in others, they are sprinkled over it while serving.
Despite all these differences in rice pudding recipes, they all have one thing in common. That is the fact that rice pudding needs stirring during the whole cooking process. So, you need to stand in front of the stove and stir the rice pudding till it is cooked. However, if it is too difficult for you, a bread maker can do that on your behalf. Thus, a bread maker can stir and cook the rice pudding while you are reading a book or enjoying coffee with your friends.
Let's learn how to make rice pudding in a bread machine and ease our life!
Tips for your bread maker:
Bread Machine Program: Jam (#9)
Delay Start Time Available: No
Color Option: No
Weight Option: No
Ingredients
4 cups milk

½ cup sugar

½ cup short or medium grain white rice

1 tablespoon butter

1 egg

½ teaspoon vanilla extract

½ teaspoon almond extract

½ teaspoon cinnamon
Directions
Open the top lid of the bread maker and remove the bread pan from the machine by pulling it upward.

Make sure the bread pan is clean and both kneading paddles are in place.

Add all ingredients into the bread pan and stir briefly. You can set the cinnamon or nutmeg aside to sprinkle it over the rice pudding at the end instead of adding them in this step.

Put the bread pan back in the bread machine by pressing it down so that it clicks into its place, and close the lid.

Plug the bread machine into an outlet and press the "Power" button to turn the machine on.

Use the "Program" button to select the program #9.

Press the "Start" button to start the cooking cycle.

Your machine will let you know by making a beep sound once the rice pudding is done. Open the bread machine at this point and remove the bread pan using a pot holder.

Pour the rice pudding into bowls and let it cool.

You can leave the rice pudding to cool down to room temperature or to colder degrees in the fridge depending how cold you would like to eat it.

Note that the rice pudding will thicken as it cools and thicken even more in the fridge.

Enjoy it!
Nutrition Facts
Amount/​Serving
% Daily Value
Cholesterol
46 milligrams
15
Extras
HOW TO SERVE RICE PUDDING:

You can serve rice pudding in porcelain or glass bowls sprinkling some cinnamon or nutmeg over it.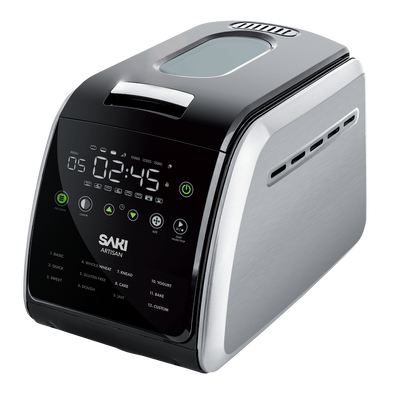 Bread Maker