#Bread Machine
Scrambled Eggs Bread Machine Recipe
Admittedly, making scramble eggs in a bread maker is not the best practice but you can have perfectly cooked scrambled eggs if you whisk the eggs before putting them into the already greased bread pan. See below how!
Tags: Gluten free breakfast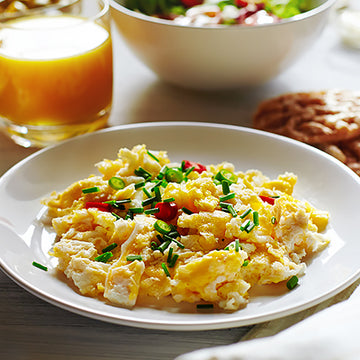 No one can say that bread makers are as effective in cooking scrambled eggs as they are in other foods even though the jam function of the bread makers can also be used to make scrambled eggs. There are two reasons for this situation. First of all, the stirring function of the bread makers is not sufficient to completely mix the eggs so it is better to beat the eggs before adding them into the bread pan. And the second reason is that eggs are very prone to stick to the container they are in so you need to grease all over the bread pan to prevent that. If you pay attention to these two points, then you will have perfect scrambled eggs at the end but we cannot say that it is the best practice to use a bread maker to make scrambled eggs. However, if you somehow need to use your bread maker to cook scrambled eggs, then here is the recipe for you.

Ingredients
12 eggs

1¼ cups milk

4 tablespoons butter, melted

½ teaspoon ground black pepper

1 teaspoon salt

1 cup shredded cheddar cheese
Directions
Open the bread maker's lid and remove the bread pan pulling upward using its handle.

Make sure the bread pan is clean and both kneading paddles are in place.

Place all the ingredients, except the shredded cheddar cheese, into the bread pan and stir quickly.

Put the bread pan back in the bread machine pressing it down so that it clicks into its place and close the lid.

Plug the bread machine into an outlet and press the "Power" button to turn on the machine.

Use the "Program" button to select program #9 and press the "Start" button to begin the cycle.

Once the cycle is finished, the timer on the front of the machine will read 0:00 and the machine will beep, indicating your scrambled eggs are ready.

Open the machine and lift the pan out of it using a pot holder.

Scoop the scrambled eggs into a large bowl and mix them with shredded cheddar cheese.

Serve the eggs while hot.
Nutrition Facts
Amount/​Serving
% Daily Value
Potassium
108.5 milligrams
3
Extras
RECIPE NOTE FOR SCRAMBLED EGGS:

Adding some parsley or dill over the scramble eggs will improve the appearance and the flavor a lot.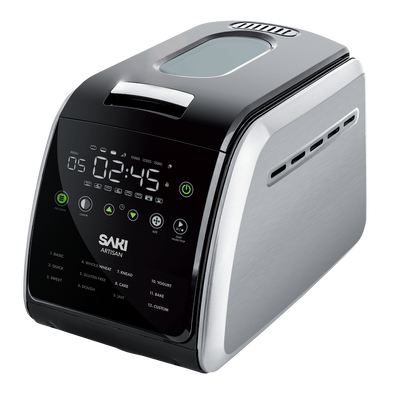 Bread Maker