Can I freeze tomato sauce?
Yes. You can freeze tomato sauce in an airtight freezer bag, or in plastic containers.
Can I make tomato sauce with regular tomatoes instead of cherry tomatoes?
Yes. You can use regular tomatoes to make tomato sauce. To do so, you should either cut tomatoes into small cubes or purée them in a food processor.
#Bread Machine
Tomato Sauce Bread Machine Recipe
Making tomato sauce at home has never been so easy. The bread machine will do all the stirring and you will enjoy having a delicious tomato sauce easily.
Tags: Bread machine tomato sauce
Making foods that require stirring while cooking is very difficult and tiring because you have to stand before the stove for the entire cooking time and stir the food with the risk of having a scald. However, a bread maker can do the stirring on behalf of us for some of these recipes. The tomato sauce recipe below is one where we only prepare the ingredients, and the bread maker takes care of stirring and cooking.
You can use tomato sauce over pasta, spaghetti, pizza, chicken, fish, or any other meat. You can also use it as a dipping sauce to eat with garlic bread, chicken wings, fish sticks etc. Additionally, tomato sauce can also be simmered with some egg and converted into a delicious breakfast dish called "menemen".
Let's learn how to make tomato sauce in a bread machine and have some in our refrigerator for our needs!
Tips for your bread maker:
Bread Machine Program: Jam (#9)
Delay Start Time Available: No
Color Option: No
Weight Option: No
Ingredients
4 cups cherry tomatoes, halved

2 tablespoons olive oil

1 cup onion, peeled and chopped

2 tablespoons fresh garlic, minced

1 teaspoon sugar

¼ cup red wine

½ cup fresh basil, chopped

½ teaspoon salt

¼ teaspoon ground black pepper
Directions
Open the top lid of the bread maker and remove the bread pan from the machine by pulling it upward.

Make sure the bread pan is clean and both kneading paddles are in place.

Add all ingredients into the bread pan and stir briefly.

Put the bread pan back in the bread machine by pressing it down so that it clicks into its place, and close the lid.

Plug the bread machine into an outlet and press the "Power" button to turn the machine on.

Use the "Program" button to select the program #9.

Press the "Start" button to start the cooking cycle.

Your machine will let you know by making a beep sound once the tomato sauce is done. Open the bread machine at this point and remove the bread pan using a pot holder.

Pour the tomato sauce into a large bowl to let it cool.

If you do not want a chunky texture, puree the tomato sauce using a hand blender until smooth.

Enjoy your tomato sauce!
Nutrition Facts
Amount/​Serving
% Daily Value
Extras
RECIPE NOTES FOR TOMATO SAUCE:

You can skip red wine in this recipe if you abstain from alcohol. It will not make any difference.

You should store tomato sauce in the refrigerator if you are not going to use it immediately.

You can add minced green pepper to this recipe to enhance the flavor.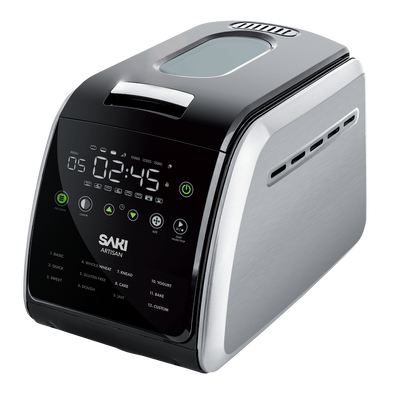 Bread Maker