Does Moroccan mint tea have caffeine?
Yes, Moroccan mint tea usually contains caffeine. Moroccan mint tea is made from green tea, which naturally contains caffeine. However, the amount of caffeine in Moroccan mint tea can vary depending on the type of green tea used and how it is brewed.
#Green Teas
Moroccan Mint Tea Recipe
Here is the recipe to make Moroccan mint tea with its distinctive flavor and health benefits!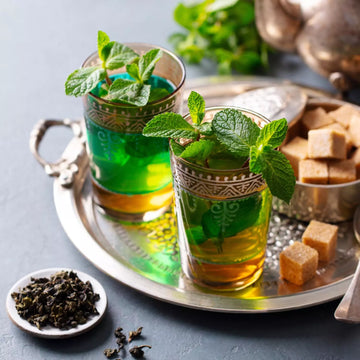 Moroccan mint tea, also known as Maghrebi mint tea, is a traditional North African tea made from green tea and fresh mint leaves steeped in hot water. It is drunk in all of North Africa but is especially famous in Morocco, where it is an important part of the local culture.
The Moroccan serve Moroccan mint tea to guests as a sign of hospitality and consume it throughout the day as a refreshing drink in hot weather. With its sweet and minty flavor, Moroccan mint tea today is a popular choice for tea lovers around the world.
Moroccan mint tea is also known for its health benefits. Green tea is very rich in antioxidants, and fresh mint is known for its soothing properties. So, drinking Moroccan mint tea is beneficial for the immune system, digestion, relaxation, and thus overall well-being.
Now, let's move on to the Moroccan mint tea recipe below and enjoy it with your loved ones!
Ingredients
4 cups water, filtered or bottled, if tap water is of poor quality

2 tablespoons green tea leaves

4-5 sprigs fresh mint

4-5 tablespoons sugar (or to taste)
Directions
Rinse the green tea leaves with hot water and drain.

Boil the water.

Add the green tea leaves into a teapot and pour boiling water over them.

Let them steep for 3-5 minutes until the tea leaves completely go to the bottom.

Meanwhile, rinse the fresh mint leaves and discard any wilted or discolored ones.

Add the mint leaves to the teapot and let them steep for another 2-3 minutes.

Add sugar to taste and stir until dissolved. You may also prefer adding sugar to individual tea glasses after serving the tea.

Pour the tea into Moroccan tea glasses from a height creating a frothy foam.

Garnish with a sprig of fresh mint.

Your Moroccan mint tea is ready.Your Moroccan mint tea is ready.

Serve it to your loved ones, and enjoy!
Nutrition Facts
Amount/​Serving
% Daily Value
Extras
RECIPE NOTE FOR MOROCCAN MINT TEA:

The recipe above is the basic Moroccan mint tea recipe. You may also see other recipes that may call for adding additional spices, such as cinnamon or ginger, but the original recipe consists of only green tea, mint, sugar, and water.

HOW TO SERVE MOROCCAN MINT TEA:

Moroccan mint tea is traditionally served in glasses with colorful patterns known as Moroccan tea glasses. It is poured into the glasses from a height to create a frothy foam.

HOW TO DRINK MOROCCAN MINT TEA:

In Moroccan culture, Moroccan mint tea is served three rounds, with each round being slightly different in taste and flavor due to the difference in steeping time. It is often accompanied by small pastries, nuts, or other sweets. Moroccan mint tea is sipped slowly and enjoyed as a social activity, often accompanied by conversation and laughter.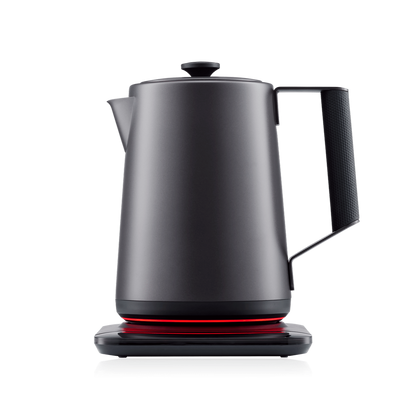 Luna Electric Tea Kettle