NEW
Luna Adjustable Temperature Electric Kettle (Open-Box)
The stylish design and adjustable temperature settings make it a great choice for any home.
25

Reviews
---
We all know that the perfect cup of tea or coffee is only as good as the water it's made with. And while most of us are content to let our trusty kettle do its job, sometimes we crave something a little extra. That's where the Luna electric tea kettle comes in.

The Luna electric tea ketttle is more than just a stylish addition to your countertop. It's a smart electric kettle with variable temperature control, designed for the ultimate brewing experience. Features 7 one-touch presets for Black, Green, White, Oolong, Herbal Tea, and French press coffee. Each setting is calibrated for optimal taste, so you can enjoy your favorite beverages at their best. Whether you're a tea enthusiast or a coffee lover, the Luna electric tea kettle offers precision and convenience for the perfect brew.
Features Overview:
LED Light ring indicator
All stainless steel interior
Heat-proof, rubber handles
Live temperature display
60 Minutes temperature hold
7 brewing preset programs
1.75 L boiling capacity
1500 watts heating power
Adjustable to-the-degree temperature control
Beep mute/unmute function
| | |
| --- | --- |
| Power Supply | AC 120V, 60Hz |
| Rated Power | 1500W |
| Capacity | 1.75 Liters |
| Keep Warm | 3 Hours |
| Weight | 5.7 lb / 2.5 kg |
| Cord Length | 3.2 ft |
| PlugType | Type-B (For U.S. & Canada) |
| Materials | 304 stainless steel kettle body & lid. |
| Warranty | 2 Years |
| Certifications | ETL compliance, FCC certified |
Open-Box Policy*
This device's cosmetic appearance may be affected by signs of use, but its performance remains unaffected.
30-day limited product warranty
Final sale. No returns.
Open-box products are returned devices, which may have some signs of use that affect its cosmetic appearance. However, to ensure that it is in proper working order, we have sanitized and thoroughly inspected it. Additionally, the original packaging may not be included.
Luna adjustable temperature electric kettle
One stainless steel lid
Smart touch control power base
Descale solution
60-Min Auto
Temperature Hold Mode
Plastic-Free
Interior
Live Temperature
Display
Auto
Shut-OFF
Boil-Dry
Protection
Fahrenheit or
Celcius
Where elegance meets efficiency
With its sleek and stylish design, Luna electric tea kettle seamlessly blends into any interior.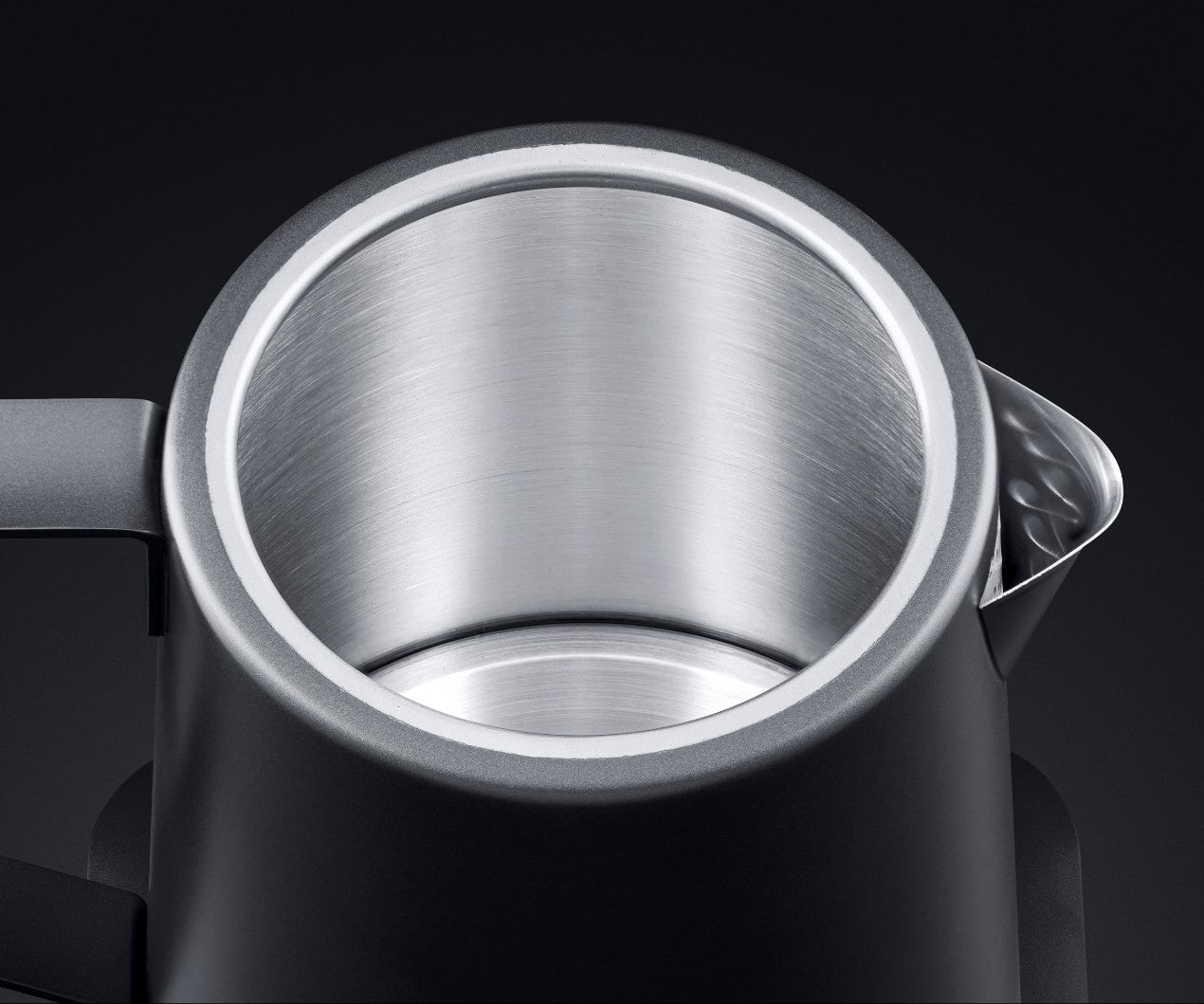 IT'S IN OUR DNA
Pure Brew,
All Stainless Steel Tea Kettle
Embrace the purity with Luna electric kettle stainless steel design. From the base to the lid, every inch is crafted from premium stainless steel, ensuring your beverages remain free from unwanted chemicals. Ideal for those who seek an authentic, non-toxic electric kettle experience. Dive into the genuine flavors of your favorite drinks and trust in Luna's commitment to quality and taste.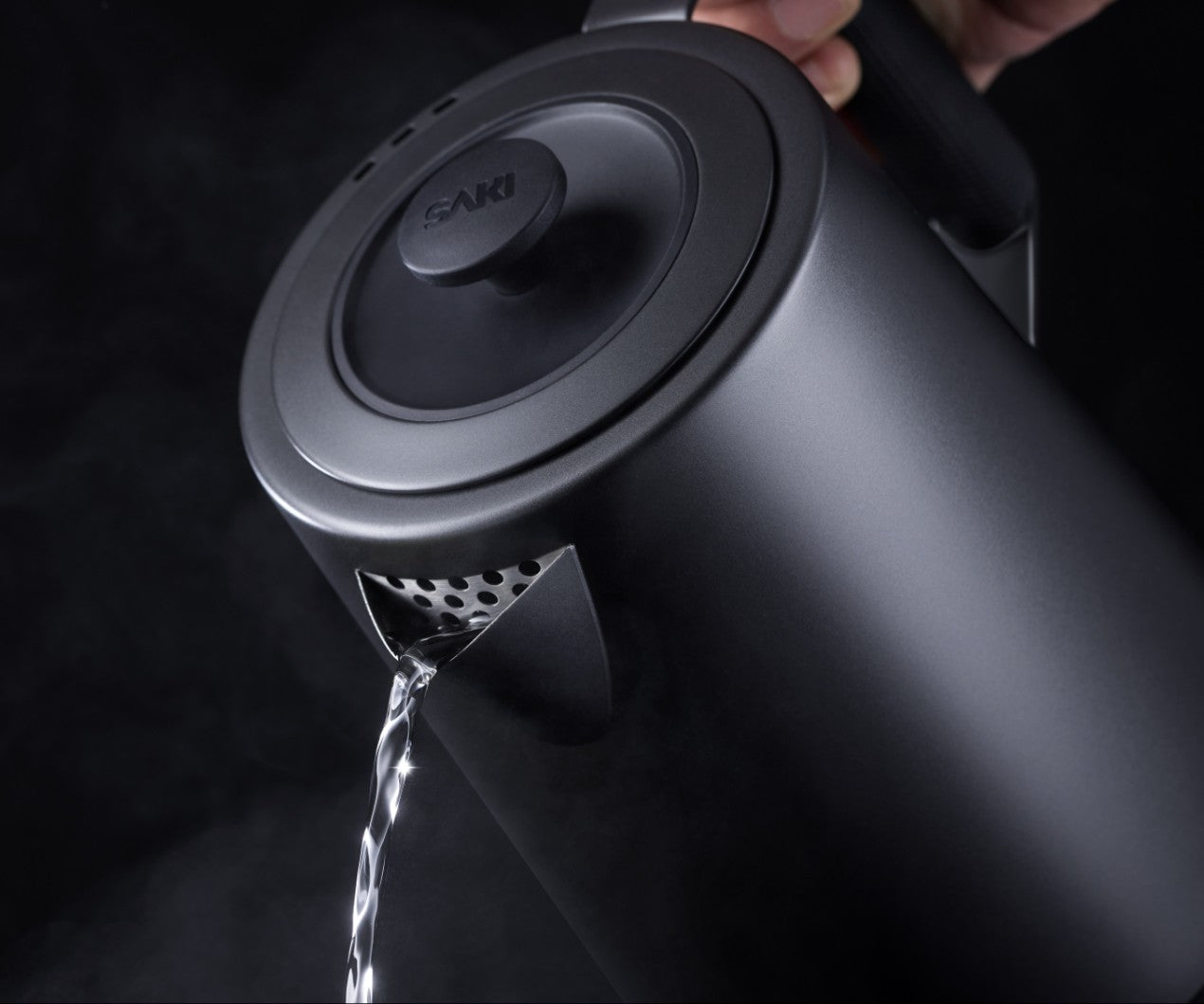 WHY PRECISON KETTLE
Maximize Every Boil
Large Electric Kettle Capacity
Step up your brewing game with Luna's generous 1.75-liter electric water kettle. Whether you're hosting a tea party, prepping for a coffee-filled morning, or cooking up a hearty oatmeal breakfast, Luna ensures you have ample hot water every time. Boil more, wait less, and savor the convenience of fewer refills.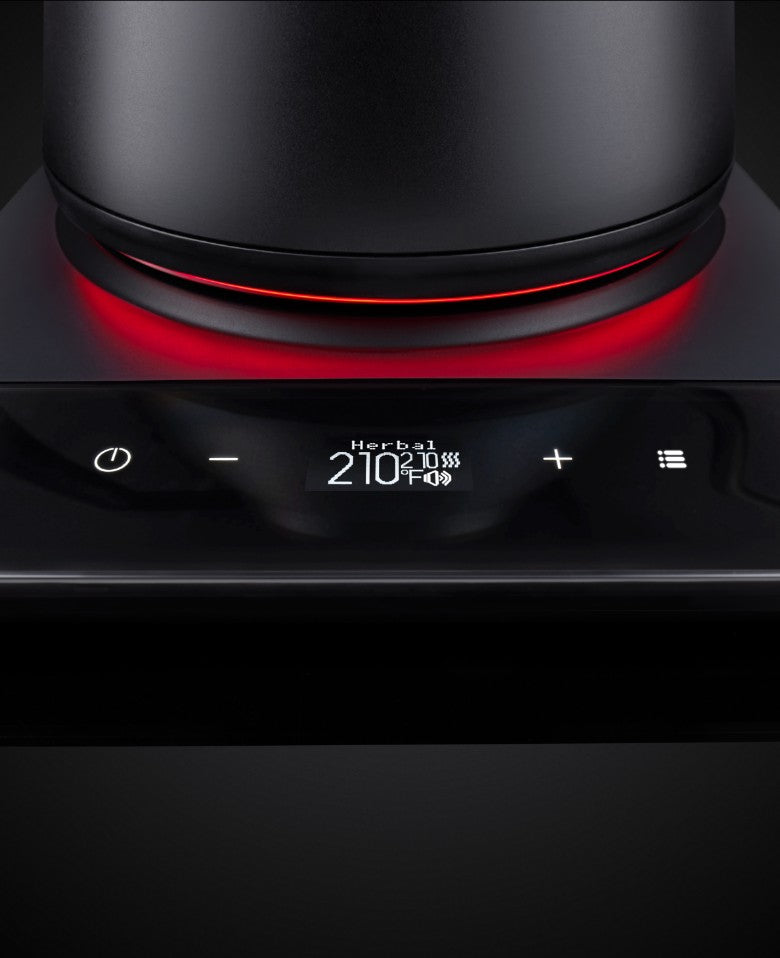 One Electric Kettle, Seven Perfect Brews.
Unlock the full potential of every beverage with Luna's electric tea kettle featuring seven precise brewing presets. Paired with adjustable, to-the-degree temperature control, you're guaranteed the perfect brew every time. Dive into a world of limitless possibilities and taste perfection with each sip.
The Pinnacle Of Electric Kettle Elegance.
Transform your kitchen with the Luna electric water kettle. Beyond its brewing brilliance, its sleek and sophisticated design seamlessly blends with your kitchen decor, elevating both aesthetics and everyday moments. A fusion of function and flair, Luna is the essential addition every modern kitchen deserves.
7 One-Touch Presets
Elevate every sip with Luna Electric Tea Kettle. Boasting 7 one-touch presets and precision temperature control, effortlessly craft classic or exotic teas and coffees. Whether you're a novice or a seasoned connoisseur, Luna ensures barista-level perfection in every cup, right from the comfort of your home.
Preset Temperature: 205°F
Black Tea Program
Craft the perfect cup of strong black tea with a one-touch temperature control pre-programmed for optimal flavor and aroma.
PRESET TEMPERATURE: 175°F
Green Tea Program
Unlock deliciously fragrant green tea with just one touch - thanks to the intuitive pre-programmed temperature control.
PRESET TEMPERATURE: 185°F
White Tea Program
Enjoy perfect brewing every time with one-touch preprogrammed temperature control – crafted to achieve the ideal aroma in your white tea.
PRESET TEMPERATURE: 195°F
Oolong Tea Program
Enjoy an effortless, aromatic cup of oolong tea - with pre-programmed one touch temperature control and your ideal aroma just a click away.
PRESET TEMPERATURE: 210°F
Herbal Tea Program
Enjoy the perfect herbal tea aroma with one simple touch of a button. Our pre-programmed temperature control ensures an ideal infusion every time!
PRESET TEMPERATURE: 200°F
Coffee Program
Enjoy a cup of perfect coffee with one-touch temperature control. Unlock the ideal aroma from your favorite blend -- no guesswork needed!
Preset Temperature: 205°F
Boil Tea Program
Enhance your beverage experience with the Luna Adjustable Temperature Electric Kettle! With 7 one-touch preset programs and customizable temperature settings, you can perfectly recreate any classic or specialty tea or coffee to satisfy even the pickiest of connoisseurs. Enjoy a brew made just as expertly as if it were crafted by an experienced barista - right in your home!
ADJUSTABLE TEMPERATURE CONTROL
Precision At Your Fingertips,
Electric Kettle With To-The-Degree Control.
Master the art of brewing with Luna electric water kettle. Tap into precision with a touch display that lets you set temperatures anywhere from 104°F to 212°F. Perfecting your favorite beverages has never been this effortless. Just set, brew, and savor.
Luna Electric Tea Kettle Safety Features
60-Minute Temperature Hold
Never reheat again with Luna electric tea kettle. Choose your perfect temperature and let Luna maintain it for a full 60 minutes. Whether you're steeping a second cup or caught in a meeting, your water stays ready and warm, just as you like it.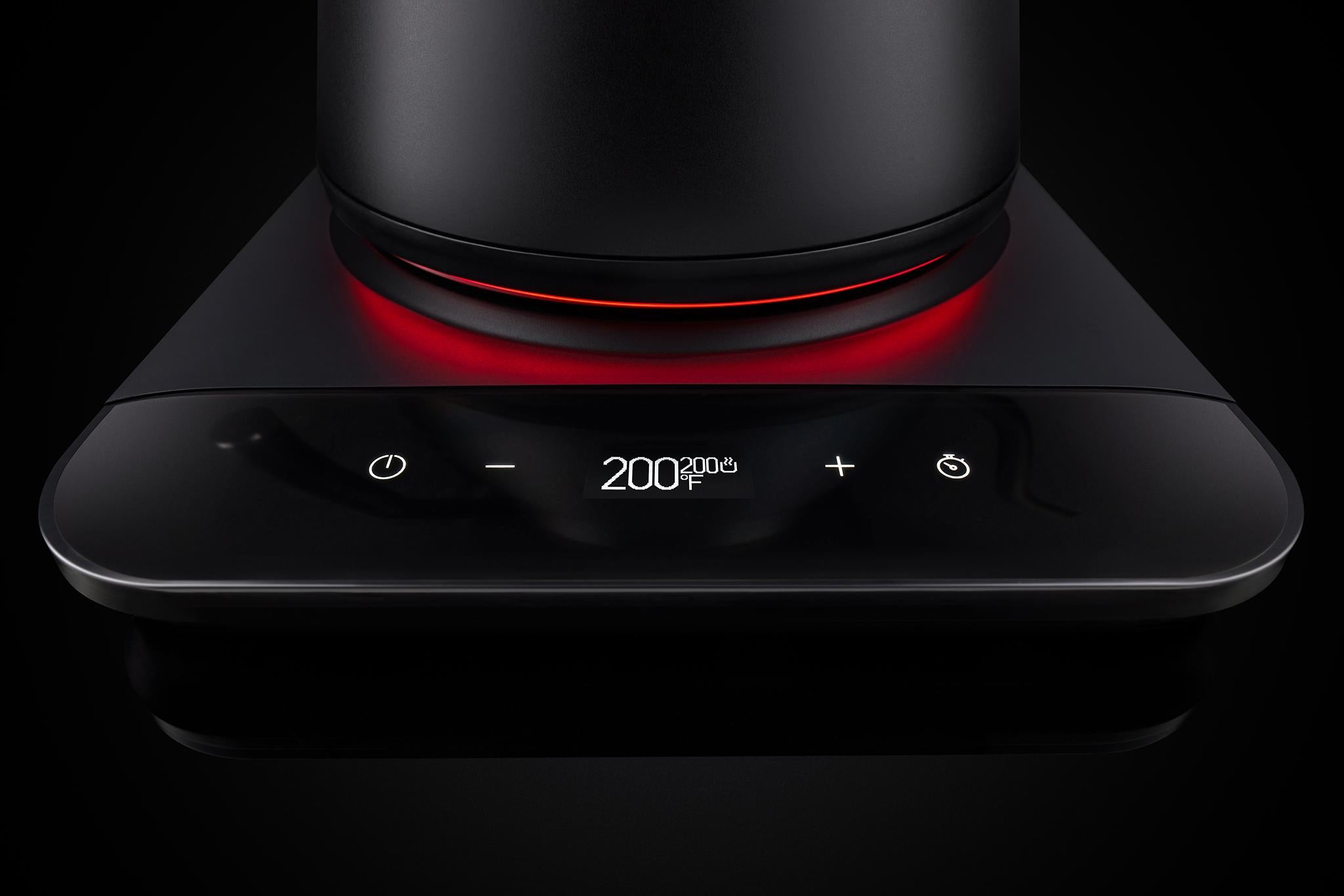 Auto Shut-Off
Experience peace of mind with Luna electric water kettle. Designed to automatically stop heating once the water boils, it ensures both efficiency and safety in every brew.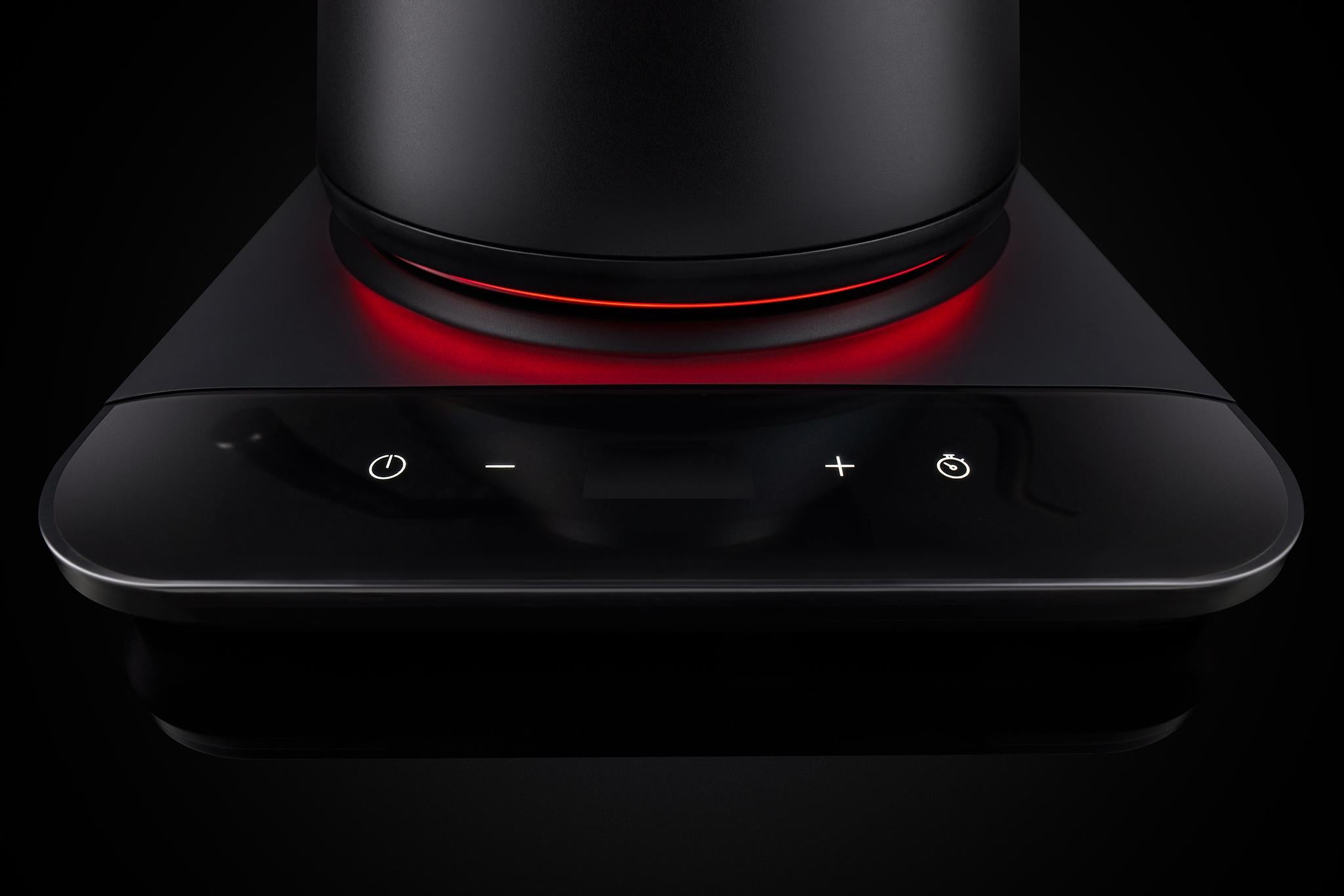 Advanced Boil-Dry Safety
Never worry about an empty kettle again. Luna electric tea kettle is engineered with boil-dry protection, automatically shutting off when water levels are low. It's not just about brewing perfection; it's about ensuring safety with every sip.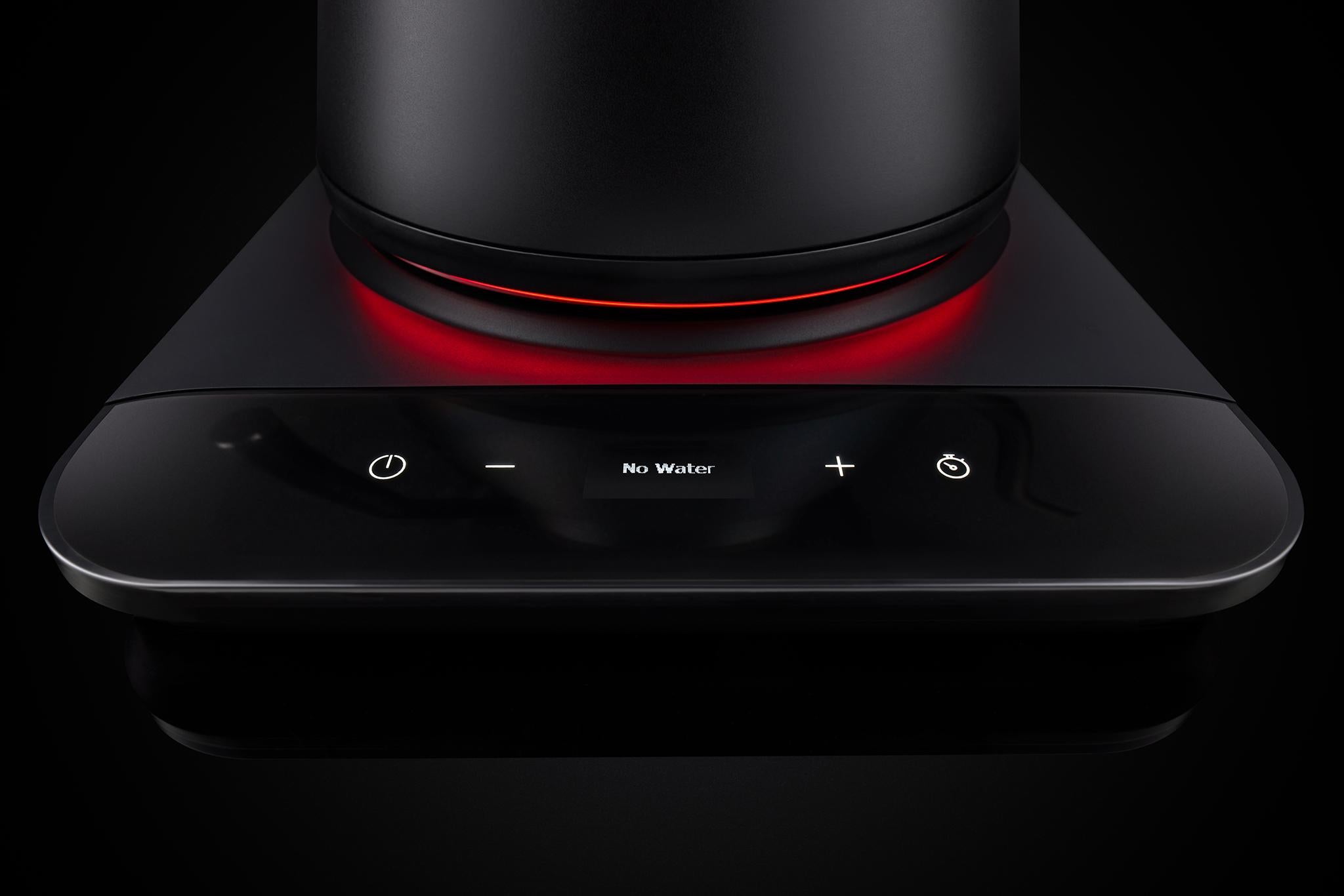 THE LUNA ELECTRIC KETTLE DIFFERENCE
Illuminate With The Light Ring Indicator
Elevate your kitchen's ambiance with Luna electric tea kettle. Its radiant light ring doesn't just add a touch of elegance but also smartly signals when your water is ready. A blend of style and functionality, it's designed to shine and inform.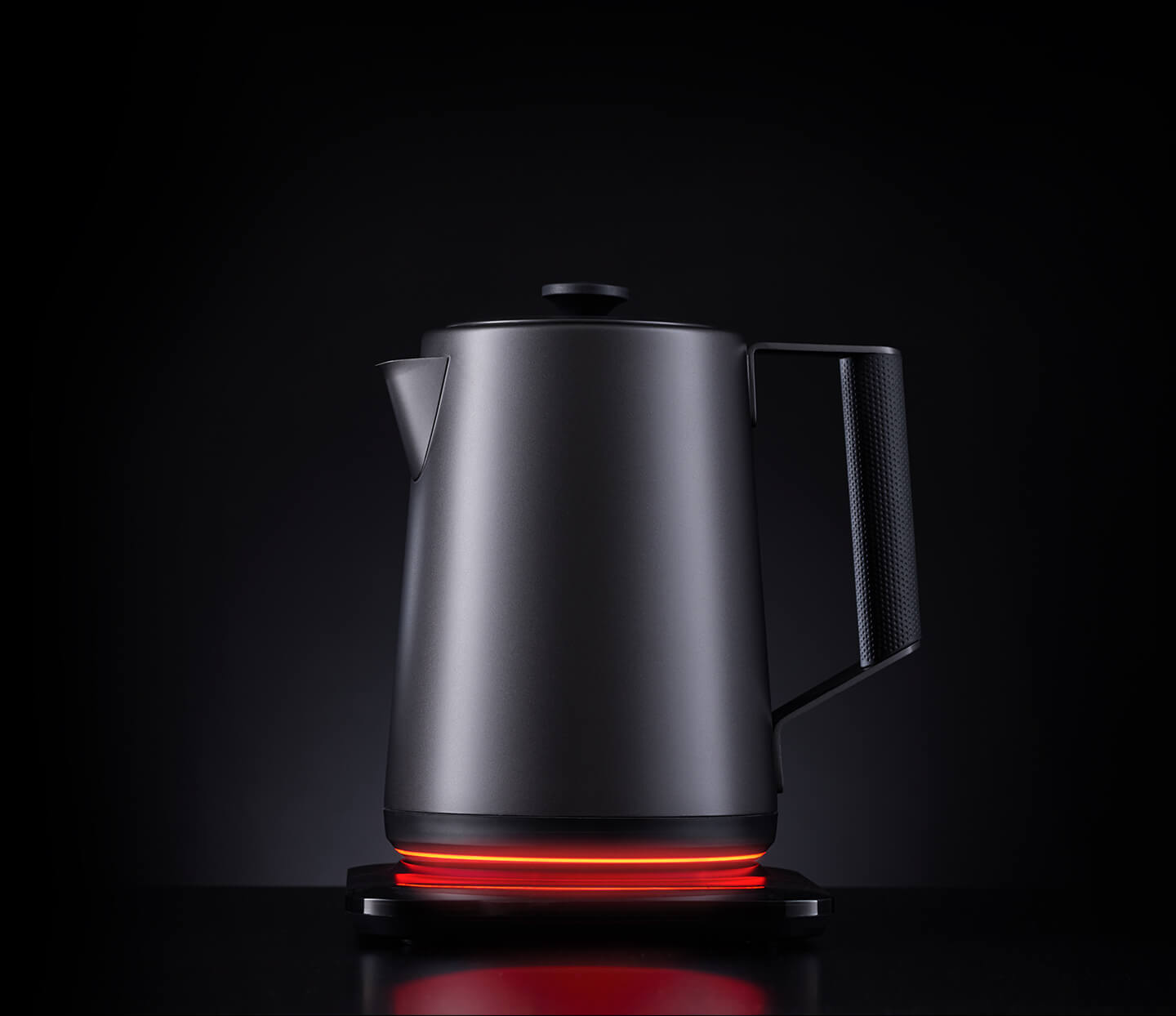 RAPID HEATING
Lightning-Fast Heat Time
Harness the power of Luna's 1500W heating prowess. This electric tea kettle rapidly transforms cold water into boiling bliss in mere moments. Perfect for those urgent tea or coffee breaks, Luna ensures you're served swiftly without the wait.
Customer Reviews
David B.

Well built and quality looking kit. Initially I was not impressed with the plastic top on the metal lid of the kettle at this price point. However after using it I can tell if the lid was all metal it would probably be too hot to handle after heating up. Not so when handling the top plastic part of the lid. Speaking of heating up it does get loud for a brief time as it heats up but quickly settles down. I don't have a problem with the cord length in my setting but see how it might be for others. The cord is quite stiff though and heavy duty gauge like a microwave oven cord. That makes it a bit unwieldy to deal with when first setting up. The kettle exterior is not stay cool when heated. Not an issue in my home. I really like the feel of the rubberized handle on the kettle and ease of pouring. It heats up fast and it's a breeze to change temperature settings if needed. I just wish it had a way to view the water level without having to remove the lid but that's a minor quibble that I was aware of prior to purchase. I've put it through it's paces for a couple of weeks now and I'm happy with it's performance. I would recommend to friends.

Bill F.

First electric kettle, and I like literally everything about it. - Special shoutout to the person who designed the spout. The pour is impeccable for such a large capacity and such a small spout, at both slow and fast flow rates. I haven't had even a single drop slide down the side. - Handle is sturdy and comfortable, unlike a cheap plastic. - UI is no-frills and simple to use. Thank you for including a mute function and non-preset mode, and more importantly that the settings are remembered between uses. - And arguably most importantly, it boils water really fast. And it's a looks good as a permanent countertop fixture. Can't speak to the longevity yet. Build quality of the kettle and design of the base are top-notch, so hopefully the internal electronics are of similar quality.

Wes S.

It's a very nice water boiler. The inside has a laser engraved markings and the outside fit and finishes nice. I subtracted a star because the sensitivity of the touch screen is not that great

Michael S.

Love it.

John P.

So far we have brewed about 12 cups of tea (2 at a time) in our new kettle. In our old kettle we never took the lid off and used the spout to pour in the water which we measured by judging the weight in our hand. Not here. The marks showing cups and Liters on the inside are easy to read. We dropped one star because it is not double-walled which means its sides get hot. Less expensive kettles often feature double walls for this reason and so does my French press. We like the timing feature but I don't see us using the hold feature very much. the double wall would obviate the need for it anyway. We just wanted a kettle with no plastic in touch with the water and a fast heating time. Picture would not upload beyond 90% Is there a size limitation?

nadiia p.

This kettle, looks great, feels great and heats great! I love it, the only thing steering me away from it was the brand name ( Saki literally translates as "pee" to Russian). So glad I bought it despite the name😅

Tashina S.

I've been on the search for an electric kettle that could fill a large french press, without any plastic parts. It boils water quickly and quietly. I couldn't be happier!

Jason I.

Love the rubber on the handle. Love the finish. Love the welded handle. Love how it pours. The display is great and the base is nice. The only thing I would change is the cord is super stiff and awkward.

Richard J.

After trying some cheaper electric tea kettles we looked for something better. Our check boxes were for temperature range options, temperature hold, no plastic water contact, 1.5 liter minimum, no dribble pour spout, good handle placement, and a good lid design. This pot checks them all and works well for us. We slightly bent the lid catches to make it easier to remove with one hand for filling or to check level. The touch controls can take a little getting used to but so far work well. Water temperature is spot on with quick and easy setting changes.

Danny J.

I'm impressed. I've used this twice already and let me tell you, it boils the water quicker than my previous kettles and gives the ability to adjust the water temperature. I also love that there's no plastic on the inside! Yes, you heard me right, no plastic! I mean come on, all these other kettles on the market are made with rubber or plastic where hot water is boiling. Like I said, I've used it twice and the only thing I'd fix is the length of the wire to plug it in, but it's not that bad. I hardly give 5 star reviews but I'm giving this 4.5. Definitely recommend.

Nanna

It is very nice, very easy to use. Flawless.

Diane

This is a perfect kettle. It heats up water very quickly. It looks very nice. It is high quality and sturdy. Its capacity is very large, enough for breakfast and afternoon tea. It is a great value for money.

Amy G.

This is a great kettle but the power cord is too short. Other than that, it is gorgeous.

Dave J.

Now I know how low-quality my old kettle is after I have met this kettle. It has 7 presets for coffees and teas, and holds the water hot for one hour. There is simply no flaw with this kettle. It is perfect.

CL

This is a very nice kettle. It would be a great gift for you tea and coffee lover friends!

Dick W.

This is not a cheap kettle but it is worth the price because it lets you control the water temperature. I should admit that there is not any flaw I have found so far other than I'd like to buy one more to use in living room, too.

Daron

It's an amazing kettle. Boils water very fast and keeps the water warm. The handle is very comfortable and provides strong grip.

Carol S.

It's a quality kettle, very sturdy. It's great you can mute the beep noise. It works perfectly!

Customer

This is not an entry level kettle so it wouldn't be correct to compare it to entry levels. It has many settings and heats water to different precise temperatures and holds it warm for one hour. It is a very stylish kettle, too.

Sheine

This kettle is so much nicer than I expected. There are several pre-setting for different types of drinks. It heats up very quickly and keeps the water hot for one hour. It is very easy to clean it, too. It comes with a few packs of descaling solution. I highly recommend it!

Ali P.

It is beautiful and looks great on the counter. It boils water really fast. It keeps the water hot if another chore gets in your way while preparing your coffee.

Kate Y.

Very easy to use. Holds up to 7 cups of tea. Boils fast and keeps the temperature. Comfortable handle makes pouring easy.

Stew

This kettle is superb! I have another kettle using similar technology but I have to stay at least 4 feet away from it because of emitted induction heat whereas 2 feet is enough for this kettle. So, the quality of this kettle is a stark difference from my other kettle.

David C.

This kettle is outstanding and should not be compared to ordinary kettles. This is a stylish and functional kettle. It works perfectly well. Heats up water extremely fast and holds the temperature for up to 60 minutes. The only problem with this is that the lid is a little tight but I expect it to loosen as I continue using it.

SW

This kettle boils water very quickly. It has 7 presets to heat up water to different degrees depending on the tea type you will brew. It also holds the water at that temperature for one hour so if you would like to get a 2nd cup of tea then you have your water ready. Heating water up to different temperatures and holding water warm at certain heat distinguish this kettle from other kettles in the market. It also has thicker walls and a sleek design that set it apart from other entry level kettles. Its rubber-coated handle is very comfortable. It has 3 holes on top to keep the steam away from your hands. So, every detail is taken care of while designing this kettle. It has a large capacity of 1.7 liters. It has a red light at the base, which indicates whether the kettle is in boiling or keep-warm phase. The downside of this kettle is that its base is large and takes a fair amount of space on the counter and its power cord is short. You can use the kettle wireless to pour water but the base has to be very close to an outlet. By the way, it took 5 rinses before first use to get rid of electric and metal smell, even though the user manual recommends 2 rinses. Overall, this is a high quality product and well worth the price.