How many zucchinis does it take to get 1 cup of grated zucchini?
A medium size zucchini yields 1 cup of raw grated zucchini. If you need 1 cup of cooked grated zucchini, then you should use 3 medium zucchini.
Should seeds be removed from zucchini for bread?
No, it is not necessary to remove the seeds from the zucchini to make zucchini bread. But if they are too big and tough, then you can consider removing them because they might be hard to eat and taste bitter in the bread.
Is zucchini the same as cucumber?
No, they are not the same but come from the same plant family called cucurbit (gourd) which also includes melons, pumpkins and squash.
What is the difference between zucchini and courgette?
There is no difference between zucchini and courgette, they both mean the same vegetable. Zucchini is the name used among the American English speaking people whereas courgette is common among French and British English speaking people. Zucchini originates from Italian and courgette is from French.
#Bread Machine
Zucchini Bread Machine Recipe
Zucchini bread is a great way to introduce veggies into your diet without having to sacrifice flavor for more nutrition. It is easy to make and delicious to taste!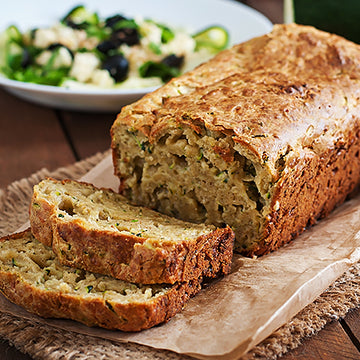 Zucchini, also called courgette, is a low carbohydrate vegetable that is rich in many nutrients and antioxidants. Especially the fact that it is rich in vitamin B6 makes it an important vegetable for the people with diabetes risk because vitamin B6 helps with regulating blood glucose.
Zucchini bread is a delicious and easy way to add this beneficial food to the daily menu. Zucchini gives volume to the batter and the bread becomes pleasantly dense, more like cake. Let's stop here and learn how to make zucchini bread!
Tips for your bread maker:
Bread Machine Program: Cake (#8)
Delay Start Time Available: Yes
Color Option: Yes
Weight Option: No
Ingredients
1 cup grated zucchini

3 cups self rising flour

3 large eggs

1 cup caster sugar

2 teaspoons vanilla

1 teaspoon cinnamon

1 teaspoon baking powder

1 teaspoon baking soda
Directions
Open the top lid of the bread maker and remove the bread pan from the machine by pulling it upward.

Make sure the bread pan is clean and both kneading paddles are removed. You will be mixing the bread batter by hand and will not need the kneading paddles.

Add all the ingredients to a bowl and whisk them until smooth and pour the batter into the bread pan.

Put the bread pan back in the bread machine by pressing it down so that it clicks into its place, and close the lid.

Plug the bread machine into an outlet and press the "Power" button to turn the machine on.

Use the "Program" button to select the program #8 for the cake cycle.

Press the "Color" button to choose your desired crust color and then the "Start" button to start the cycle.

Your machine will let you know by making a beep sound once the zucchini bread is done. Open the bread machine at this point and remove the bread pan using a pot holder.

Flip the bread pan over and gently tap it to remove the zucchini bread and let it rest for 10 minutes.

Slice it and place the zucchini bread slices on a platter.

Enjoy your easy-to-make, healthy and delicious bread!
Nutrition Facts
Amount/​Serving
% Daily Value
Cholesterol
56 milligrams
19
Extras
RECIPE NOTES FOR ZUCCHINI BREAD:

Please keep in mind that you do not need to peel the zucchini for this recipe. You do not need to squeeze water out of the zucchini, either.

Zucchini will add some sugary taste to the bread. So, depending on your preference, you can adjust the amount of sugar in this recipe without changing the amount of other ingredients.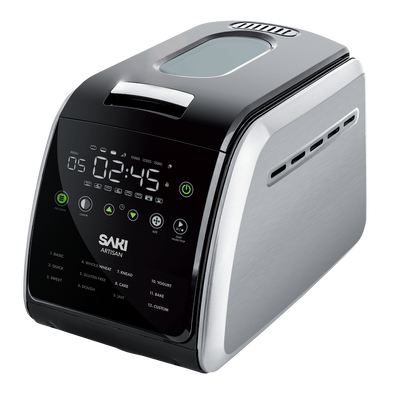 Bread Maker