Which beer should I use to make beer bread?
It does not matter which beer you use to make beer bread. You can use light or dark, hoppy or malty, and alcoholic or non-alcoholic beers. But it would help if you kept in mind that the beer's flavor will affect the bread's final taste.
Can I make this recipe with whole wheat flour?
Yes, you can but it will be denser. So you may prefer to use half whole wheat and half white flour.
#Bread Machine
Beer Bread Bread Machine Recipe
Here is an easy and quick beer bread recipe, a savory snack to serve along with bar food, to get paired with a soup, or to make toast or sandwiches. Let's bake it!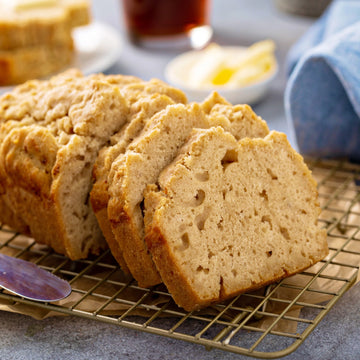 Beer bread is a fluffy bread that is so simple and can be made only with six ingredients. The ingredients to make beer bread are so basic that they are almost always available in the kitchen. So, you can make beer bread anytime you need bread without worrying about if you have any fancy ingredients at hand.
Of course, beer bread contains alcohol but most of it evaporates during baking. So, if you strictly abstain from alcohol, it might not be safe for you to eat beer bread, but if you are not so strict, then the amount of alcohol in it is negligible.
Let's make it and enjoy fluffy bread today!
Tips for your bread maker:
Bread Machine Program: Basic (#1)
Delay Start Time Available: Yes
Color Option: Yes
Weight Option: Yes
Ingredients
Loaf size: 2 pounds (1000 grams)

1⅔ cups beer (at room temperature)

3 tablespoons oil

4 cups white bread flour

3 tablespoons sugar

2 teaspoons salt

2¼ teaspoons instant yeast

Loaf size: 2½ pounds (1250 grams)

1¾ cups beer (at room temperature)

4 tablespoons oil

5 cups white bread flour

4 tablespoons sugar

2½ teaspoons salt

2½ teaspoons instant yeast

Loaf size: 3 pounds (1500 grams)

2 cups beer (at room temperature)

5 tablespoons oil

6 cups white bread flour

5 tablespoons sugar

3 teaspoons salt

3 teaspoons instant yeast
Directions
Open the lid of the bread maker and remove the pan from the machine by pulling it upward.

Make sure the pan is clean, and both kneading paddles are in place.

Add all of the ingredients to the bread pan in the order listed.

Put the bread pan back in the bread machine, pressing it down so that it clicks into its place, and close the lid.

Plug the bread machine into an outlet and press the "Power" button to turn the machine on.

Use the "Program" button to select program #1 for the basic cycle.

Press the "Color" button to choose your desired crust color.

Press the "Size" button to choose the weight of the loaf you are making. The time display will also change as you select the size of the bread since larger loaves take longer to cook.

Press the "Start" button to start the bread-making cycle.

The machine will let you know by making a beep sound once the bread-making cycle is finished. Open the lid at this time and remove the bread pan out by using a pot holder.

If you do not remove the loaf immediately, the bread machine will automatically go into a warming cycle to keep the bread warm for one hour.

After taking the bread pan out of the machine, flip the pan over and gently tap it to remove the bread. Make sure the kneading paddles are taken out of the bread loaf.

Your beer bread is ready. Slice it and enjoy!
Nutrition Facts
Amount/​Serving
% Daily Value
Extras
RECIPE NOTES FOR BEER BREAD:

If you strictly abstain from alcohol, you can make this recipe with bubbling water of any kind instead of beer. It might taste different but it will still be fluffy bread.

Beer bread is freezer friendly. So, you can freeze leftover beer bread slices in an airtight container if you want. They feel as fresh as newly baked when you thaw them.

HOW TO SERVE BEER BREAD:

You can serve beer bread at breakfast. It is a great choice for making buttered toast and sandwiches. You can also serve it along with bar food such as French fries, onion rings, wings, mozzarella sticks, and pizza.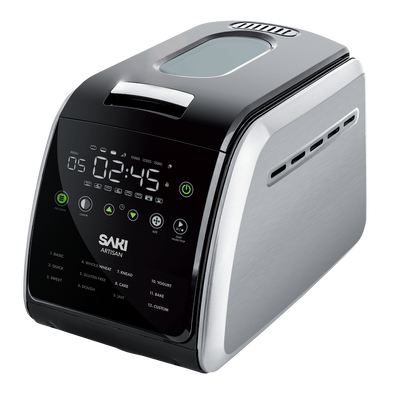 Bread Maker