Is cornbread gluten-free?
No, cornbread is not gluten-free since there is wheat flour in regular recipes. However, you can make gluten-free cornbread if you use gluten-free flour.
Is cornbread healthier than white bread?
Cornbread is lower in calories and higher in nutrients than white bread, so it is considered healthier than white bread.
#Bread Machine
Cornbread Bread Machine Recipe
Let's make cornbread in the bread maker. Set up your machine at night and wake up to the delicious corn smell from your kitchen in the morning!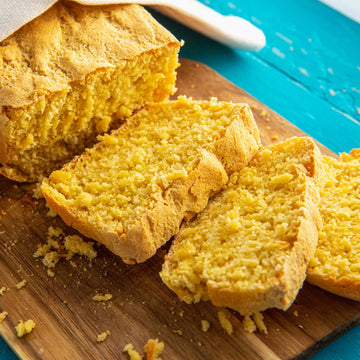 Cornbread is a quick bread made with cornmeal. It originated from Native American but is now a staple in all American kitchens. Traditional cornbread is made with cornmeal, which is a coarser grind of dried corn, even though there are also cornbread versions made with corn flour, a very fine grind.
Cornbread is a delicious and nutritious bread. You can serve it with honey, jam, butter, or any other spread of your choice at breakfast. It also accompanies the lunch and dinner dishes very well. For example, you cannot imagine eating chilly without cornbread. Cornbread casserole is another delicacy that you can make with it.
Now go down to the recipe below and make this easy and sweet cornbread for your loved ones today!
Tips for your bread maker:
Bread Machine Program: Quick (#2)
Delay Start Time Available: Yes
Color Option: Yes
Weight Option: No
Ingredients
1¼ cups milk (warm)

2 large eggs (well beaten)

2 teaspoons salt

3 tablespoons granulated sugar

3 tablespoons melted butter

2 cups all purpose flour

2 cups cornmeal

1 teaspoon baking soda

1 teaspoon baking powder
Directions
Open the lid of the bread maker and remove the pan from the machine by pulling it upward.

Make sure the bread pan is clean, and both kneading paddles are removed. You will be mixing the bread batter by hand and will not need the kneading paddles.

Add all the ingredients to a bowl, whisk them until smooth, and pour the batter into the bread pan.

Put the bread pan back in the bread machine, pressing it down so that it clicks into its place, and close the lid.

Plug the bread machine into an outlet and press the "Power" button to turn the machine on.

Use the "Program" button to select program #2 for the quick cycle.

Press the "Color" button to choose your desired crust color.

Press the "Start" button to start the quick cycle.

The machine will let you know by making a beep sound once the quick cycle is finished. Open the lid at this time and remove the bread pan out by using a pot holder.

Flip the pan over and gently tap it to remove the cornbread.

Your cornbread is ready.

Slice it and enjoy!
Nutrition Facts
Amount/​Serving
% Daily Value
Cholesterol
41 milligrams
14
Extras
HOW TO STORE CORNBREAD:

You can store cornbread slices in an airtight container at room temperature for up to 3 days and in the refrigerator for up to 1 week.

You can freeze the leftover cornbread slices as well. They feel as fresh as newly baked when you thaw and toast them.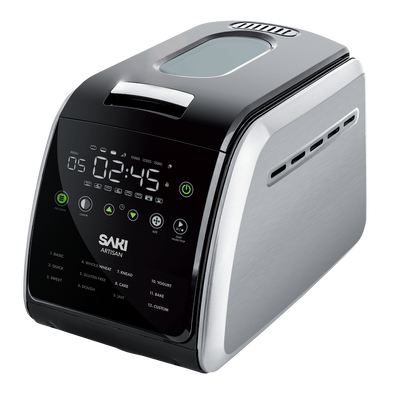 Bread Maker