How can I consume country white bread when it gets stale?
When country white bread gets stale, you can make bread crisps with them to add in any soup you make. You will enjoy your soup a lot with these bread crisps.
What is country style bread?
Country style breads have a thick crust and a coarse texture. They do not have big holes. So, they are more filling than regular bread. They are also very useful to make sandwiches or to spread anything.
#Bread Machine
Country White Bread Machine Recipe
Country white bread is a classic for a reason. With so many uses, this bread is incredibly versatile. It is also very filling thanks to its coarse texture. Learn more about it below!
Tags: Country white bread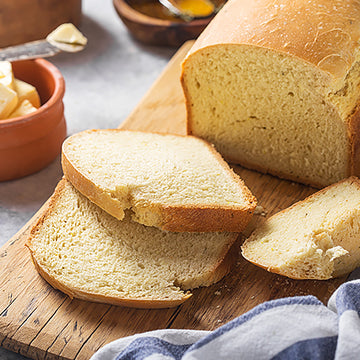 Country white bread reminds most of us of our grandmas' dinner tables. It is a rustic bread and has a thick texture. It does not have big holes in it and this makes country white bread very useful for different purposes. It can be sliced to accompany a grilled cheese and tomato soup or to make sandwiches. You can also toast the slices of country white bread for breakfast and spread butter and jam over it. Just try the recipe below and see the perfect texture and flavor of country white bread.
Quick tips for your bread maker:
Bread Machine Program: Basic (Program #1)
Delay Start Time Available: Yes
Crust Color Option: Yes
Weight Option: Yes
Ingredients
2 Lbs (1000gr) Loaf Size

380 ml water (at room temperature)

3 tablespoons oil

2 teaspoon salt

4 cups strong white bread flour

3 tablespoons sugar

4 tablespoons milk powder

3/4 teaspoon instant yeast

2 1/2 Lbs (1250gr) Loaf Size

400 ml water (at room temperature)

4 tablespoons oil

2 1/2 teaspoon salt

5 cups strong white bread flour

4 tablespoons sugar

4 tablespoons milk powder

1 teaspoon instant yeast

3 Lbs (1500gr) Loaf Size

480 ml water (at room temperature)

5 tablespoon oil

3 teaspoons salt

6 cups strong white bread flour

5 tablespoons sugar

5 tablespoons milk powder

1 1/4 teaspoon instant yeast
Directions
Open the top lid of the bread maker and remove the bread pan from the machine by pulling it upward.

Make sure the pan is clean and both kneading paddles are in place.

Add all of the ingredients to the pan in the order listed.

Put the bread pan back in the bread maker pressing it down so that it clicks into its place and close the lid.

Plug the bread maker into an outlet and press the "Power" button to turn the machine on.

Use the "Program" button to select the program #1 for the basic cycle.

Press the "Color" button to choose your desired crust color.

Press the "Size" button to choose the loaf size you are making. The time display will also change as you select the size of the bread since larger loaves take longer time to cook.

Press the "Start" button to begin the bread making cycle.

The machine will let you know by making a beep sound once the cycle is finished. Open the machine at this time and lift the pan out of the machine using a pot holder.

If you do not remove the loaf immediately, the bread maker will automatically go into a warming cycle to keep the bread warm for one hour.

After removing the bread pan, flip over and gently tap it to remove the bread.

Take the kneading paddles out of the bread loaf and slice it.

Enjoy your freshly baked bread!
Nutrition Facts
Amount/​Serving
% Daily Value
Extras
RECIPE NOTE FOR COUNTRY WHITE BREAD:

You can also make this recipe in the oven if you do not have a bread maker. However, bread makers make it way much easier to cook homemade bread. Moreover, using "Delay Start Time Option" in your bread maker can wake up your family to the smell of freshly baked bread every morning.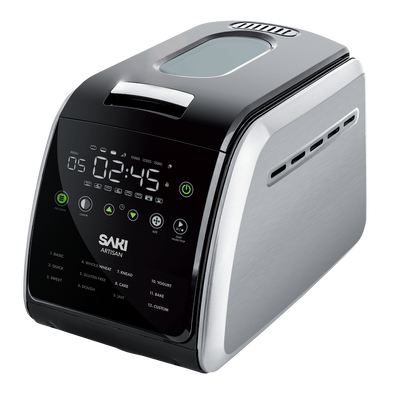 Bread Maker