How does sous vide cooking enhance the tenderness of the beef sirloin?
Sous vide cooking is a process in which food is sealed in a bag and cooked in a perfectly controlled water bath. This procedure aids in the preservation of the natural fluids and tastes of the beef sirloin. The slow and gentle cooking method guarantees that the meat is cooked uniformly and consistently, resulting in a delightfully soft texture. Unlike typical cooking methods, sous vide prevents the meat from overcooking or drying out, resulting in consistently juicy and tender beef sirloin that melts in your mouth.
What does the cilantro sauce add to the beef sirloin dish?
The cilantro sauce complements the beef sirloin in a vivid and tasty way. The sauce, which is made with fresh cilantro, lime juice, garlic, and other delectable ingredients, offers a burst of herbaceous freshness and a hint of tanginess to each bite. Its spicy flavors match the richness of the steak, producing a delicious contrast that enhances the entire taste experience. The cilantro sauce not only provides color to the dish but also improves its visual appeal. Its fragrant and tangy notes combine to create a flavor combination that complements the beef sirloin.
#Sous Vide
Beef Sirloin with Cilantro Sauce Sous Vide Recipe
Indulge in a tantalizing culinary experience with tender, succulent sirloin steaks infused with flavors of zesty cilantro sauce. Treat your loved ones with this mouthwatering combination of perfectly cooked beef and vibrant herbs today!
Introducing the delectable dish of beef sirloin with cilantro sauce, made with incredible sous vide cooking technique! This delightful meal combines tender beef sirloin and a flavorful cilantro sauce that will tempt your taste buds. Sous vide cooking involves sealing the food in a bag and cooking it in a controlled water bath, resulting in a perfectly cooked and soft meat.
The beef sirloin used in this recipe is cooked slowly and gently in the sous vide water bath, ensuring that it reaches the ideal temperature all the way through. This cooking method helps the meat retain its natural juices, making it incredibly soft and tasty.
Accompanying cilantro sauce is made with fresh cilantro, lime juice, garlic, and other delicious ingredients. This zesty sauce adds a burst of fresh flavor and a touch of tanginess to every bite. It not only enhances the visual appeal of the dish but also complements the richness of the beef, creating a delightful combination of flavors.
Let's move on to the recipe below now and enjoy a delicious meal today!
Ingredients
4 (6oz/170g) sirloin steaks

4 tablespoons olive oil

Salt and freshly ground black pepper to taste

For the cilantro sauce:

2 jalapeno peppers, deseeded and chopped

2 garlic cloves, minced

1 large bunch cilantro, leafy parts only, chopped (about 1 cup)

3 tablespoons olive oil

⅓ cup sour cream

Zest and juice of one lime

1 teaspoon horseradish sauce (optional)

To garnish (optional):

1 ripe avocado, diced
Directions
Insert the sous vide cooker into a sous vide friendly pot, fill the pot with water, and set the temperature to 133.5°F (56.4°C) for medium-rare.

While the water is heating, season the steaks with salt and pepper, and place them a tablespoon of olive oil in 4 Ziplog bags. You can also use silicone or vacuum sealer bags.

Once the water temperature reaches the target value, insert the zipper bags into the water or clip them onto the side of the container. You can remove the air in the bags by slowly submerging them open into the water and then sealing them.

Set the cooking time to 2 hours.

In the meantime, prepare the cilantro sauce by whisking all the sauce ingredients in a bowl, or placing them in a blender and processing until well combined.

When the sous vide cooking time is up, remove the zipper bags from the water and pat them dry with paper towels.

Heat a large cast-iron skillet over medium-high heat and give the steaks a quick sear (2-3 minutes per side) until nicely browned.

Transfer the steaks to a cutting board and tent with aluminum foil to rest for a few minutes before cutting.

Cut the steaks and serve them by spooning some cilantro sauce over the slices and garnishing with diced avocado.

Your beef sirloin with cilantro sauce is ready.

Enjoy!
Nutrition Facts
Amount/​Serving
% Daily Value
Cholesterol
233 milligrams
78
Extras
RECIPE NOTE FOR BEEF SIRLOIN WITH CILANTRO SAUCE:

You can marinate the beef sirloin before cooking it with sous vide to add an extra layer of flavor to the meat.To marinate, simply combine your choice of marinade ingredients (such as soy sauce, garlic, and herbs) in a resealable bag with the beef sirloin. Remove as much air as possible from the bag and let it marinate in the refrigerator for at least 1 hour, or overnight for maximum flavor infusion.

HOW TO SERVE BEEF SIRLOIN WITH CILANTRO SAUCE:

Place the sirloin steak on each plate, drizzle a generous amount of the cilantro sauce over them, allowing it to cascade down the sides, and add diced avocado on top. For an elegant presentation, you can garnish the plate with a sprig of fresh cilantro and a sprinkle of lime zest.

You can pair beef sirloin with cilantro sauce with your choice of side dishes such as roasted vegetables, creamy mashed potatoes, or a crisp green salad.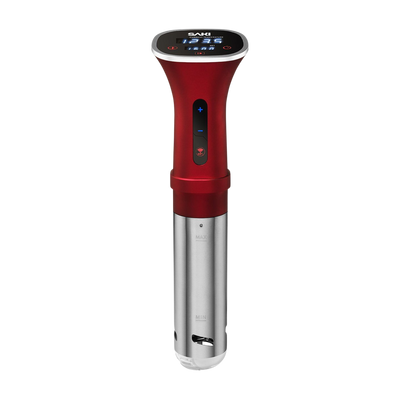 WIFI Sous Vide Cooker