#Sous Vide
Mediterranean Beef Pasta Recipe
Tags: Main, Beef, Mediterranean, Beef Recipes
This filling Mediterranean-flavored succulent beef and pasta dish is perfect for a midweek meal that everyone will enjoy.

Recipe Type: Main, Beef
Cuisine: Mediterranean
Ingredients
1lb (450g) lean beef, cut into 1-inch pieces

Salt and freshly ground black pepper, to taste

3 tablespoons olive oil

1 medium yellow onion, chopped

1 sweet red pepper, deseeded and diced

2 cloves garlic, crushed

1 (14.5oz or 430g) can diced tomatoes

1 teaspoon dried oregano

¼ cup fresh basil, shredded

1 yellow squash or zucchini, sliced lengthwise and cut into ½-inch pieces

1/3 cup olives, pitted and sliced

1 packet (12-oz or 340g) pasta of choice
Directions
Insert your Saki Sous Vide Cooker into a pot or another sous-vide -friendly container; fill the pot with warm water between the MIN and MAX marks and set the temperature to 151°F/66°C.

Season the meat with salt and pepper and place in 1-gallon zip-lock bag (or use a vacuum-sealing bag).

When the water temperature is reached, insert the bags into the water or clip onto the side of the container. If using a zip-lock bag, you may need to add 2 dessert tablespoons in the bag to avoid floating.

Cover the container with a lid and set the cooking time to 26 hours. If your container doesn't have a sous vide-friendly cover, you use cling film to prevent water evaporating.

When the time is up, remove the meat from the bag (reserve the juices) and pat-dry with kitchen paper towels.

Start cooking the pasta according to package instructions.

While the pasta is cooking, heat the oil in a large heavy-bottom skillet over a medium-high heat and add the beef. Cook, turning often, until nicely browned on all sides, about 3 minutes. Using a slotted spoon, transfer to a plate and cover with aluminum foil.

Add onions and red pepper to the skillet and cook for 2-3 minutes, or until tender; return meat and reserved juices to the skillet and stir in garlic, tomatoes, oregano, basil, yellow squash, and olives. Cover with a lid, reduce heat to medium and cook for 4-5 minutes, or until the sauce is slightly reduced.

Drain the pasta and serve with the beef stew.
Nutrition Facts
Serving Size
Amount/​Serving
% Daily Value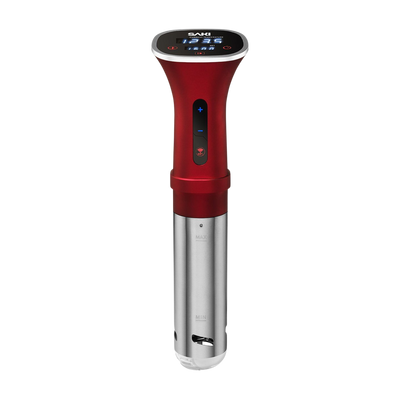 WIFI Sous Vide Cooker