#Sous Vide
Salmon with Pasta & Broccoli Rabe Sous Vide Recipe
Category:
Main, Gluten-Free
Tags: Main, Gluten Free, Pescatarian, Italian, Fish Recipes
Cooking salmon in sous vide prevents it from being overcooked and gives it amazing texture and flavor. You may prepare it in advance and keep it sealed in the fridge (or freezer). When ready to serve, simply warm it in the sous vide. Broccoli rabe (also known as rapini) add freshness and nicely compliment the dish.

Recipe Type: Main, Gluten-Free, Pescatarian
Cuisine: Italian
Ingredients
1 tablespoon fresh dill or fennel fronds

Juice and zest of 1 lemon

2 tablespoon extra-virgin olive oil, divided

2 sprigs fresh thyme

1/2 teaspoon red pepper flakes (optional)

4 (4-oz/120g) skinless, boneless salmon fillets

1 bunch (about 1lb/450g) broccoli rabe, trimmed

1 garlic clove, slivered

Salt and freshly ground black pepper, to taste

1 packet (12-oz/340g) tagliatelle or fettuccine pasta

2 tablespoons butter
Directions
Insert your Saki Sous Vide Cooker into a pot or another sous-vide -friendly container; fill the pot with warm water between the MIN and MAX marks and set the temperature to 135°/57°C.

While the water is heating, in a bowl, mix together dill, lemon juice and zest, 1 tablespoon olive oil, thyme and red pepper flakes, if using. Rub the salmon fillets with the mixture and transfer to 1-gallon freezer zip-lock bag (or use a vacuum-sealing bag).

Place broccoli rabe into a 1-gallon zip-lock bag, season to taste and add the remaining 1 tablespoon olive oil.

When the water temperature is reached, insert the bags into the water or clip onto the side of the container. If using a zip-lock bag, remove all the air with the water displacement method by slowly immersing it in the water, then sealing the bags. If needed, add 2 heavy dessert spoons to the bags to avoid floating.

Set the cooking time to 30 minutes. When the time is up, remove the bags from the water and pat-dry the salmon with kitchen paper towels.

In the meantime, start cooking the pasta according to the packet's instructions.

About 6 minutes before the end of the pasta cooking time, melt the butter in a heavy-bottom skillet and sear the salmon for about 1-minute per side or until it flakes easily with a fork. Transfer to a plate and add broccoli rabe and garlic to the skillet. Cover with a lid and cook for 1-2 minutes, turning once, until crisp-tender.

Drain the cooked pasta and serve the salmon and broccolini on top.
Nutrition Facts
Serving Size
Amount/​Serving
% Daily Value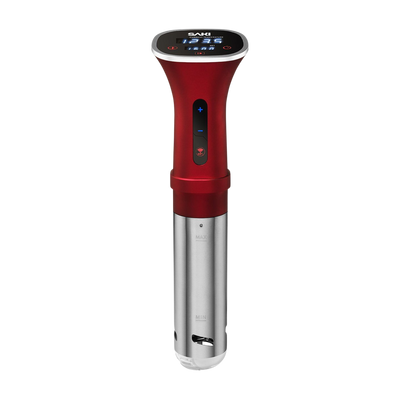 WIFI Sous Vide Cooker