Can I make vegan brioche?
Yes. Traditional brioche has milk, butter and eggs in it so it is not vegan. However, you can make vegan brioche if you use dairy-free milk and vegan butter and compensate for the help of eggs by adding extra butter and adjusting the amount of yeast.
#Bread Machine
Brioche Bread Machine Recipe
Brioche is from the viennoiserie family of French cuisine like croissants, sweet rolls etc. It is delicious with its buttery taste and fluffy texture. You will love it!
Tags: Bread maker brioche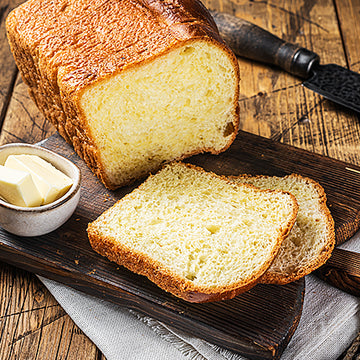 Brioche is a viennoiserie from French cuisine. Viennoiseries are made in a similar way as regular bread but have a richer taste due to different ingredients added into them. Being a viennoiserie, brioche differs from regular bread with its enriched dough which includes eggs and butter, and slightly sweeter taste. There are also different brioche versions which may include raisins, chocolate chips etc.
Brioche is very healthy. It is very rich in nutrients thanks to its milk, butter and egg content compared to other regular breads.
Tips for your bread maker:
Bread Machine Program: Basic (#1)
Delay Start Time Available: Yes
Color Option: Yes
Weight Option: Yes
Ingredients
Loaf size: 2 lbs (1000 g)

⅓ cup water

4 eggs

2 ⅓ teaspoons instant dry yeast

½ cup butter, softened

3 cups flour

2 tablespoons sugar

1 ⅓ tablespoons milk powder

1 ⅓ teaspoons salt

Loaf size: 2 ½ lbs (1250 g)

7 teaspoons water

5 eggs

3 teaspoons instant dry yeast

⅔ cup butter, softened

4 cups flour

2 ½ tablespoons sugar

1 ⅔ tablespoons milk powder

1 ⅔ teaspoons salt

Loaf size: 3 lbs (1500 g)

½ cup water

6 eggs

3 ½ teaspoons instant dry yeast

¾ cup butter, softened

5 cups flour

3 tablespoons sugar

2 tablespoons milk powder

2 teaspoons salt
Directions
Open the lid of the bread maker and remove the pan from the machine by pulling it upward.

Make sure the pan is clean and both kneading paddles are in place.

Add all of the ingredients to the bread pan in the order listed.

Put the bread pan back in the bread machine pressing it down so that it clicks into its place, and close the lid.

Plug the bread machine into an outlet and press the "Power" button to turn the machine on.

Use the "Program" button to select the program #1 for the basic cycle.

Press the "Color" button to choose your desired crust color.

Press the "Size" button to choose the weight of the loaf you are making. The time display will also change as you select the size of the bread since larger loaves take longer time to cook.

Press the "Start" button to start the bread making cycle.

The machine will let you know by making a beep sound once the bread making cycle is finished. Open the lid at this time and remove the bread pan out by using a pot holder.

If you do not remove the loaf immediately, the bread machine will automatically go into a warming cycle to keep the bread warm for one hour.

After taking the bread pan out of the machine, flip the pan over and gently tap it to remove the bread. Make sure the kneading paddles are taken out of the bread loaf.

Your brioche is ready. Slice it and enjoy!
Nutrition Facts
Amount/​Serving
% Daily Value
Cholesterol
75 milligrams
25
Extras
RECIPE NOTE FOR BRIOCHE:

The recipe above is to make a plain brioche but you can add raisins, berries, or chocolate chips into the dough to make a richer brioche.

HOW TO STORE LEFTOVER BRIOCHE:

It is better to store leftover brioche in the refrigerator since it has eggs in it. You should put it in an airtight container to avoid drying.

You can also freeze the brioche slices in an airtight container to consume later. They become as fresh as newly baked when you thaw them in the morning.

WHAT TO MAKE WITH BRIOCHE:

Brioche is a perfect choice to make sandwiches thanks to its fluffy texture and lightly sweet taste. It is also great to make French toast casserole. If you would like to try making casserole, you can see our air fryer French toast casserole recipe following this link.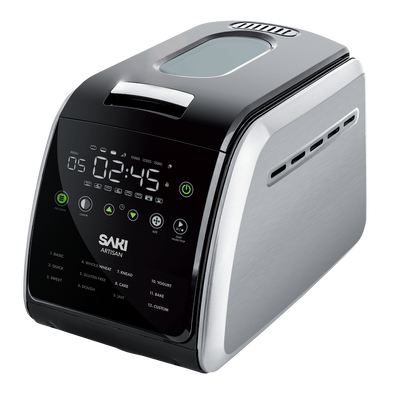 Bread Maker