What is the meaning of ciabatta?
Ciabatta is an Italian word meaning slipper.
Why is it called ciabatta bread?
Ciabatta bread gets its name from its shape which looks like a slipper. Ciabatta means slipper in Italian.
What is different about ciabatta bread?
Ciabatta has a much higher hydration level than classic baguettes so have more holes within the crumb. It also has a stronger taste with a chewy and moist texture.
Are there eggs in ciabatta bread?
No, there are no eggs in ciabatta bread.
#Bread Machine
Ciabatta Bread Machine Recipe
Here is the ciabatta bread recipe. The dough of ciabatta bread is very wet and sticky so it is very difficult to make it by hand. However, bread makers easily work it out and help you serve delicious ciabattas!
Tags: Ciabatta dough, bread maker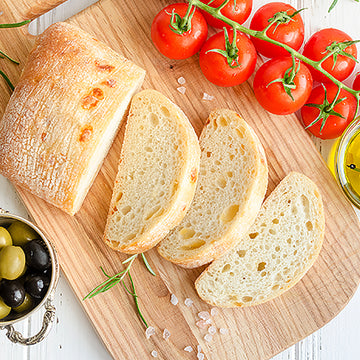 Ciabatta is a rustic Italian bread with a crispy crust and a chewy crumb. The high hydration level in ciabatta dough yields a soft texture and an open crumb with many big holes and tunneling. With this structure ciabatta bread is perfect for dipping into soups and sauces.
It is not easy to prepare ciabatta dough by hand because of the wet and sticky structure of it. So, you need to use a stand mixer or a bread maker to do so. Bread makers are certainly a great helper to prepare ciabatta dough but it would not be a wise decision to bake ciabatta in a bread maker. The high hydration dough of ciabatta needs to spread out while cooking so it will be better to cook it on a tray. The pan in the bread maker limits the dough and provides no place for it to spread out.
If you bake ciabatta in a bread maker, the outer edges of all four sides will go up whereas the inner area completely goes down. When you slice the bread, you will have extended U-shaped slices of bread. The reason for this situation is that the hydrated structure of the dough cannot support the rising in the inner part. So, bread makers help a lot to prepare the ciabatta dough but baking ciabatta bread is a job for an oven.
Tips for your bread maker:
Bread Machine Program: Dough (#6)
Delay Start Time Available: Yes
Color Option: No
Weight Option: No
Ingredients
1 ½ cups warm water

1½ teaspoons salt

1 teaspoon sugar

1 tablespoon olive oil

3¼ cups bread flour

1½ teaspoon instant dry yeast
Directions
Open the lid of the bread maker and remove the pan from the machine by pulling it upward.

Make sure the pan is clean and both kneading paddles are in place.

Add all of the ingredients to the bread pan in the order listed.

Put the bread pan back in the bread machine pressing it down so that it clicks into its place and close the lid.

Plug the bread machine into an outlet and press the "Power" button to turn the machine on.

Use the "Program" button to select the program #6 for the dough cycle and press the "Start" button to start it.

Once the dough is ready, your machine will let you know by making a beep sound. Open the lid at this point and take the bread pan out of the machine.

Gently remove the dough from the bread pan and place it on a floured surface. The dough will be quite sticky.

Sprinkle some flour over the the dough to prevent your fingers from sticking to it but make sure that you do not knead more flour into the dough.

Divide the dough in half, place each half on a floured tray and shape the each piece into a rough rectangle.

Cover the tray loosely with plastic wrap and let it sit for 45 minutes for proofing. Meanwhile, preheat your oven to 425 degrees Fahrenheit.

Unwrap the tray, place it in the oven and bake it for 25-30 minutes until the ciabatta has a light golden brown crust.

Remove the tray from the oven and let the ciabatta bread cool.

Slice it and enjoy!
Nutrition Facts
Amount/​Serving
% Daily Value
Extras
RECIPE NOTES FOR CIABATTA BREAD:

If you do not have a bread machine, you can make this recipe with a stand mixer. In case of not also having a stand mixer, you can mix it with a wooden spoon or knead by hand. But please keep in mind that adding extra flour to ease the kneading will affect the bread's texture.
Please keep in mind that you will need a lot of external flour while shaping the dough to prevent it from sticking. During the shaping process, you should also be very sensitive to avoid causing the dough to lose its air.

HOW TO CONSUME CIABATTA BREAD:

You can consume ciabatta bread the same way as regular bread. It is also ideal bread to make a panini sandwich. If you prefer ciabatta untoasted, you can try it with mozzarella cheese, tomato slices and basil. It is very common in Italy to eat ciabatta slices drizzled with some olive oil. Ciabatta bites are also perfect for dipping into soups and sauces.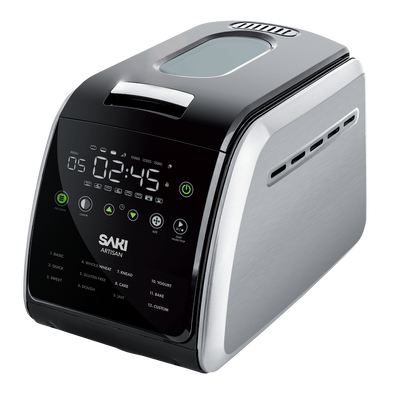 Bread Maker