#Sous Vide
Curried Lentil Soup Recipe
Category:
Soup, Gluten-Free, lentil recipes, soup recipes
Tags: Soup, Vegetarian, Indian, Soup Recipes, Gluten Free
A warming and filling soup that is simple to make and is equally great for take-to-work lunch or for a cozy dinner at home on a cold night. The butter-sautéed kale adds a delicious note and makes the soup even more tasty and satisfying.

Recipe Type: Soup, Gluten-Free, Vegetarian
Cuisine: Indian
Ingredients
11/2 cups split green lentils, picked over and drained

2 teaspoons curry powder

1/2 sweet red pepper, deseeded and finely chopped

1 green chili pepper, deseeded and finely chopped

2 tablespoon olive oil

2 garlic cloves, minced

2 shallots, chopped

4 cups vegetable or chicken stock (more as needed)

2 tablespoons butter or ghee

1 cup kale, shredded

Salt and freshly ground black pepper

1/3 cup plain yogurt, to serve
Directions
Insert your Saki Sous Vide Cooker into a pot or another sous vide-friendly container; fill the pot with water between the MIN and MAX marks and set the temperature to 183°F/83.9°C.

While the water is heating, in a 1-quarter zip-lock bag, combine lentils, curry powder, red pepper, chili pepper, olive oil, garlic cloves, and shallots; pour in the stock.

Once the water temperature is reached, insert the bags into the water or clip onto the side of the container. If using a zip-lock bag, use the water displacement method to remove the air by slowly submerging the bag into the water and then sealing.

Using a ladle, lower the eggs directly into the pot. Set the cooking time to 2 1/2 hours.

When the time is up, remove the bags from the water and check the lentils for doneness. If needed, return to the pot and cook for additional 15-30 minutes. Transfer the soup to a pot, season with salt and pepper to taste. If you wish, puree with an immersion blender, adding some stock to get the desired thickness.

Heat the butter in a skillet over medium heat and add kale; sauté for 2- 3 minutes, until tender, then stir into the soup. Reheat if needed.

Serve the soup with a dollop of yogurt.
Nutrition Facts
Serving Size
Amount/​Serving
% Daily Value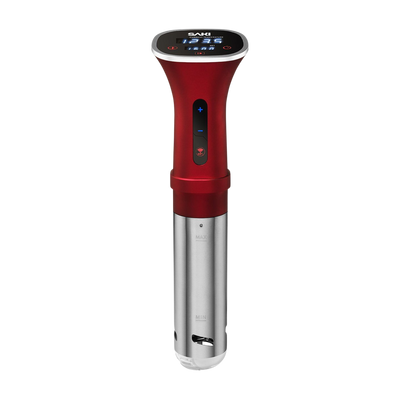 WIFI Sous Vide Cooker