#Sous Vide
German Potato Salad Recipe
Category:
Salad, Gluten-Free
Tags: Salad, Side, Gluten Free, German, Salad Recipes
This hard to resist potato salad is a great alternative to mayonnaise-based versions and a perfect side dish for a family meal or when entertaining for a crowd.

Recipe Type: Salad, Gluten-Free
Cuisine: German
Ingredients
For the salad

1 ½ lb (675g) potatoes, scrubbed and cut into 3/4 to 1-inch evenly-sized pieces

2-3 whole garlic cloves, peeled

2-3 whole garlic cloves, peeled

2-3 fresh sage leaves

1/2 teaspoon red pepper flakes (optional)

3 large eggs

3 German sausages, such as knackwurst

1 tablespoon capers

1 small red onion, thinly sliced

1/3 cup fermented red cabbage (optional)

Salt and freshly ground black pepper, to taste

For the dressing

1 teaspoon Dijon mustard

1 ½ tablespoon apple cider vinegar (or to taste)

2 tablespoon olive oil

2 tablespoon olive oil

To garnish (optional):

1 cup baby arugula or other baby salad leaves

A few thin slices deli meat, cut into strips
Directions
Insert your Saki Sous Vide Cooker into a pot or another sous-vide -friendly container; fill the pot with water between the MIN and MAX marks and set the temperature to 195°F/90.5°C.

While the water is heating, in a large bowl, mix together potatoes, garlic cloves, olive oil, sage leaves, and red pepper flakes, if using; transfer to 1-gallon freezer zip-lock bag (or use a vacuum-sealing bag). To prevent the potatoes from floating, place two dessert spoons in the bag.

Place the sausages in 1-gallon zip-lock bag and seal.

Once the water temperature is reached, insert the bags into the water or clip onto the side of the container. If using zip-lock bags, use the water displacement method to remove the air by slowly submerging the bag into the water and then sealing.

Using a ladle, lower the eggs directly into the pot. Set the time to 1 hour and 15 minutes.

When the cooking time is up, remove the bags from the water and check the potatoes for doneness. If needed, return to the pot and cook for additional 15-30 minutes.

Transfer the potatoes to a salad bowl and discard the sage leaves and garlic.

Dice the sausage and peel and cut the eggs into quarters; add to the salad together with the capers, red onion, and cabbage, if using.

In a small bowl, whisk the dressing ingredients, drizzle over the salad, season to taste and toss the ingredients together.

Adjust the seasoning to taste and serve at room temperature garnished with baby arugula and deli meat, if using.
Nutrition Facts
Serving Size
Amount/​Serving
% Daily Value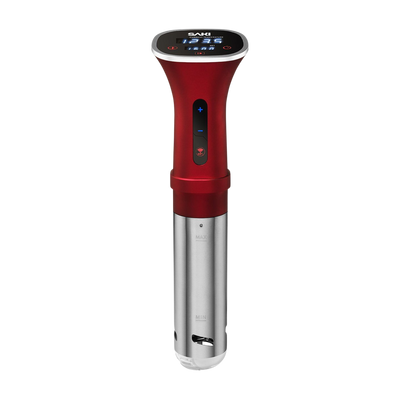 WIFI Sous Vide Cooker