#Sous Vide
Greek-Style Lamb With Honey & Mint Recipe
Category:
Main, Gluten-Free
Tags: Lamb, Main, Lamb Recipe, Gluten Free, Greek
Marinating will enhance further the flavor of this no-fuss traditional Greek-style lamb and the sous vide will cook it to perfection every time. Serve with lemony roasted potatoes and a crispy salad for a hearty weekend family meal.

Recipe Type: Main, Gluten-Free, Lamb
Cuisine: Greek
Ingredients
2 tablespoons honey

4 tablespoons olive oil

1 teaspoon dry mustard

1 teaspoon paprika

Zest and juice of 1 lemon

2 garlic cloves, crushed

A handful (about ¼ cup) fresh mint, chopped

1 ½ lb/900g boneless, fat trimmed, lamb shoulder or lamb leg

Salt and freshly ground pepper, to taste
Directions
In a small bowl, mix to a smooth paste honey, olive oil, dry mustard, paprika, lemon zest and juice, garlic and mint. Rub the mixture onto the lamb and place in 1-gallon zip-lock bag. Refrigerate for 1-2 hours to marinade.

Insert your Saki Sous Vide Cooker into a pot or another sous-vide -friendly container; fill the pot with water between the MIN and MAX marks and set the temperature to 143°F/61.7°C for medium-well done.

Once the water temperature is reached, insert the bag into the water or clip onto the side of the container. Use the water displacement method to remove the air by slowly submerging the bag into the water and then sealing.

Set the cooking time to 5 hours.

When the time is up, remove the bag from the water.

Pre-heat the oven to 425°F/220°C. Transfer the lamb with the marinade to a baking pan and roast, drizzling with the pan juices from time to time, for about 15-20 minutes, or until the lamb is glazed and browned all over.

Remove from the oven and let rest for 10 minutes, before slicing and serving.
Nutrition Facts
Serving Size
Amount/​Serving
% Daily Value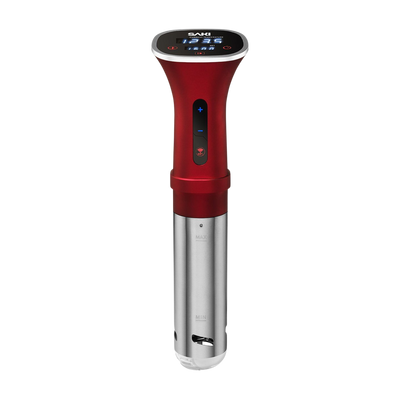 WIFI Sous Vide Cooker