#Sous Vide
Herbed Potato and Peas Mash Recipe
Category:
Side,Gluten-Free
Tags: Easy, Gluten Free, Side
There is nothing more comforting than a good potato mash and this one ticks all the boxes. Cooking the potatoes under vacuum with the herbs and garlic will pack them with flavor and take the mash to another level. If you wish, add some kick with a little mustard.

Recipe Type: Side, Easy, Gluten-Free
Cuisine: English
Ingredients
1lb (450g) potatoes, peeled and cut into 1/2 to 3/4-inch evenly-sized chunks

2-3 whole garlic cloves, peeled

2-3 whole garlic cloves, peeled

3 fresh sage leaves

2 fresh thyme sprigs

Salt and freshly ground black pepper, to taste

1 cup (5 oz or 140g) frozen peas

2 tablespoons butter

½ cup milk (more as needed)
Directions
Insert your Saki Sous Vide Cooker into a pot (or another sous-vide -friendly container) and fill the pot with water between the MIN and MAX marks. Set the temperature to 186°/85.5°C.

While the water is heating, in a large bowl, mix together potatoes, garlic cloves, 1 tablespoon olive oil, sage and thyme; season to taste. Transfer the potatoes to a gallon freezer zip-lock bag (or use a vacuum-sealing bag). Place 2 heavy dessert spoons in the bag to prevent the potatoes from floating.

Add the peas and the remaining ½ tablespoon olive oil to a zip-lock (or vacuum-sealing bag) and season to taste. To prevent the bag from floating, place 2 heavy dessert spoons in the bag.

When the water temperature is reached, insert the bags into the water or clip onto the side of the container. If using zip-lock bags, remove air using the water displacement method by slowly submerging the bags in the water, then sealing. Set the time to 45 minutes.

When the time is up, remove the peas and place the bag in ice water to cool; set aside.

Add 45 minutes cooking time for the potatoes and when the time is up, remove the bag from the water and check the potatoes for doneness. If needed, return to the pot and cook for additional 15-30 minutes. Transfer the potatoes to a bowl and discard the sage, thyme and garlic.

Melt the butter in a large saucepan over a medium heat; add the potatoes and peas. Using a potato masher, mash together, adding splashes of milk as necessary, to get the desired consistency. Adjust seasoning to taste and serve.
Nutrition Facts
Serving Size
Amount/​Serving
% Daily Value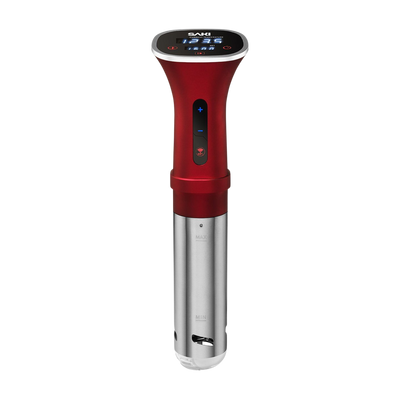 WIFI Sous Vide Cooker