sous vide
how to sous vide salmon
Arda Deveci
October 18, 2023
Cooking salmon at home can become a delicate and fragile task. To ease things up for you, the Saki Sous Vide Cooker presents you the option of cooking sous vide salmon with minimum effort and maximum taste. With enough practice, you can master the sous vide salmon recipe to the point of nailing a masterpiece that your guests and loved ones will come back for more. Here is everything you need to know on how to sous vide salmon.
Ingredients for Sous Vide Salmon
Without a doubt, once you learn how to sous vide a salmon at home, no restaurant-cooked salmon - or any piece of fish, for that matter - will be good enough for you. While practicing cooking salmon at home can become quite costly, preparing it sous vide will guarantee a perfect moist to meat ratio every single time. With the specific temperature and time, you too can prepare mouth-watering salmon dishes with textures you never thought would be possible. To cook a sous vide salmon medium rare you will need;
2 skin-on salmon filets
Salt
Sugar
Olive oil
Black pepper
Sous Vide Salmon Recipe
1. Preheat the water in your cooker using the Saki Sous Vide machine to 50 °C (122 °F).
2. Lay your salmon filets skin-side up on the counter. Using a sharp knife, cut a number of parallel slits through the skin of the fish. Make sure to stop once you've reached the flesh. This will allow for the skin to get crispy when it's time to sear.
3. Using the salt and sugar, apply a generous amount of sous vide salmon seasoning to the fish. When adjusting the portions, make sure to use approximately one part sugar for every for parts of salt for an ideal salt - sugar balance. This step will help firm up your fish and add a deep, rich flavor. 
4. Without being stingy, apply a rich amount of olive oil into a vacuum seal bag. As well as providing a light and tender taste, the olive oil will also prevent the fish filets from sticking together. 
5. Place the salmon in the bag before adding salt, pepper and any other aromatics of your choice. Lower the bag into the preheated water until the bag and the fish are completely submerged under the water. Clip the bag to the side of the pot and adjust the cooking time to 40 minutes.
6. Once the cooking is done, cut off the zipper or the seal of the vacuum bag and gently transfer them to a plate. Heat up a pan with olive oil and make sure it is hot enough for sizzling. Gently start flipping the filets in the pan, skin facing down, allowing about 30 seconds on each side before the fish starts getting crispy. Ready to serve!  
Sous Vide Salmon Temperature vs. Sous Vide Salmon Time
Just like with any sous vide prepared dish, when preparing a sous vide salmon fillet, it is important to set the right amount of temperature and time on your cooker. For a medium-rare salmon, 50 °C (122 °F) would be the perfect temperature, while 40 t0 45 minutes would be the ideal amount of time for a soft, juicy and tender piece of fish. Adjusting the sous vide salmon temperature and sous vide salmon time is the key to getting it right every single time.
Sous Vide Salmon Tips
Be gentle every step of the way: You will need to be extra careful when handling the salmon - especially after it has been done - to avoid flaking and scattering.
Use only fresh salmon: While you can sous vide salmon frozen, it is best to use a fresh piece for a richer taste.
Don't forget to remove the pin bones: Before seasoning and slicing it, make sure you have removed all of the pin bones within the flesh for an ultimate salmon experience.
You do not have to add olive oil while cooking: Since the protein that salmon originally has will bind together when heated, you won't be needing any extra fat while preparing the vacuum bag. Adding extra fat such as olive oil may dilute the flavor by eliminating the fat-soluble flavor compounds within the fish. It is best to let the fish cook in its own fat.
Skin-on or skin-off is completely up to you: Regarding how you prefer your fish, you can remove the skin before sealing or leave it completely on.
You can serve it without searing: For a healthy and low-calorie option, you can serve the salmon right from the sous vide cooker, with only a little bit of extra-virgin olive oil or a light sauce.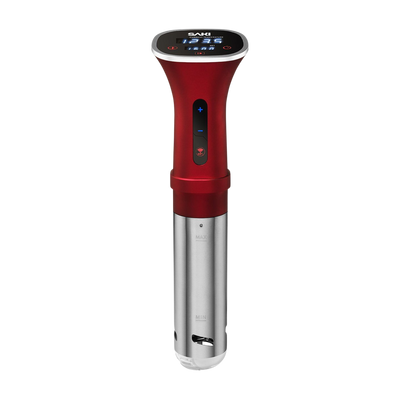 WIFI Sous Vide Cooker