#Sous Vide
Korean Breakfast Bowl with Amaranth Recipe
Category:
Breakfast, Gluten-Free
Tags: Breakfast, Gluten Free, Korean
This healthy breakfast bowl takes time but is worth every minute as it is loaded with flavor and will give you an excellent start to the day (plus, leftovers are great for lunch too). It is best to prep the ingredients in advance, then heat them and assemble the bowls just before serving. We substituted the traditionally used rice with amaranth, which is gluten-free and a good source of plant protein. You may also use quinoa or any other grains or seeds that you prefer.
Recipe Type: Breakfast, Gluten-Free
Cuisine: Korean
Ingredients
1 steak (about 10oz/280g), 1-inch thick

3 tablespoons sesame oil or olive oil

2 garlic cloves, peeled

2 sprigs Thai basil

1 cup amaranth, soaked for about 30 minutes and rinsed

6 eggs

1/2 lb (225g) carrots, trimmed and cut into thin sticks

1 cup broccoli florets

1/2lb (225g) asparagus, trimmed and cut in half

2 cups Asian mushrooms, such as shimeji

4 baby Bok choy, sliced

¼ cup low-sodium soy sauce

Salt and freshly ground black pepper, to taste
Directions
Insert your Saki Sous Vide Cooker into a pot or another sous-vide -friendly container; fill the pot with water between the MIN and MAX marks and set the temperature to 149°F/65°C.

Season the steak liberally with salt and pepper, and place in a freezer zip-lock bag (or in a vacuum-sealed bag); add 1 tablespoon oil, garlic cloves, and Thai basil and seal.

Once the water temperature is reached, insert the bag into the water or clip onto the side of the container. Use the water displacement method to remove any air from the bag by submerging it slowly into the water and then sealing.

Using a ladle, lower the eggs directly into the pot. Set the cooking time to 1 hour.

While the steak and eggs are cooking, add amaranth to a large saucepan with 2 1/2 cups water and bring to a boil over medium-high heat. Cover with a lid, reduce the heat to low and let simmer for about 20 minutes, or until all the water is absorbed. Turn off the heat and set aside.

When the time is up, remove the steak from the bag and pat-dry the steak with paper kitchen towels. You may leave the eggs in the water until ready to serve. Remove them with a slotted spoon.

Slice the steak into strips.

Heat the remaining 2 tablespoons oil in a large heavy-bottom skillet and sear the steak strips for about 2 minutes per side, or until browned and cooked to the desired doneness. Transfer to a plate and cover with aluminum foil to keep warm.

Add the carrots, broccoli, asparagus, mushrooms, and Bok choy to the skillet, pour in the soy sauce and stir-fry until crispy-tender, about 3- 4 minutes; season to taste.

To assemble the bowl, divide amaranth between serving bowls, top with the steak and vegetables, crack an egg on top of each bowl, and serve.

Note:

To cook the amaranth in sous vide, place 1/2 cup amaranth in a zip-lock bag or a mason jar and add 1 1/2 cup water. Cook at 182°F/84°C for about 1 1/2 hour. Prepare it in advance and keep refrigerated until needed.
Nutrition Facts
Serving Size
Amount/​Serving
% Daily Value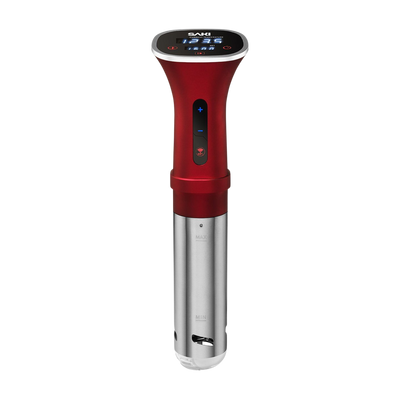 WIFI Sous Vide Cooker