#Sous Vide
Lamb Souvlaki Recipe
Category:
Main, Gluten-Free
Tags: Main, Gluten Free, Lamb, Greek, Lamb Recipes
Serve this no-fuss, appetizing Greek lamb skewers with pita bread, Greek salad and homemade tzatziki or tahini sauce. You can make a big batch in the sous vide and freeze for later use.
Recipe Type: Main, Gluten-Free, Lamb
Cuisine: Greek
Ingredients
1 1/2 lb (675g) boneless, fat trimmed, lamb leg, cut into 1 to 11/2-inch chunks

6 tablespoons olive oil (divided)

2 garlic cloves, crushed

2 sprigs fresh oregano or 1 teaspoon dried oregano

Zest and juice of 1 lemon

8 small wooden or metal skewers

1 red bell pepper, deseeded, cut into 1 to 1/2-inch squares

1 green bell pepper, deseeded, cut into 1 to 1/2-inch squares

1 large red onion, cut into 1 to 1/2-inch pieces

Salt and freshly grated pepper, to taste
Directions
Place lamb, 4 tablespoons olive oil, garlic, oregano, lemon juice and zest in a 1-gallon zip-lock bag; season to taste and refrigerate for 1-2 hours (or up to 24 hours) .

Insert your Saki Sous Vide Cooker into a pot or another sous-vide -friendly container; fill the pot with water between the MIN and MAX marks and set the temperature to 139°F/59.4°C (for medium-rare).

Once the water temperature is reached, insert the bag into the water or clip onto the side of the container. If using zip-lock bags, use the water displacement method to remove the air by slowly submerging the bag into the water and then sealing. If the bag is floating, add 2 heavy dessert spoons.

Set the cooking time to 1 hour.

When the time is up, remove the bag and transfer the lamb pieces to a bowl (reserve the marinade); thread onto the skewers, alternating with red and green pepper and onion pieces.

Heat a cast-iron skillet over a medium-high heat; brush the skewers with the remining 2 tablespoons olive oil and place in the skillet. Sear the meat for about 1-2 minutes, flipping over, until browned on each side. Brush with the marinade during the process to keep the meat moist.

Serve the skewers over pita bread with salad and sauces of choice.
Nutrition Facts
Serving Size
Amount/​Serving
% Daily Value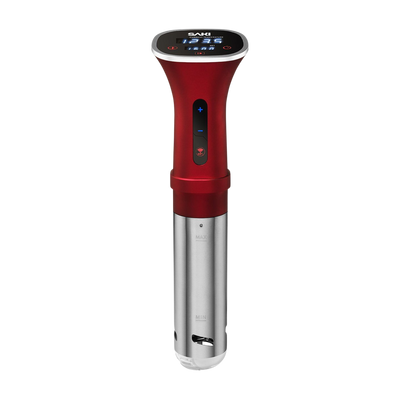 WIFI Sous Vide Cooker