#Sous Vide
Mustard Glazed Pork Tenderloin Recipe
Category:
Main, Gluten-Free
Tags: Main, Gluten Free, Pork, American, Pork Recipes
The whole family will enjoy this succulent, flavorsome sous vide pork tenderloin. Add color and a contrasting texture with braised red cabbage or serve with potato mash.
Recipe Type: Main, Gluten-Free, Pork
Cuisine: American
Ingredients
1 ½lb (675g) pork tenderloin

1 tablespoon dry mustard

1 teaspoon smoked paprika

½ teaspoon allspice

1 teaspoon Worcestershire sauce

2 sprigs fresh sage

¼ teaspoon pepper flakes, or to taste

Salt and freshly grated pepper, to taste

2 tablespoons olive oil
Directions
Insert your Saki Sous Vide Cooker into a pot (or another sous-vide -friendly container); fill the pot with water between the MIN and MAX marks and set the temperature to 140°F/60°C.

While the water is heating, in a bowl, combine dry mustard, smoked paprika, allspice, and Worcestershire sauce. Season the pork tenderloin with salt and pepper and rub with the mustard mixture.

Transfer the tenderloin to 1-gallon freezer zip-lock bag (or use a vacuum-sealing bag) and add the sage sprigs to the bag.

Once the water temperature is reached, insert the bag into the water or clip onto the side of the container. If using zip-lock bag, use the water displacement method to remove the air by slowly submerging the bag into the water and then sealing.

Set the cooking time to 3 hours.

When the time is up, remove the bag from the water and place into ice water to chill, then pat-dry with kitchen paper towels. Reserve any juices left in the bag.

Heat a large cast-iron skillet over a medium-high heat; add the oil and sear the tenderloin, turning around with kitchen tongs, until browned all over. During the process, brush the meat with the reserved cooking juices.

Transfer the tenderloin to a cutting board and cover loosely with aluminum foil; let rest for about 10 minutes before cutting and serving.
Nutrition Facts
Amount/​Serving
% Daily Value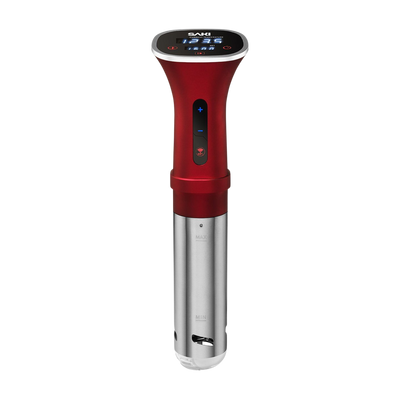 WIFI Sous Vide Cooker