#Sous Vide
Ribeye Steak With Blue Cheese Sauce
Category:
Main, Gluten-Free, Beef
Tags: Sous vide ribeye steak
Tender, juicy sous vide cooked ribeye steak and a rich blue cheese sauce make a scrumptious combination. Serve with asparagus and some hot sauce on the side.
Ingredients
2 (1 ½ -inch/ 4cm-thick) bone-in rib-eye steaks, about 1 -1 ½lb/450g-675g each

Salt and freshly ground black pepper, to taste

3 tablespoons olive oil

4 fresh thyme or rosemary sprigs

For the blue cheese sauce:

4 oz/110g blue cheese, crumbled

½ teaspoon Worcestershire sauce

2 tablespoons unsalted butter, softened

2 tablespoons sour cream
Directions
Insert your Saki Sous Vide Cooker into a pot (or another sous-vide -friendly container); fill the pot with water between the MIN and MAX marks and set the temperature to 138°F/58.9°C (for medium rare).

While the water is heating, season the steaks liberally with salt and pepper and place in two zip-clock bags (or use silicone or vacuum-sealing bags). Add 2 thyme (or rosemary) sprigs and 1½ tablespoons olive oil to each bag.

Once the water temperature is reached, insert the bags into the water or clip onto the side of the container.

Set the cooking time to 2 hours. When the time is up, remove the bags from the water. Pat-dry the steaks with kitchen paper towels.

In a bowl, whisk together blue cheese, Worcestershire sauce, butter, and sour cream.

Heat a large cast iron skillet over a medium-high heat and sear for 1-2 minutes, until nicely browned. Flip over and smear the blue cheese sauce on top of the steaks. Cover with a lid and cook for 1-2 minutes, until the sauce has melted.

Transfer the steaks to a cutting board and tent loosely with aluminum foil; let rest for about 10 minutes before cutting.

Drizzle the steaks with any sauce left in the skillet and serve.
Nutrition Facts
Serving Size
Amount/​Serving
% Daily Value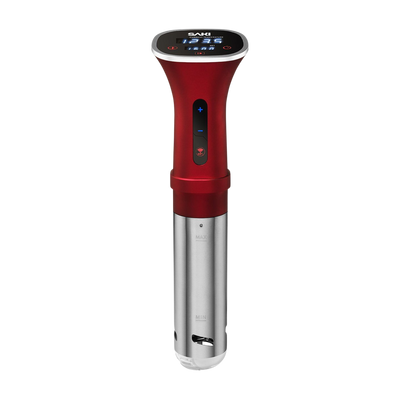 WIFI Sous Vide Cooker