#Sous Vide
Smokey Burgers Recipe
Tags: Main, Beef, Burger, American, Beef Recipes
Sous vide cooking makes larger burgers juicer and more flavorful and these appetizing smoky burgers will earn you a lot of compliments. Just give them a quick sear in a heavy-bottom skillet (or grill), add your favorite toppings and enjoy.
Recipe Type: Main, Beef
Cuisine: American
Ingredients
1 1/2-pound (675g) ground beef (10% fat)

1 large egg, lightly beaten

1 teaspoon smoked paprika

1/2 teaspoon ground cumin

Salt and freshly ground black pepper

4 slices smoked bacon or pancetta

To serve:

4 burger buns, split

Salad greens or shredded lettuce

Crispy bacon

Ketchup or chili sauce

Mustard

Sliced cucumber, red onion, tomato, ripe avocado

Sliced cheese
Directions
In a bowl, mix together ground beef, egg, smoked paprika, and cumin. Shape into four 1-inch thick (6-oz/170g) burgers.

Insert your Saki Sous Vide Cooker into a pot (or another sous-vide -friendly container); fill the pot with water between the MIN and MAX marks and set the temperature to 126°F/52°C for medium- rare; 134°F/57°C for medium; 143°F/62°C for medium- well and 158°F/70° for well-done burgers.

Place the burgers in a zip-lock bag (or a vacuum-sealing bag) and insert into the heated. If using zip-lock bags, use the water-displacement method by slowly submerging the bag into the water to remove air. If the bag floats, place 2 heavy dessert spoons in the bag. Set cooking time to 45 minutes.

When the time is up, remove the burgers from the bag and pat-dry with paper towels. Heat a cast iron skillet and sear the burgers for about one minutes per side (or place on the hot grill). Transfer to a plate and cover with aluminum foil; let rest for 1 minute.

Toast lightly the cut sides of the burger buns, pile some salad greens and place the burgers on top. Add the desired toppings and serve with French fries.
Nutrition Facts
Serving Size
Amount/​Serving
% Daily Value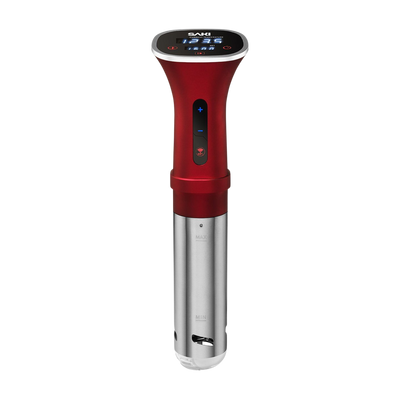 WIFI Sous Vide Cooker