#Sous Vide
Teriyaki Chicken With Noodles Recipe
Tags: Main, Poultry, Japanese, Chicken, Chicken Recipes
Chicken teriyaki is always a winning meal idea. You may serve it with noodles and vegetable stir-fry, shred it in salads, or with steamed rice. Cook the chicken in advance, then refrigerate or freeze for a later use.

Recipe Type: Main, Poultry
Cuisine: Japanese
Ingredients
4 (each about 5.5oz/155g) skinless boneless chicken thighs

2 garlic cloves, finely minced

¼ cup low-sodium soy sauce

2 teaspoons cornstarch

2 teaspoons fresh ginger, finely grated

1 teaspoon chili sauce (optional)

2 tablespoons olive oil

1 1/2 cup broccoli florets, cut small

1 red bell pepper, deseeded and thinly sliced

1 medium zucchini, cut in half lengthwise and thinly sliced

2 scallions, thinly sliced

1 12-oz packet egg or rice noodles

Salt and freshly ground black pepper, to taste

4 scallions, thinly sliced on the bias, to garnish
Directions
In 1-gallon freezer zip-lock bag (or vacuum-sealing bag), combine chicken thighs, garlic, soy sauce, cornstarch, ginger, and chili sauce; season to taste and place in the fridge for about half an hour.

Insert your Saki Sous Vide Cooker into a pot or another sous-vide -friendly container; fill the pot with water between the MIN and MAX marks and set the temperature to 149°F/65°C.

Once the water temperature is reached, insert the bag into the water or clip onto the side of the container. If using a zip-lock bag, use the water dispersing method to remove the air by slowly submerging it in the water before sealing. Set the cooking time to 1 hour and 30 minutes.

When the time is up, remove the bag from the water.

Heat a wok or a large heavy-bottom skillet over a medium heat; add the chicken and juices and cook, turning occasionally, for about 3-4 minutes, or until the sauce has thickened, and chicken is glazed and nicely browned. Transfer to a plate and cover with aluminum foil to keep warm.

Prepare the noodles according to the package instructions and set aside.

Heat the olive oil in the wok, add the broccoli, peppers, and zucchini and stir-fry for 2-3 minutes, or until crispy-tender. Return the chicken to the wok, add the noodles and toss everything together until heated through.

Serve immediately.
Nutrition Facts
Serving Size
Amount/​Serving
% Daily Value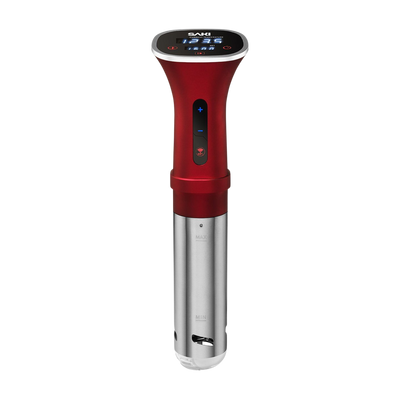 WIFI Sous Vide Cooker