#Sous Vide
Texas Style Brisket Recipe
Category:
Main, Gluten-Free
Tags: Main, Beef, American, Brisket, Beef Recipes, Gluten Free
This brisket is perfectly cooked – moist and bursting with flavor, it is a guaranteed crow-pleaser. Make it extra special by serving with hot mango salsa, which adds a fresh Mexican cuisine-inspired touch.
Recipe Type: Main, Beef, Gluten-Free
Cuisine: American
Ingredients
2 teaspoons dry mustard

1 teaspoon smoked paprika

1/4 teaspoon liquid smoke

1 heaped tablespoon brown sugar

½ teaspoon red pepper flakes

1/2 tablespoon Worcestershire sauce

2lb (900g) beef brisket

1 onion, thinly sliced

1 ½ cup BBQ sauce

Salt and freshly ground black pepper, to taste
Directions
Insert your Saki Sous Vide Cooker into a pot or another sous-vide -friendly container; fill the pot with water between the MIN and MAX marks and set the temperature to 195°/90.5°C.

In a small bowl, mix together mustard, paprika, liquid smoke, brown sugar, red pepper flakes, and Worcestershire sauce. Season the brisket liberally with salt and pepper and rub with the spice mixture.

Transfer the brisket to 1-gallon freezer zip-lock bag (or use a vacuum-sealing bag) and seal.

When the water temperature is reached, insert the bag into the water or clip it onto the side of the container. Set the cooking time to 30 hours. The meat should be thoroughly cooked and fork-tender, so is necessary, increase the cooking time.

When the time is up, remove the bag from the water and drain the liquid.

Place the brisket in a baking dish and brush it with the BBQ sauce (or shred it and mix with the sauce). Cook in a preheated to 400°F/200°C/Gas Mark 6 oven for about half an hour, until heated through.

Serve and enjoy!
Nutrition Facts
Amount/​Serving
% Daily Value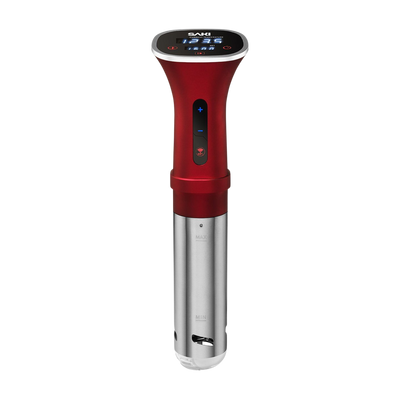 WIFI Sous Vide Cooker