What is turmeric?
Turmeric is a root vegetable with a bright orange-yellow color. It is very similar in appearance to ginger, but its color is different. It is native to India and Southeast Asia and has a spicy and earthy flavor.
Turmeric is commonly used in cooking in Indian and Southeast Asian cuisine. It is also used as natural food coloring and preservative.
Is turmeric healthy?
Yes, turmeric has many health benefits thanks to the antioxidants and its anti-inflammatory features. Turmeric helps reduce inflammation in the body, so it protects against a variety of chronic diseases such as arthritis, heart disease, and even certain types of cancer. In addition, it has potential benefits for brain health, such as improving memory and reducing the risk of Alzheimer's disease.
What is ginger?
Ginger is the root of a flowering plant from Zingiberaceae, native to Southeast Asia. It has been used for culinary and medicinal purposes for centuries in its native region. Ginger is known for its knobby appearance and beige color. It has a tangy, spicy, and slightly sweet taste.
Ginger is commonly used in cooking in Indian and Southeast Asian cuisine. It is also used as a traditional medicine to reduce inflammation, help with digestion, and relieve nausea, vomiting, and common cold and flu symptoms.
Is ginger healthy?
Yes, ginger has many health benefits. It contains a number of bioactive compounds that have antioxidants and anti-inflammatory properties. With those, ginger helps reduce nausea, vomiting, and inflammation in the body, lower blood sugar, improve digestion, and boost the immune system.
#Herbal Teas
Turmeric Ginger Tea Recipe
Here is a warming tea made with the legendary immune system boosters, turmeric and ginger. So easy to make!
Tags: Turmeric ginger tea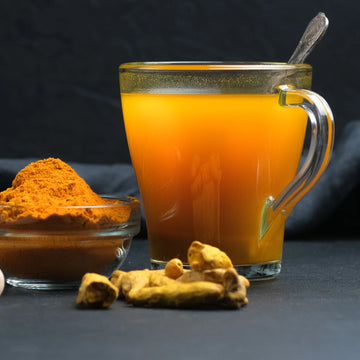 Turmeric ginger tea is a herbal tea made by steeping turmeric and ginger root in hot water. To make turmeric ginger tea, you can use fresh or dried and ground turmeric and ginger. However, if you make turmeric ginger tea with fresh vegetables, it will have a tangier flavor.
Both turmeric and ginger are full of antioxidants and have anti-inflammatory features, so turmeric ginger tea has many health benefits. It is used as a natural remedy for various health problems, especially as a reliever of the common cold, flu, and nausea.
Turmeric ginger tea is traditionally brewed using a single teapot, either by steeping or simmering in hot water. However, the recipe below describes how to make turmeric ginger tea using a double tea kettle. Making turmeric ginger tea in a double tea kettle yields more flavorful tea warmer for a longer time than traditional single teapot brewing. You can refer to our related blog following this link to learn more about the different tea brewing methods in the world and how they affect the tea experience in terms of taste and duration to enjoy.
Now, let's move on to the turmeric ginger tea recipe below and enjoy it with your loved ones!
Ingredients
1-2 inches fresh turmeric root or 1-2 teaspoons ground turmeric

1-2 inches fresh ginger root or 1-2 teaspoons ground ginger

10 cups water, filtered or bottled, if tap water is of poor quality

1-2 teaspoons honey (optional)

1-2 teaspoons lemon juice (optional)
Directions
Add the water to the lower kettle and boil it on the stove.

While waiting for the water to boil, wash and peel the turmeric and ginger roots, and cut them into small pieces. If using ground turmeric and ginger, skip this step.

Once the water is boiled, add turmeric and ginger pieces to the upper teapot and pour almost 4 cups of boiled water over it. If your teapot is larger and you would like to make more tea, increase the amount of turmeric and ginger accordingly.

Add more water into the lower kettle, put it again on the stove to boil, and place the upper teapot over it, closing its lid.

Once the water is boiled, wait 10 minutes for the turmeric and ginger to release their flavors into the water.

Once the turmeric ginger tea is ready, prepare the tea cups. Pour the infusion in the upper teapot into the cups by using a filter. If you like lighter tea, pour the infusion halfway and then add boiled water to it from the lower kettle.

If desired, add honey and lemon juice to taste.

Your turmeric ginger tea is ready.

Serve it to your loved ones and enjoy!
Nutrition Facts
Amount/​Serving
% Daily Value
Extras
RECIPE NOTE FOR TURMERIC GINGER TEA:

To make cold turmeric ginger tea, let the turmeric ginger infusion cool down, preferably in the fridge. Then, add ice cubes to a tall glass and pour cold turmeric ginger infusion over the ice cubes. You can garnish it with an orange or a lemon slice and add a cinnamon stick to it.

HOW TO SERVE TURMERIC GINGER TEA:

You can serve hot turmeric ginger tea in a regular teacup or coffee mug. However, preferring a glass teacup to enjoy its color while drinking is better. Iced turmeric ginger tea is usually served in a tall glass. Hot or cold, you can also add honey, some drizzle of lemon juice, and cinnamon stick into it for additional flavor.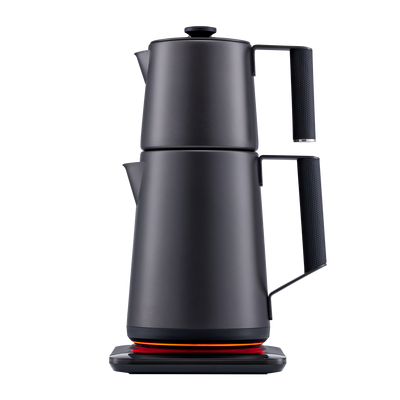 TeaSmart Electric Turkish Tea Kettle