Are leeks and green onions the same?
No, they are not the same. Leeks and green onions are from the onion family but they are completely different plants. Leeks are much bigger than green onions and they taste milder. They are also much more leafier than green onions.
Can I use Ziploc bags for sous vide?
All food-safe zipper bags can be used for sous vide including Ziploc bags.
How can I prevent bacon slices from unwrapping?
You can fasten them by sticking toothpicks in.
#Sous Vide
Stuffed Chicken Breasts with Bacon & Broccoli Sous Vide Recipe
A delicious, healthy, and easy sous vide recipe made with chicken breasts wrapped in bacon and stuffed with vegetables. Treat your loved ones with a versatile delicacy today!
Tags: Chicken breast recipe
Here is a delicious sous vide recipe. Flattened chicken breasts wrapped in bacon and stuffed with leek, mushroom, sun-dried tomatoes, parsley, garlic, provolone and parmesan cheese. These versatile chicken breasts taste truly amazing, and sous vide cooked broccoli side dish is a perfect accompaniment to them. This recipe will be a great delicacy for a special meal with your family.
Let's move on to the recipe now!
Ingredients
For stuffed chicken breasts:

2 tablespoons olive oil

1 leek, white parts only, chopped

1 cup cremini mushrooms, chopped

4 tablespoons sun-dried tomatoes in oil, drained and chopped

2 tablespoons parsley, chopped

2 garlic clove, minced

4 slices provolone cheese

2 tablespoons shredded parmesan cheese

4 (6 ounces each) boneless skinless chicken breasts

8 thin slices bacon

For broccoli:

1 medium head broccoli, cut into florets

2 tablespoons olive oil

2 garlic cloves, slivered

Zest and juice of 1 lemon

Salt and black pepper to taste
Directions
Heat olive oil in a large skillet over a medium-high heat.

Add leeks and sauté until softened for 2- 3 minutes.

Add mushrooms, sun-dried tomatoes, and garlic, cook stirring occasionally until mushrooms are tender, stirring occasionally.

Mix the parsley and turn the heat off.

Pat dry chicken breasts with paper towels, and slit them lengthwise without going all the way through.

Place one breast over a plastic food wrap, cover with another wrap, and flatten the chicken breast with a meat mallet or a rolling pin.

Repeat the step above with the remaining breasts.

Place a slice of provolone cheese over each breast, and divide the leek and mushroom filling equally among them.

Roll up the chicken breasts tightly and secure with kitchen twine.

Wrap each chicken breast with 2 bacon slices, and put them in four separate zipper bags.

Insert the sous vide cooker into a sous vide friendly pot, fill the pot with water, and set the temperature to 147.5°F (64°C).

Once the water temperature reaches the target, insert the zipper bags with stuffed chicken into the water, or clip them onto the side of the container. You can remove the air in the bags by slowly submerging them open into the water and then sealing them.

Set the cooking time to 2 hours.

When the time is up, remove the zipper bags from the water, pat them dry with paper towels, and set them aside.

Increase the sous vide temperature to 195°F (90.5°C).

Add all the ingredients for the broccoli into another zipper bag.

When the water reaches the target temperature, insert the zipper bag with broccoli into the water in a similar way you have inserted stuffed chicken breasts, by submerging it open into the water and then sealing it, to remove the air in the bag.

Cook the broccoli for 20 minutes.

After 20 minutes, remove the broccoli from the water, and hold it under cold water to prevent it from cooking further.

Heat a large skillet over a medium-high heat, and sear the stuffed chicken breasts on it for about 8 minutes, flipping them over until bacon is golden brown and crispy.

Add the broccoli to the skillet for the last 1-2 minutes to warm up.

Let the stuffed chicken breasts rest for a few minutes, then slice and place them on a serving platter with the broccoli.

Drizzle any juices remaining on the skillet on top of the chicken breasts.

Enjoy!
Nutrition Facts
Amount/​Serving
% Daily Value
Cholesterol
85 milligrams
28
Extras
HOW TO SERVE STUFFED CHICKEN BREASTS:

You can serve stuffed chicken breasts only with broccoli in this recipe or you can add some rice to the menu.

HOW TO STORE LEFTOVER STUFFED CHICKEN BREASTS:

You can store leftover stuffed chicken breasts in the refrigerator in an airtight container. Reheating them will bring their taste back.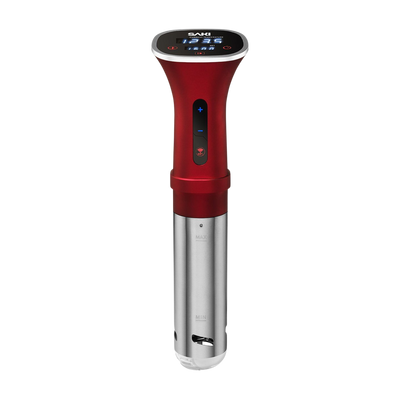 WIFI Sous Vide Cooker